Getting to know Geoff Eaton, founder of Young Adult Cancer Canada
Even as he was surviving two battles with leukemia and a life-threatening infection that put him on life-support for a month with a two per cent chance of survival, in 2000, at the age of 24, Geoff Eaton founded an organization to support people like him living with cancer. Through its programs and retreats, Young Adult Cancer Canada empowers those in their teens, 20s and 30s to live with, and beyond, cancer. For his work, Geoff has won many awards, including induction into the Newfoundland and Labrador Volunteer Hall of Fame. Saltscapes spoke to Geoff about hockey, head shaving and Jungle-Gym Daddy.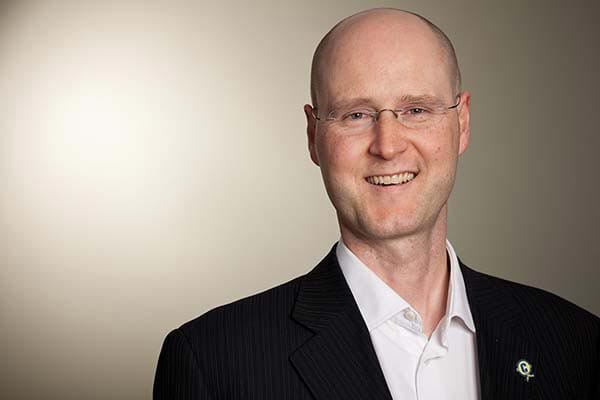 Q Who are the most important influences in your life?
A My dad's an engineer and my two-time bone marrow donor. He's logical, non-judgmental, humble, calm and reliable. My mom is an entrepreneurial free spirit. The strong parts of my personality are the strong parts from my parents.
Q What was your favourite thing about growing up in St. John's?
A Hockey was the major focus of my leisure time. I gravitate to the things that make me happy. Hockey gave me a place I could excel, challenge myself and have some success.
Q So, hockey played a role in making you, too?
A Hockey was a big part of my identity. You have to learn how to set a goal, work towards it, deal with loss and failure, celebrate the victories, keep things in perspective, and work as a team—all those things are so important for success in life.
Q What got you through leukemia?
A I pretended I was playing hockey against cancer. That's because I'm a strategy guy and I felt that I needed a mindset to approach this huge challenge. Each round of chemo was a game in my series. I had a stick my dad gave me, a puck, the jersey I wore in high school and a cup. It allowed me to visualize the pain, the triumphs, and the setbacks.
Q Many young people have had cancer, but you're the first to start a nation-wide support organization for young adults.
A I felt early on that this was opportunity disguised as challenge. There are opportunities all around us. Sometimes they are easy to see and actually look like opportunities. Sometimes they're disguised like cancer.
Q What's the most difficult thing about having cancer as a young adult?
A Isolation. You don't have anybody your age to connect with and understand what it's like to face the possible end of your life when you're just starting it.
Q More than 11,000 people have shaved their heads to raise funds for YACC. What's the best thing about "Shave for the Brave?"
A Organizations like us only exist because of other people's generosity. They shave their heads and make gifts to us because they believe in what we do.
Q How do you achieve the state of balance you've said you seek?
A Any parent can say this—I go home to go to work. We have three kids—nine, eight and four—and it requires a lot of effort. You've got to take care of yourself or it's really hard to take care of other people, so I go to the gym, beat the puck around with my buddies. I take care of family, work and self.
Q What are the rules of "Jungle-Gym Daddy," the game you invented to play with your kids?
A Tickling them any chance I can. I'm a roll-on-the-floor kind of dad. It's how I live my life. I just dive in.