The region's largest municipality, Halifax, is currently enjoying a commercial building boom. Interestingly, first-generation immigrants are prominent among the city's most successful real estate developers.
THERE'S AN ONGOING perception, in some quarters, that immigrants "steal" jobs from local folks.
I ask—no, attempt to ask—Wadih Fares, who is originally from Lebanon, about this enduring myth. Sitting in his Halifax office, he interjects before I finish my sentence.
"Let me tell you one thing," he says, his face stern. "What newcomers do—they do the jobs Nova Scotians don't want to do."
Who picks the grapes at Nova Scotia wineries and the blueberries at Maritime farms? he asks. Often, it's immigrants and foreign workers. Just as often, he argues, immigrants use the meagre savings from such menial jobs to start their own businesses.
"Immigrants don't take away jobs. Immigrants make jobs," he adds.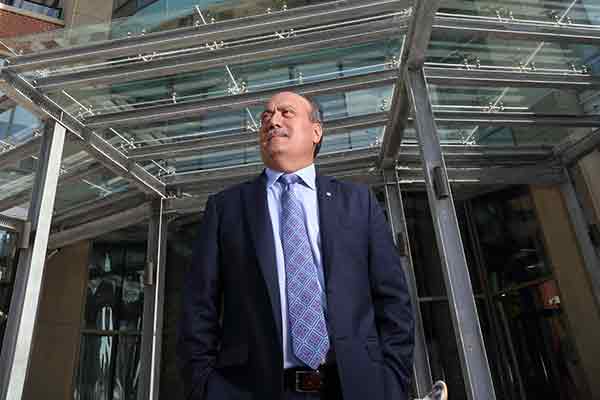 Fares is a job creator. His design, construction, and development company, WM Fares Group, employs 36 people. The company (perhaps best known for developing the Trillium building in downtown Halifax) has about $50 million in construction work on the go each year.
Fares estimates that 60 per cent of that amount is spent on labour, meaning his company is pumping $30 million into construction and contracting wages a year.
"We produce a lot of jobs. We pay a lot of taxes. We contribute back to the community. And I'm only one. I'm the small guy," he says.
"The contributions of immigrants and newcomers to this country, to this province, are shown everywhere."
And yet Fares still often faces puzzling questions. For example, an assistant once asked why the government gives immigrants money to start businesses. The government does no such thing, he responded. Refugees, like those arriving from Syria, are provided temporary special support, but there is no preferential treatment for immigrants.
Says Fares: "There's a misunderstanding about what an immigrant is and how they come here."
Fares was 18 when he arrived in Nova Scotia. A civil war in Lebanon had closed the country's universities. Fearing her son would have to fight, Fares' mother told him to go to Halifax, where some of her family lived—part of the city's established Lebanese community. "I was looking for a future," he recalls.
Fares expected a soft landing. He could speak French and Canada was bilingual.
"The first thing you see is that they don't speak French here," he says with a smile.
"And I had no money."
"It was really, really hard."
Fares says he benefited greatly from the city's Lebanese community. At Dalhousie University, where he studied engineering, he bonded with Nova Scotia students over soccer (he was skilled and they were learning the game). He also had supportive professors, including one who allowed him to leave class early so he could be on time for his lunchtime bartending job at a local hotel. (The tips were substantial and he desperately needed the cash). "I had a lot of help," he says.
Fares earned his engineering degree and worked briefly for an Irving company. It was there he learned a key lesson: "Never work for anybody."
"We have the entrepreneurship gene," he says. Feeling he could do more with his talent and effort, he quit. "I said to hell with it."
In 1983 Fares started WM Fares Group. He was recently married, his wife was pregnant, and his mortgage rate was 18.75 per cent. "It was a really tough time," he says. "But I started it and the rest is history."
Fares insists he was never treated differently in Nova Scotia. The only issue was the regular mispronunciation of his first name. (It's pronounced WA-DEE-AH).
"I think Nova Scotians are misunderstood. I'm going to take their side on this one and say we are a very welcoming people."
He points to the donations that flooded in for Syrian refugees. In Halifax, donations filled a former Rona warehouse. "You can't tell me that Nova Scotia is not welcoming.
"I am proud to say I'm from Nova Scotia."
And of the remaining holdouts, who see immigrants as stealers of jobs and leeches on public resources?
"How much more do we have to prove to Nova Scotians or to Canadians that the contributions of immigrants have been a great success?" says Fares, who received the Order of Canada in 2012. "We have built this country.
"And we live in the best country in the world."
Jim Spatz, CEO of Southwest Properties
JIM SPATZ HAS no memories of his birthplace, Munich, Germany.
Spatz arrived in Canada with his Holocaust survivor parents, Riva and Simon, in 1950, when he was 11 months old. And though his parents endured early struggles in Canada—including anti-Semitism and learning a new language—Spatz has benefited hugely from their decision to abandon post-war Germany.
Now in his mid-60s, Spatz is the CEO of Southwest Properties, the real estate and development company his father started 60 years ago with a few rooming houses on Morris Street in Halifax.
"It's always hard to be an immigrant … It's one of the largest challenges in life—to leave the home you grew up in and the language that is not only what you speak but how you think," he says. But Spatz's parents left Europe for the reason that prompts most immigrants.
"They go for a better life, mostly for their children," he adds. "Is immigration challenging? Absolutely. Did my parents face discrimination? Undoubtedly some, but nothing compared to what they'd experienced previously in their lives. In general the feeling they felt for their new home was one of gratitude."
Spatz's parents were Polish. His mother was a teenager when the Nazis invaded during the Second World War. Along with her younger sister and younger brother, Riva fled into a nearby forest. Riva and her sister survived the war; their brother died during a mission to blow up a railway track.
Riva and Simon met in a refugee camp in Munich. They married, and though Simon was doing well in Munich, departed for Canada. The family settled in Halifax, where Riva had a brother and sister. "So there was some support but at the same time it was a great struggle," Spatz says.
Simon ran a grocery store with his brother-in-law before buying his own store on Morris Street—the Southend Market. He later entered the property business by snapping up some rooming houses across the street. Spatz recalls his parents sitting at their kitchen table, sorting out the early rental payments. Riva was the bookkeeper, as well as the "foundation" of the family.
Within 20 years Simon's property holdings eclipsed his grocery business. In the late 60s he sold the store and moved further into real estate, buying and building.
Spatz, meanwhile, achieved the stereotypical goal of all immigrant children: he became a doctor. After 13 years as an ER doctor, however, he decided to enter the family business. "It was something I needed to do."
When Spatz joined Southwest, in 1988, the company had 700-800 units, and was already one of the larger apartment landlords in Halifax. Today Southwest's portfolio includes thousands of units and employs several hundred people. The company is involved with most types of real estate, including apartments and condominiums across Atlantic Canada, office and retail space, hotels, and condos in Florida. The company developed Bishop's Landing on the Halifax waterfront, and, more recently, renovated the Algonquin Hotel in St. Andrews, NB.
Southwest is now constructing Maple, a 21-storey, 300-unit building on Halifax's Hollis Street. Southwest is also building on the site of the former CBC building on Halifax's Sackville Street, part of a development that will include rental units, retail space, and a new YMCA.
"So, yeah, we're a lot bigger," Spatz says with a laugh when asked about the company's growth since his father's real estate foray.
Spatz's company is currently sponsoring a Syrian refugee family. The family hasn't arrived in Canada but has a furnished Southwest apartment waiting for them. (Southwest has also partnered with other Halifax development companies in offering discounted rentals to Syrian families). "It's our duty to give back," he says.
Spatz also contributed $250,000 to create the Riva Spatz Women's Wall of Honour at Mount Saint Vincent University's new McCain Centre. The Wall of Honour includes space for the names of 700 women.
Riva died in 2013, while Simon passed away in 2007 at the age of 91. In the end, Spatz says both his parents saw Canada as most integrated immigrants do—as a place they were fortunate to have entered.
"They always thought Canada offered a lot of freedom and acceptance compared to Europe," Spatz concludes.
"Things turned out well for them in Halifax. They were absolutely grateful to be living here."