Charlie Chamberlain was a big-hearted man with a indomitable spirit, especially at Christmas
Known as the "singing lumberjack" Charlie was a beefy, brawling sweetheart of a singer who came straight out of the backwoods of northern New Brunswick and crooned his way into hearts of Canadians across the country.
The star of the country music show Don Messer's Jubilee—arguably the most popular TV show coast to coast in Canada during the 1960s and 70s—Charlie Chamberlain is a true Canadian folk hero.
Charlie's love of music appeared innate. Although his parents were never affluent, (Charlie would later be quoted as saying their home was so cold on winter mornings, when you woke, you thought rigor mortis had set in) the family home was always filled with music and young Charlie soaked it up.
"All you had to do was give Charlie two sticks and a pot and he was making music," a Bathurst resident once said of Charlie's childhood.
Big-Hearted
Along with his love of music, even in his early years Charlie displayed an altruism that would guide him throughout his life. Stories were told of his going to the Bathurst train station when he was about five years old to sing for the troops leaving for overseas during the First World War.
In 1922, when Charlie was a grade five student, his father, who was chief of the Bathurst police force, died suddenly following an automobile accident. His wife, Elizabeth, and children found themselves in dire straits.
Ten-year-old Charlie decided he must help. He took to stealing chickens and vegetables from their neighbours and coal from the railway station. Fortunately the local police who responded to complaints of Charlie's activities, tended to turn a blind eye to the thefts. Their respect for his father's memory, combined with his mother's alibis, kept the boy out of jail.
When Charlie was 13 he quit school, ("I never was much of a scholar," he once said) and went to work with crews building roads in northern New Brunswick. His $3-a-week earnings went directly to Kent's General Store in Bathurst to be deducted from his family's constant bill for supplies.
Later he'd find employment in lumber camps in the area, where he learned to do the step dances that would later, together with his derby hat and old shillelagh, become part of his recognizable signature. "I learned to step dance on the tables in the lumber camps," he confessed. "There were always guitars. And we would have Jew's harps and horseshoes and a spike and binder twine for accompaniment."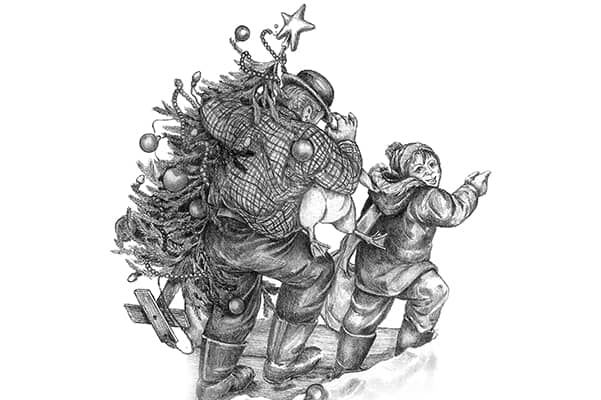 A Song Of True Romance
During those years of long hours and intense labour, Charlie developed a work ethic that would later carry him through the grueling decades of musical tours that followed. He also met Lydia Doucette. A genuine romantic, Charlie described his first encounter with his future wife in poetic words.
"If God ever made anything better, he would have kept it for himself," he said as he watched the tall, slender brunette sashaying down the lane to her father's farm in Belledune, NB. According to Charlie's daughter, Ann Marie, he would forever describe her mother, his "Ti-Belle," this way.
It was his love for Lydia that led to his musical talents being discovered. When Lydia moved to Saint John, Charlie abandoned his work in the woods and hopped on a train to follow her. Playing his guitar and singing during the trip, he was noticed by a chartered accountant, Lansdowne Belyea. Impressed, Belyea approached Charlie and suggested he could make a career in music. Charlie was overjoyed.
Once in Saint John, Belyea introduced Charlie to several up-and-coming musicians, among them Don Messer. Over the years Charlie would become an integral member of Don Messer's band as they travelled the country, performing at various venues and becoming first radio and then, in the 1950s and 60s, television stars. They would be the first Canadian group to sell a million recordings.
Despite the fame, Charlie always described himself as "plain old Charlie, I'm a lumberjack, you know." But plain old Charlie was much more. At 255 pounds, he was a bear of a man, with a kind heart to match his physical size. He'd tear up at a sad movie and was a soft touch for anyone with a tale of woe. So soft, in fact, Lydia sometimes had to gently remind him he had six children of his own for whom to provide.
True Christmas Spirit
Christmas may have seen Charlie at his best. In December 1943, the Chamberlain home was filled with the exuberant spirits of six youngsters, the eldest just ten years old.
On Christmas Eve Charlie invited his friend Russell Downe over to play guitar. As the two men were making the house ring with music, the newspaper boy arrived at the door to collect for the week.
"Do you have a tree like that at home?" Charlie asked when he saw the youngster staring at the Chamberlain Christmas tree glowing with lights.
"No, sir," the boy replied shyly. "My father's not working. We'll have Christmas next year."
"What? No tree? No presents? No turkey?" Charlie was appalled.
"No, sir."
"Well, you will have them now." Charlie crossed the room, unplugged the lights, and, half-dragging, half carrying the tree, headed for the door. "Open up, Russell!" he yelled to his friend.
Ann Marie, recalled watching from an upstairs window as her father marched down the street with their decorated tree clutched in one hand, light chords dangling.
When Charlie appeared in the doorway of the boy's home with the tree, the lad's mother was astounded. She was even more astonished when, after placing it in her living room, he hurried off to return with a turkey and presents. He'd completely exhausted the Chamberlain Christmas collection.
But Charlie, being Charlie, wasn't about to see his own family go without. He called Mr. Stacey who managed the local Woolworths and convinced him to re-open. There he hastily replenished the children's gifts before hustling off to find another turkey and a straggly replacement tree.
Charlie's Final Call
Exhausted from years of television and touring, Charlie Chamberlain died July 16, 1972. Just weeks before, Charlie had been taping another series of programs before when he collapsed in Hamilton, Ont. Sensing his end, Charlie requested go home to Bathurst, NB.
"Seriously ill, ravaged by pain that, from time to time brought sweat to his brow and made it difficult to speak, he still projected the charisma, the gallantry that set him apart," wrote one newspaper reporter after interviewing Charlie in Bathurst. "He was still the same old Charlie."
"I've had a good and full life and a loving family," Charlie commented. "What more can a man ask than that? If I had to do it over again, I think I would do it just the same way."
Charlie Chamberlain died a few days later. He was 61.
Spirit Lives On
But a vibrant, life-loving spirit such as his does not easily vanish from this earth. Take, for instance, what happened during the funeral of Don Messer, Charlie's long time friend and bandleader in March 1973. As the congregation stood to leave a beautiful tenor voice froze them in place. Partway down the church a man in a black coat with a dark hat pulled low to obscure his face had begun to sing "How Great Thou Art."
People listened mesmerized. It could only be the voice of a young Charlie Chamberlain, before age and exhaustion had begun to take its toll. The man sang all the verses before he melted into the crowd.
When Charlie's wife Lydia and others tried to find mysterious singer, he'd vanished. No one could recall seeing the person in black come out of the church. No one could recall seeing him before his singing had drawn attention to his presence. Few doubted that it had been the spirit of Charlie Chamberlain, come to say farewell to his longtime colleague and friend.
"Mom was absolutely convinced it was Dad's spirit come back to bid farewell to Mr. Messer," Ann Marie said. "It would be typical."
The Bathurst weekly newspaper had this to say on Charlie's death:
"Charlie Chamberlain was and will remain a Canadian symbol and legend. He was what he was and stayed that way until the very end…a simple, unpretentious man with a love song in his heart and soul. He had a deep feeling of concern for those near and dear to him, sympathy for anyone in unfortunate circumstances."
Charlie's singing voice remains only on tapes and records, but the memories of the altruism that characterized the man linger. His truly was a spirit of Christmas Past.