Theories, scuttlebutt, and crossed fingers define a new archeological dig in southern Newfoundland
Point Rosee is a beautiful spot for a hike, and a partridgeberry patch, but it seems an unlikely spot for a Norse settlement.
From atop the steep rocky cliffs that jut out from southwest coast of Newfoundland, you can watch gannets skim just above the Gulf of St. Lawrence. They catch the updrafts off cresting waves and resemble surfers riding the barrel.
There are dangerous shoals just offshore and the only beach to land a boat has no sand, just large cobblestones. Despite its rugged beauty, it's not the most inviting place to land a knarr, the wooden merchant ship used by Norse explorers.
Yet, for the third summer in a row, archaeologists were out on the windswept headland that juts out from the coast like an outstretched thumb. In the spring, the results of last year's dig were trumpeted in National Geographic, The New York Times, and a BBC documentary.
So what's all the hubbub about?
World-renowned American archaeologist Dr. Sarah Parcak had zeroed in on Point Rosee using her satellite-imaging technique, the same one she's used to find other ancient archeological sites and that won her the $1-million 2016 TED (Technology, Entertainment and Design) prize. She also used magnetometry tests and found some "hot spots" which she explored in 2015.
Although not conclusive, the team thought they found evidence of bog-iron smelting that would have firmly linked the site to the Norse, because no native cultures used that form of metallurgy in the 11th century.
Dr. Birgitta Wallace, archaeologist and Canada's foremost expert on the Norse exploration of North America (author of Westward Vikings: The Saga of L'Anse aux Meadows), says there is nothing in the Vinland sagas that mentions a place like Point Rosee. This is in stark contrast to L'Anse aux Meadows, the site discovered in 1960, and which is referred to as Straumfjord, or "fjord of currents" in the sagas.
Parcak's imaging techniques revealed lines that looked like the remnants of a building the same dimension as the longhouses found at L'Anse aux Meadows, suggested an optimistic narrator in the BBC documentary. More tangible evidence was also discovered in the form of bog iron, and what looked like a stone bowl-shaped hearth ignited hope that it might be the yet to be discovered second settlement mentioned in the Vinland sagas.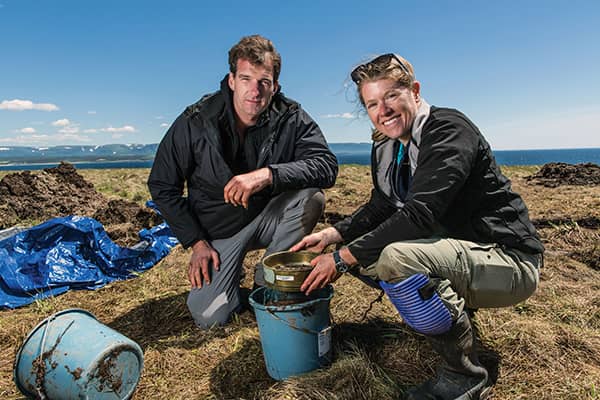 All the hoopla in April, and news of a follow-up dig, set tongues wagging in the nearby Codroy Valley, where residents hope another Norse discovery will be a boon to tourism in the area, much like L'Anse aux Meadows has been to the Northern Peninsula. It became a UNESCO World Heritage site in 1978 and is a popular tourist destination.
The Codroy Valley doesn't seem like it needs a boost. It has striking natural beauty with beaches, rivers, lush meadows, and forests against a backdrop of the Long Range Mountains. It also has the most inviting climate in Newfoundland with the most fertile soil.
Parcak, the leader of the dig, called it "God's own country" in a tweet she sent on her last day in Newfoundland. What Point Rosee lacks in accessibility, the Codroy Valley makes up for. If the Norse settled somewhere else in the Codroy Valley, one could certainly see why.
Parcak, who signed a non-disclosure agreement with National Geographic because the magazine funded her dig at Point Rosee, declined Saltscapes an interview request.
The team of a dozen specialists, which includes New Brunswick seed expert Dr. Kevin Leonard, would often shop at Gale's Clover Farm, the store nearest to the dig. It's a typical country store where you can get everything from bananas to banjos to brass pipes. There is a National Geographic Society flag hanging in the window, but the magazine might be the only thing you can't get here.
Edwin (Hockey) Gale is the owner and says the people working at the dig were polite, but only expressed a "cautious optimism" while remaining tight-lipped about what they'd found while sifting through the soil that lays underneath the sod they carefully removed and placed into neat piles.
Their work garnered lots of interest, Gale says.
"People are coming from all over the world. They want to know how they can get to Point Rosee. I'm not sure if a discovery would generate more excitement than there already is."
While archaeologists were getting their hands dirty sifting through the soil of Point Rosee, locals got excited, even though they had little to go on.
At Joe's Country Café, where the local scuttlebutt brigade meets every morning at 8am, there is talk of "federal money" if the dig is fruitful. They hope that finding a second Norse site will boost tourism in the area. Like the gannets that skim just above the water off Point Rosee, people are looking to take advantage of forces that will lift their fortunes.
Martha Drake, an archaeologist with the provincial government, suggested Parcak hold a public meeting in the community, a sentiment echoed by one of the regulars at Joe's—but Parcak didn't.
In an interview before Parcak arrived in July, Drake provided a stark contrast to the giddy media reports from April—particularly the ones about bog iron smelting.
"It might have been roasted, but nothing to indicate that it was done by humans," Drake said. "It could be a natural formation."
Bog iron occurs naturally and it has to be roasted to remove the impurities before it can be smelted. Smelting takes incredibly high heat, though, and there's no evidence of that.
Drake's department is not a promoter of the dig though, it merely acts as a regulator and it didn't hold a public meeting either.
So the rumour mill was in overdrive.
"There are rumours floating around that they've found walls," said a regular at Joe's Country Café.
"Anytime somebody talks, it's a rumour by midnight and a lie by noon the next day," says another as he goes behind the counter to pour his own coffee when the waitress gets busy.
There is a lot of interest, and excitement, but Colleen Gale (no relation to Hockey Gale) is the exception. She and her husband own land next to Point Rosee. While they don't mind hikers going out on the south shore of the headland, they're concerned about their privacy and people walking through their bakeapple bog.
"I'm one of the few people in the whole valley who wants there to be nothing here," she said on a trip out to watch the archaeologists. "I want it to be preserved in its natural state."
While she thinks it's important to preserve history, she is afraid a Norse discovery could lead to overdevelopment.
Many were skeptical about the Norse being at L'Anse aux Meadows, but in 1960, Norwegian archaeologists Helge Ingstad and Anne Stine confirmed there was indeed a settlement there. It was built by Norse explorers who had left a fairly recent colony in Greenland. With further excavations in the 60s and 70s, Ingstad and Stine proved that it was a year-round settlement of between 70 to 90 people. In 1963, Wallace joined them. Swedish archaeologist Wallace, who worked for the Carnegie Museum in Pittsburgh, was in charge of investigating all reports of Norse exploration in North America.
She said the Norse used L'Anse aux Meadows as a staging area. Ever the seafarers, the Norse explored the area around Newfoundland and did the tour of the Gulf of St. Lawrence.
In one of their digs, Wallace said the team found three butternuts, which have never grown in Newfoundland. The nearest place where they occur naturally is eastern New Brunswick. Coincidentally, this is also the nearest location where wild grapes grew, and wild grapes were the inspiration for the name Vinland, which means wine-land in Old Norse.
Wallace visited Point Rosee this summer while Parcak and her team were digging. She met Parcak, saw what they had found and sized it up.
"I don't think we'll hear too much more about it," she ventured.
Wallace thinks the second settlement, (referred to as "Hop" in the Vinland sagas) is in the Miramichi region of New Brunswick. That has butternuts, wild grapes, and physical features that match those in the Vinland sagas (two Icelandic texts written independently of each other in the early 13th century that represent the most complete information we have about the Norse exploration of the Americas).
Proving much more than that will be unlikely, Wallace said. The Norse who came to Vinland didn't stay long. They were over-extended and a trip from Greenland to the Miramichi was the same distance as a trip from Greenland back to Norway.
The Norse propensity for leaving little behind, and the fact that Hop was just a seasonal camp, means there is likely little trace of it. L'Anse aux Meadows was a year-round settlement, but the archaeological evidence found there was modest.
Even though Point Rosee is likely a dead end, it won't end the search for the second settlement. The lure of folklore is strong, as is the appeal of new satellite technology. Perhaps the two could be married to explore other sites, ones that mesh more closely with those described in the Vinland sagas.
Now retired and living in Halifax, far from the shores explored by the Norse, Wallace's detached perspective might be exactly what is needed by anyone hoping to pick up the quest.
If Parks Canada allows one of three butternuts found at L'Anse aux Meadows to be tested—as Wallace has suggested—to determine if it's a butternut from New Brunswick, which has a distinctive DNA, that could be the next clue.
If it's positive, a careful reading of the Vinland sagas might lead to satellite images of the Miramichi being scrutinized in the hope of finding Hop.
And the speculation continues…by Ryan Van Horne
Like the Vinland sagas, which were passed down verbally from generation to generation before being written down more than 200 years after the Norse explored North America, there is a saga passed down through the generations of Clan MacIsaac.
When Wayne MacIsaac was growing up, his grandfather Sandy told him the story of the gruesome discovery that his great-grandfather, Francis MacIsaac, made on the beach at the mouth of the Little Codroy River.
Francis was a Gaelic speaker who arrived as a babe in arms in an open boat from Nova Scotia. Wayne's great-grandfather was the first MacIsaac in the Codroy Valley, he operated two cable ferries across the river and was later credited with saving the lives of 83 men when their sealing vessel was crushed by pack ice well offshore.
He was a no-nonsense kind of guy, so when he told people what he saw on the beach after a storm, people believed him.
"It was a massive storm. It changed the shape of the sandbar," Wayne MacIsaac says. "When people went out there they found a plank-built boat that had been unearthed by the storm. None of the local boat builders had ever seen anything like it. Under it were three skeletons of tall men and a stone arrowhead."
That story ignited an interest in Norse exploration and when MacIsaac found a copy of the Vinland sagas at his high school library. He was struck by the description of the settlement the Norse called "Hop" and how it seemed to perfectly match the description of the mouth of the Little Codroy River. It is near the end of the mountains the Norse had seen further to the north, the Long Range Mountains, there's a river opening you can only get through at high tide, and there was a saltwater lake behind the beach.
In exploring the area, Wayne has uncovered what he thinks could be a defensive wall and mounds that could have been the foundation of a dwelling. He's tried for years to get people to take a look, MacIsaac says, but their efforts have been half-hearted.
A man from the provincial archaeology office came out and said it was a potato cellar, despite the fact that it was far from town. He stuck a shovel in the ground, but not with any purpose, said MacIsaac. When he was done, he turned to MacIsaac and said: "There's nothing here, but don't dig."
The Vinland sagas tell of further exploration and encounters with First Nations people at a summer colony. It provides clues to what the area looked like, but no road map. One saga mentions Thorvald Karlsefni, who was killed by an arrow, but archaeologist Birgitta Wallace says it's unlikely that skeletons and a boat could survive 900 years in a sand dune.
At Joe's Country Café, across the street from Wayne MacIsaac's old school, a visitor is urged to speak to MacIsaac if they want to hear any "Viking stories."
"He's a bit of a local sage," says one resident.
While his knowledge of Norse exploration is considerable, MacIsaac can't say for sure there's something there, he just wants someone to have a closer look.