At Meadowbrook Meat Market community comes ahead of business
"It's about building up community," says Margie Lamb. This wouldn't be such an odd statement if she weren't talking about her business. We're standing in her retail shop at Meadowbrook Farm in Somerset, near Berwick in Nova Scotia's Annapolis Valley. Almost all of the hundred-plus products on these shelves is made within 40 kilometres of here.
"We can only grow this economy if we can support ourselves, if we can support each other," says Margie. Her theory of economics cuts against the grain of traditional models of competition. "I look at the spinoff we can create. Our pride and joy is that when [my husband] Jimmie and I decided we were going to carry other products, we made the decision that it would be local." Touring the store, she names more than 40 small producers and where they live and work. There's cheese, cider, blueberry juice, baked goods, snack food, free range chicken, vegetables, a ready-to-light campfire log and dog treats made by a nearby sheltered workshop. Even the candies at the checkout are local. 
On the coffee shelf, Meadowbrook's Oink-ganic Dark Roast is made by Just Us! Coffee Roasters Co-op near Wolfville. And yes, the Lambs have a sense of humour. That much is obvious as soon as you pull into the parking lot and see the sign that reads: "Parking for Mudders with Little Ones." Another announces: "Parking for Those Who Like Swine Dining." Their light-hearted, co-operative approach to business has earned the Lambs support and loyalty across the province. "I have a responsibility to participate in my community," is how Margie sums up the Meadowbrook business philosophy.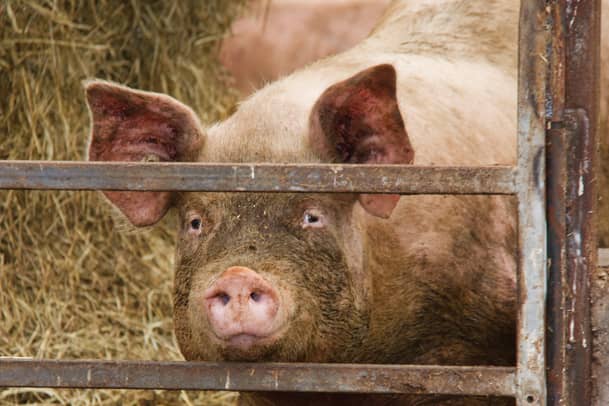 Growing The Farm
Most of the meat products at Meadowbrook Meat Market are grown and made right here on this small 59-acre hog farm. The three barns, processing facilities, retail shop and farmhouse take up very little of that acreage. Much of the rest is pasture to grow bedding hay for the hogs, plus fields of corn, soybeans and wheat to supplement their feed. The farm's hog production system is a closed loop. "We grow the grain, we raise the animals, process them and compost what's left to go back to the land," says Margie. All the hogs needed are raised right on the farm, even the multiplier stock. Doing so is economical, but also protects the herd from the risk of disease.  
Margie goes out to the barns for a peek inside the nursing barn where sows feed their piglets. At the last barn we linger, watching 50-odd pregnant sows lazing in two side-by-side pens and slowly dismantling giant round hay bales placed like bumpers in a pinball machine.
When the sows are ready to give birth, they return to the nursing barn where they'll stay for about 35 days until their piglets weigh 25 to 35 pounds and are weaned. While the piglets are nursing, they are introduced to what Margie calls a "creep feed" to help them adjust to solid food. "The mother stays in good condition," explains Margie, "and the babies get used to feeding on their own." When full grown, the hogs are taken to a local abattoir, then the meat is returned to the retail shop for processing.
Margie says there are good reasons why the hogs are never pastured. They don't graze, and they're susceptible to sunburn and frostbite. But most importantly, hogs can pick up the dreaded trichinosis (an infection caused by a roundworm) from the soil, a disease long ago eradicated in Nova Scotia, but one that could be reintroduced. Margie says her hogs are happy in the barn on this hot day in the shade with a strong breeze blowing through. She adds with signature dry wit, "And I've chased pigs outdoors… they win."
While Meadowbrook does not have organic status because the grain they feed their hogs is not designated so, Margie says, "the grain is as natural as it can be." Antibiotics are rarely used and only when an animal is sick. Meadowbrook meats do have designation as "Premium Nova Scotia Pork," which means that 80 per cent, or more, of the animal feed is grown in the province.
Going Whole Hog
When Margie married Jimmie and came to live on the farm, he was raising cattle and growing commodity pork at the rate of 200 hogs a week. In the 1990s, he changed direction and decided to raise about 50 hogs a week and process them himself. Margie says, "I think Jimmie could look forward in the industry and try something before somebody else."
About two years after they married, Jimmie and Margie opened their first shop, "trying to sell a side of pork on a Saturday morning," says Margie. The original shop and cooler was a tiny portion of the current space expanded in 2007, a warren of add-ons for processing, storing supplies and doing laundry.
Jimmie and Margie developed many new products like porkstrami (pastrami made of pork) and other deli meats, the locally famous "Jimmie Lamb Ham" and smoked bacon. They are on track to sell nearly 20,000 packages of their famous "Jimmie Dogs" in 2016. But they might be best known for their many flavours of sausage. Margie says there's nothing better than a freshly smoked sausage. "It's just like taking a muffin out of the oven."
Wholesale is the largest part of Meadowbrook's business at 65 per cent. Many small shops, markets and restaurants around Nova Scotia sell Meadowbrook meats. And "Pork on Wheels," their barbecue catering business, has expanded to a year round business, sometimes catering five events a day. A single mobile barbecue can prepare two 100-pound hogs at a time.
For a recent birthday present, Margie asked Jimmie to take her to a meat trade show in Toronto. Not your average gift, but to Margie, it was perfect. While there, they bought a $70,000 computerized self-cooking centre that uses steam or dry heat to automatically prepare products like pulled pork, paté and roast beef. For their hard work, innovation and product quality, the Lambs were awarded the 2011 Taste of Nova Scotia Prestige Award as Producer of the Year. The Annapolis Valley Chamber of Commerce named them Small Business of the Year for 2013.
Challenge And Loss
Margie and Jimmie both grew up in the community—Jimmie on the dairy farm next door, Margie on a farm nearby where her mother, a factory worker, and father, (a cooper by trade) grew strawberries, cucumbers and potatoes. They were in the same class at school, but weren't childhood sweethearts. Margie admits to having a crush on Jimmie in grade seven, but he never noticed.
When they married in 1986, Margie was a career elementary teacher and Jimmie a seed salesman already living at Meadowbrook, which he bought in 1978. To her curious students, Margie would say of her marriage to Jimmie, "My husband has two children, I have two children, and together, we have five children." Today, none of their children lives in the community. Margie and Jimmie never wanted the farm to be a burden, so they never asked them to return home if times got tough.
And tough times did come. Two fires destroyed significant assets, one the original carriage barn next to the house and in 2008 a barn with half their herd. They've dealt with disease and changes in agriculture that have seen many farms and related businesses close.
But one challenge proved far more difficult than any of these. Jimmie died on April 15, 2016, about 29 months after a cancer diagnosis. Oddly, he was in remission when he died—the radiation treatment proved too damaging to his body. As Margie talks about it, she loses her composure and through tears says, "He should have been able to enjoy what he'd worked so hard for." Later she tells me, "You shouldn't be proud of insurance, but we are probably better financially now because of it. That's really sad." Sad indeed for a couple who never drew salaries from their own business while employing 30 others.
More than 1,500 people attended Jimmie's funeral in the local arena. Like the rest of the community, the Lambs supported the construction of the new arena, fully financed before ground was broken. Margie never once considered giving up Meadowbrook. "We have choices," she says. "We either pick up and go on or we lie down." What really chokes her up is talking about the support of the community. "The people, the customers have been so kind. We wouldn't be here without them. It blows my mind to think that people travel an hour, two hours or more to shop here." About Meadowbrook staff—some have worked here for 30 years—Margie says, "Every one of them stepped up from stepping up, if that's possible."
Even with her husband's death, she counts herself lucky. "We are truly blessed in so many ways," says Margie. Jimmie's illness was long enough to give them time to put things in place. They sat down with their children and worked out a will. They made sure their employees could continue to work. "We have 30 people we still need to think about," she says. Like it's always been at Meadowbrook, community comes ahead of business.