Sara Jewell's collection on life in rural Nova Scotia
The blurb on the back of Sara Jewell's collection of essays, Field Notes: A City Girl's Search for Heart and Home in Rural Nova Scotia, calls the book "tender and heartfelt." It is all that and so much more.
The book is drawn from Sara's biweekly columns with the Cumberland County, NS, Citizen-Record, as well as from essays published here in Saltscapes. These aren't reprints—they have been expanded, with more details than in the original pieces, so those who have read and enjoyed her stories but wished a particular one was longer can enjoy them again.
Sara came to Nova Scotia almost every year to her parents' summer home near Pugwash from wherever she was living at the time, be it Ontario or the West Coast. When her first marriage broke down, she didn't hesitate to come east—to heal and think about her future and ultimately to stay for good.
"I quickly discovered the root of my unhappiness," she says. "I was not cut out for city living." She enjoys visits to the city but finds she prefers her Bogs boots to dress boots and the sounds of country silence to city traffic. Sara fell in love with the place and the people—one in particular, who would become her husband and soulmate.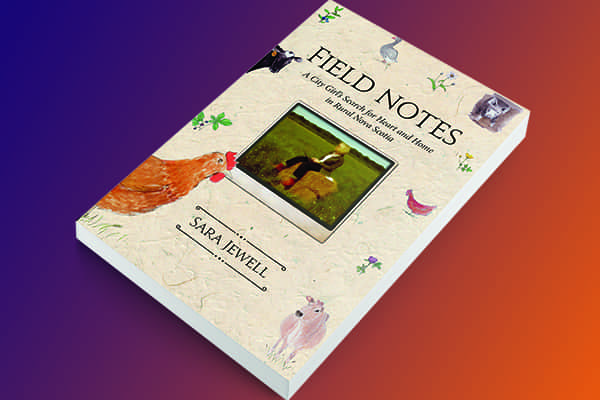 The longer Sara lived in Nova Scotia and explored her surroundings and her family history, the more she discovered about herself. A conversation with her mother about an old steamer trunk led her to realize that she had immigrants in her background: "You believe your family has always lived here. You don't think you have an immigration story [or] any connection to Pier 21. Until you do."
The book's essays aren't all auto-biographical, although Sara is the lens through which we meet other people. There are wonderful profiles of neighbours and friends, including talented pottery artisan Jennifer Houghtaling of Earth and Vine Studio in Pugwash, or about Sam and Alia and their children (a Muslim family who moved here nearly 30 years ago), or about making dandelion jelly and other preserves with friend and neighbour Jane Purdy.
Some stories will make you laugh, possibly in sympathetic understanding. Perhaps my favourite story in the entire volume is the one about redecorating the house where Sara and Dwayne melded their lives into one. The moose antlers over the bed had to go—and when Dwayne came home with a stuffed bear's head, (named Jack, of course, because who doesn't name their trophies?) Sara was adamant that it wasn't going on any wall in the house, either. The parting shot from Dwayne as he lugged Jack out to the shop? "If you write about this, I get to bring Jack back in the house and hang him above the fireplace."
Some of the essays will undoubtedly make you teary-eyed, and they often have to do with animals—wild or companion. The tender ode to Stella, a boxer dog that was Sara's companion for many years, will ring true to anyone who has bid farewell to a beloved pet. The writing is tender without being maudlin, pragmatic yet compassionate.
Whether you laugh or cry at the essays, they'll make you think and, hopefully, appreciate even more this wonderful and complicated region where we make our heart's home. Sara worries about the disappearance of rural cultures, from antique tractor shows to church socials. Her observation on the diminished attendance at church services is particularly poignant. Where will people gather, she asks, to support each other in the community if churches disappear? "No matter how many people click 'like' on a person's 'prayer to heaven' Facebook post, social media can't provide the face-to-face contact of conversation and the heart-to-heart connection of hugs." So very true.
If Sara Jewell's book of essays has a mantra, it might be the excerpt she quotes from a poem by Mary Oliver—one that works well as a mantra for anyone: "Instructions for living a life: Pay attention. Be astonished. Tell about it." Sara has done just that.
Field Notes is published by Nimbus.