Perhaps Canada's greatest-ever entrepreneur
"My Lords, ladies, and gentlemen; welcome to this voyage of the Queen Mary 2. And it is a voyage, not a cruise. The Queen Mary 2 is an ocean liner, not a cruise ship."
These are the opening words from Captain Kevin Oprey on a transatlantic crossing last October from Southampton to New York. His point is well made. Cunard's liners are a rare breed of ship specifically designed to ply the world's oceans as opposed to a floating hotel lounging in calm Caribbean or Mediterranean waters.
This year, the Cunard Line commemorates its 175th anniversary. The flagship of the current fleet, the Queen Mary 2, will follow the route Cunard's first ship (the paddle steamer Britannia) took in 1840. On July 4th the QM2 will depart Liverpool and arrive in Halifax on July 10th enroute to Boston.
The QM2 is 1,132 feet long and accommodates 2,620 passengers and 1,253 crew. It is so large a Cunard historian likens docking it to parking a 20-story building. Amenities include 10 restaurants, a movie cinema, planetarium, professional theatre, a 10,000-volume library, the largest dance floor afloat, kennels, a florist, sports facilities, a spa and fitness classes, a shopping arcade, ship-wide Wi-Fi, top entertainers and live music, including an orchestra for dances—all with white glove service that will spoil you for the real world.
While Halifax-born Sir Samuel Cunard was a serial entrepreneur, the steamship line is his most enduring legacy and the leader in transoceanic travel. In Atlantic Canada, however, we either don't know about Cunard, or take his accomplishments for granted—making this anniversary year a good time to consider the man who "dreamed of an ocean railway" and aguably built the greatest mercantile legacy of any Canadian.
Although just one of a number of partners that started the steamship line, Roger Marsters, curator of marine history at the Maritime Museum of the Atlantic, notes the company was identified with Cunard almost immediately. "He had to access deep pockets in Britain to get the whole thing going, but nevertheless it was always Cunard's line. I think that speaks to his dominant personality."
The Maritime Museum, which has always had a Cunard exhibit in its Age of Steam section, is refreshing the display for this year's anniversary to focus on how Cunard was able to use new technologies and Nova Scotia's logistical advantages to become a global player in transatlantic steam navigation.
In the late 19th and early 20th century, the Cunard line became the premiere maritime travel firm in the world, making steam travel a part of everyday life for many—and facilitating large scale migration of people from Europe to North America.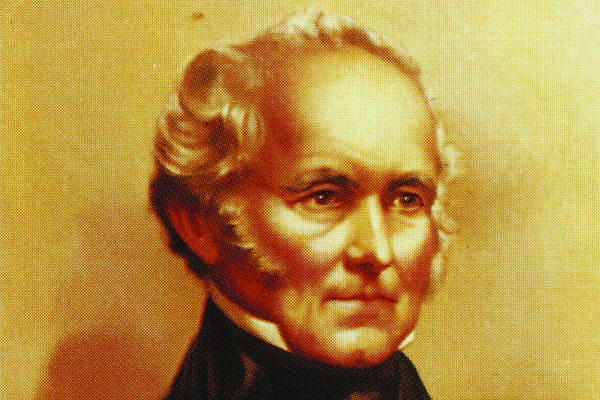 During wartime, Cunard ships were pressed into service as troop transport, hospital ships and floating stables for everything from the Crimean and Boer wars to the Falklands. In the First World War, Cunard ships carried more than a million troops. During the Second World War they transported 4.4 million military personnel and 11 million tons of cargo more than five million miles. The original Queen Mary brought Winston Churchill to Halifax so he could attend the Quebec Conference to plan the D-Day Invasion, and later delivered 10,000 war brides to Canada.
The line was also a casualty of war, losing 16 ships in the First World War. The most famous was the sinking of the Lusitania by a German torpedo which cost 1,198 passenger and crew lives.
On-board ship history says: "Cunard chose his first captains and crew with great care, beginning a proud tradition that Cunard Line honours to this day. The liners operated a strict on-board hierarchy to ensure the smooth running of a small town at sea."
That smooth sailing is part of Cunard's safety record and different from its competitors, like the White Star Line, which owned the ill-fated Titanic.
Cunard ships ended in "ia," while White Star Liners ended in "ic." Cunard company historian Michael Gallagher lists some of the famous names carried by the 248 Cunard ships built since 1840: Mauretania, Aquitania, Britannia, Lusitania, Carpathia, Hibernia. A favoured story in Liverpool, where the company was once headquartered, is of a Cunard representative telling King George V the company planned to name their new ship after the Queen (meaning his grandmother, Queen Victoria). The King is said to have replied, "Oh, Queen Mary will be pleased."
The line began when Cunard was awarded the first contract to carry mail in 1839. Ever the entrepreneur, he made more money with the addition of paying passengers. His great-great-great grandson, Charlottetown insurance consultant Hugh Paton, says because Cunard's mother had a drinking problem, "Sam" had to go to work at a young age. "He was responsible for a lot of the household management and it made him a very industrious, sober, responsible fellow. He... put together a very vertically integrated industry."
To create steam to power his ships, for example, Cunard needed coal. So he began mining, buying and selling it.
The Royal Mail contract enabled Cunard to cook up a business idea with his childhood friend, James Bennett. Bennett, who had taught school in Dartmouth, founded the New York Herald, the first newspaper to print Wall Street financial news. In 1849 Cunard and Bennett reached an agreement whereby a special news packet was dropped from each incoming Cunarder to a boat waiting at the entrance to Halifax Harbour. This packet was passed to a rider waiting onshore who galloped to Digby, picking up a fresh horse every 12 miles of the 144-mile ride. A steamer in Digby rushed the packet to Saint John, which had the closest telegraph office, so the news could be published in New York the next day. And hence the formation of The Associated Press.
Cunard's other businesses ranged from investing in the Halifax Banking Company (which became the Canadian Imperial Bank of Commerce) to lumbering operations in the Miramichi and as a major PEI landowner where he owned 220,000 acres, a fifth of the Island. Widowed at 41 with nine children, Cunard never remarried.
There are lessons to be drawn from Cunard's career, says Marsters. "He had a tremendous store of energy and wasn't daunted by failure.... He was a successful entrepreneur on the world stage. That's important."