Marine botanist Dr. Irené Novaczek works to save a unique species, and one of PEI's heritage industries
On a spectacular day in early July, a day of crystal skies and sparkling water, Dr. Irené Novaczek—clad in a mini wetsuit, long underwear and tall rubber boots—hauls a canoe laden with mysterious equipment into the shallows of Prince Edward Island's Basin Head Estuary. She is heading off to study seaweed.
Not just any seaweed. Novaczek, 63, is a marine botanist employed by the federal Department of Fisheries and Oceans (DFO) to carry out research on the state of giant Irish moss (Chondrus crispus), a form of the species unique to Basin Head and in imminent danger of extinction.
Where the lagoon was once thick with the commercially valuable moss, today only a few small patches remain, ever more vulnerable to a number of serious, adverse environmental factors.
Storm surges, seaweed overharvesting, siltation, nitrates from farm fertilizers and—perhaps worst of all—the invasive European green crab have contributed to the decline, the crabs by eating the mussels to which the moss vitally attaches itself.
In an attempt to preserve what moss remains, the federal government designated Basin Head a Marine Protected Area (MPA) in 2005, the only such region in the Gulf of St. Lawrence.
"This is the only MPA in PEI," says Novaczek. "We can learn a lot about how estuaries function, working in a very protected space. These coastal lagoons are rare types of ecosystems; each one of them is different from the others and very different from the open sea. They are very dynamic, very rich and at the same time very vulnerable. The giant Irish moss is now at risk. My job is to see how we can control this and reverse it."
Novaczek, cheerful and pragmatic, is herself a fairly rare specimen. Born in Scotland, she came to the Maritimes as a child. She graduated in 1974 from Dalhousie University with an honours degree in biology and chemistry. "I was one of the last generations of marine botanists when I was in university," she says matter-of-factly. "Today the emphasis is on molecular genetics. Not many people have the skills to identify species and subspecies anymore. There are very few marine botanists in Canada, and I am one of them."
David Cairns, the DFO research analyst who brought Novaczek on board for the Basin Head project, concurs. "It's a very narrow specialty," he says. "It was very fortunate that Irené was available to be involved in this project. She has a long history working in marine conservation and marine science—not only on PEI but also internationally."
Indeed, much of Novaczek's professional experience has been in remote and exotic corners of the planet. Her career has taken her from Auckland, New Zealand, to Europe, Southeast Asia and Fiji. She has researched the habits of seaweed in the Mediterranean and the North Sea and local fishery-management systems in the South Pacific. And, of course, she has worked coast-to-coast in Canada on numerous research projects.
In 1989, Novaczek found herself back in the Maritimes, investigating an outbreak of domoic acid poisoning that had suddenly invaded Prince Edward Island's mussel beds.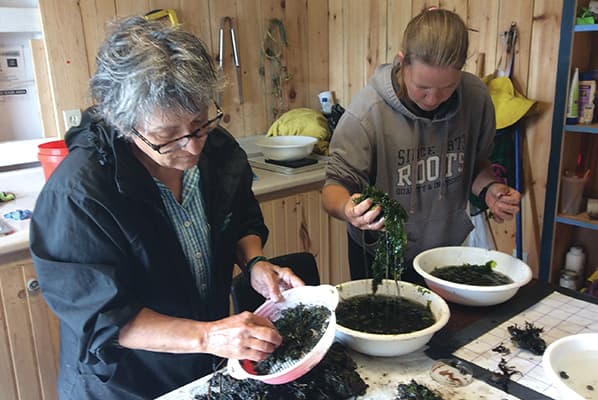 It was caused by a massive bloom of single-celled plankton called Nitzschia, but "no one knew that Nitzschia was poisonous," Novaczek recalls. The mussels gorged themselves on the deadly organism, concentrating the poison in their flesh. Four unfortunate consumers died. Her mission was to find out how long the mussels retained the poison and how long it would take to clean them out.
"Working on PEI, I became quite attached to the people and the landscape," she muses. It's no surprise that she eventually set down roots, with her husband Ernest, and daughters Zoe and Emilie, in Breadalbane, at the heart of the island.
Even so, her international career didn't miss a step. As an independent scientist, she continued to accept far-flung assignments through Canadian University Service Overseas (CUSO) and Canadian International Development Agency (CIDA), sometimes moving her family with her, sometimes commuting every couple of months.
There was no lack of adventure, from run-ins with corrupt local authorities to her hasty evacuation from Jakarta in 1998, when violent social unrest toppled the Suharto administration. "As I left, they were shelling the university [where she had lectured]; it was being reduced to rubble," she recalls.
A long-time community activist, Novaczek has been a municipal councillor for her community of Breadalbane since 2005. Her earlier development work with Fijian women, creating commercially viable beauty products from seaweed ("some of those women are still running their own businesses to this day"), inspired her to form her own company, Oceanna Seaplants, which produces a range of health and beauty products based on marine plants and medicinal herbs grown in her garden.
From 2004 to 2013, Novaczek worked as executive director of the Institute of Island Studies at the University of Prince Edward Island (UPEI). "Then the university got into financial difficulties and eliminated the position, so I lost my job," she says wryly. What she doesn't mention is that the university's move was widely controversial, drawing passionate petitions from academics and researchers, urging the board to reverse its decision.
That didn't happen, but in a way, it was fortuitous: It meant that Novaczek was available when Cairns called to recruit her to the Basin Head Irish moss project.
"This was really a dream job for me," Novaczek exclaims. "I'm very concerned about the viability of Irish moss on PEI because the coastal Irish moss has been pretty much demolished by fishing. The Basin Head moss is a very distinct form. It grows much bigger than usual, and it doesn't grow out of the ground—it attaches itself to the byssal threads of mussels." She adds, "So if the crabs are eating the mussels, the moss gets swept away and doesn't reproduce. It's very lucky that the MPA was established, which eliminated human harvesting; otherwise the moss would be gone."
As it is, there are only two small patches of giant Irish moss left in Basin Head, totalling about 10 square metres—eight of which have been "planted" by Novaczek and her research team. Each summer, they fill mesh fishing bags and mussel "socks" with a mixture of moss, mussels and oyster shells (for weight), submerge them and allow them to form an attachment, so to speak. When the moss is firmly bound to the mussels, the little bundles are anchored in the farthest reaches of the lagoon. A year later, the team returns to check on their progress.
"The first thing we do every year is document the area of coverage of giant Irish moss," Novaczek explains. "We survey every inch of the bottom, find every individual plant (we have them all tagged), we measure and we record how big it is, if the clump has moved, if it is attached to the bottom, if it needs more oyster shells to anchor it. We're documenting, but we're also trying to conserve because there are so few mussels left and most of them are very old."
To rejuvenate the beds, Novaczek's team brought in hundreds of pounds of young mussels from another bay, flushed them in fresh water for 24 hours (to eliminate alien hitchhikers) and bagged them with moss grown in tanks in Nova Scotia, a conservation effort that began in 2008.
"Some [clumps] survived, some didn't; now we're learning where we can plant and where we can't and how close together they should be," Novaczek says. "It's a process, and I don't know if we'll win, but we sure are trying."
The results are encouraging. In one year, the surviving moss has grown from tiny sprigs to broad leaves 10 centimetres across. "One of the things I hope to test," says Novaczek, "is whether the Irish moss benefits from living on top of the mussels, because the mussels excrete a constant supply of ammonia that is very easy for the plants to absorb. The moss does grow very quickly in very large form when it is growing with the mussels. I can't say yet if the mussels grow faster; all we can say is that they are very healthy and the mortality rate seems low. That is research that still has to be done."
If Novaczek can prove this "friends with benefits" arrangement, it could have significant commercial value: potentially faster-growing, healthier mussels as well as a second crop—the moss—in the socks. Carrageenan from Irish moss is widely used in food processing, health food products and cosmetics, and Basin Head's unique version "has much more carrageenan per unit weight of moss than what's in the wild population."
But her project is not just about commerce. As Novaczek says, "It's also important to monitor diversity." The giant moss, with its sturdy three-dimensional structure, had long offered shelter and protection to many other species in the estuary. When the moss disappeared, so did several other forms of lagoon life. "It's like a desert now," she says regretfully.
But she's not discouraged. As the summer tide drops to its lowest point, she and her team—summer students employed by the DFO and the Souris and area branch of the PEI Wildlife Federation—slip into their canoes and paddle off to spend long, long hours monitoring their seaweed incubators.
Special experimental areas of moss will be geo-located, hauled up and transported to land to be weighed, measured and minutely examined. Every living and dead mussel, cockle or periwinkle will be recorded and each piece of noxious green sea lettuce weighed; science in its purest form. To the young people working with her, Irené Novaczek is an inspiration.
"I'm learning a lot from her," says Jake MacKinnon, a biology student at UPEI. "To be out in the field with her, to see how she does things and to get an idea of the scientific process, how to study certain specimens... she provides a lot of valuable experience."
David Cairns adds: "With any project, there are always ups and downs; things that work and things that don't work yet. Irené is a great person to work with; she can always find humour in a situation, and that's helpful for just about any situation in life."