The revered political cartoonist and his "real" art
Cartoonist Bob Chambers produced thousands of drawings during his career and became famous for using his sharp wit to lampoon the foolish and the powerful in the Halifax Chronicle Herald newspaper while also being an unabashed champion of the "Little Man".
Like most people, Chambers had a hobby—but his avocation didn't stray far from his vocation; he was a prolific painter in his spare time. He never sold any of his paintings, however, and would donate them to charity or give them as gifts.
"He never considered himself a true artist like Alex Colville or Bill deGarthe," said daughter-in-law Anita Chambers, "…but he was always doodling. Even at Sunday dinner, there would always be a napkin with a drawing on it."
Chambers displayed his irrepressible desire to draw at an early age. While attending Horton Academy, the Wolfville, NS native produced an illustrated newspaper called The Weekly Oriole and sold it to Acadia University faculty. At age 17, he drew his first cartoon for the Halifax Chronicle on May 2, 1923. It depicted Yarmouth MLA Howard Corning chopping Nova Scotia away from the rest of Canada after the politician had suggested a referendum on Nova Scotia pulling out of Confederation.
Chambers left for New York the following year where he studied art for a while before taking a job as an animator and drawing cartoons for the New York Evening Graphic. He spent eight years there, but had to return home after the Depression dried up all job prospects.
Back in Nova Scotia, Chambers landed a job with the Liberal-leaning Chronicle and began a relentless crusade against Conservative governments in Halifax and Ottawa. Nova Scotia's premier from 1930-1933, Gordon Harrington, even admitted publicly that the "clever cartoonist" had a tremendous impact on public opinion.
In Acadiensis, University of New Brunswick historian Margaret Conrad wrote an essay called "The Art of Regional Protest" and mentioned Chambers surpassing Donald McRitchie as the pre-eminent man of inks in Atlantic Canada.
"Chambers produced elegantly crafted, cleverly conceived cartoons that drew enthusiastic public attention. In comparison, McRitchie's efforts seemed outdated and even amateur," Conrad wrote.
Halifax Herald publisher W.H. Dennis repeatedly tried to entice Chambers and finally lured him away in 1937 for the then-princely sum of $75 per week—$30 a week more than Chambers made previously—and he was offered a five-year contract. That turned into a 39-year stint as one of the top cartoonists in the country.
Through the war years, Chambers did realistic sketches for a book called Halifax In Wartime as well drawings for another book called Tales Told Under The Old Town Clock.
C.C. Avard, a New Brunswicker who ran a magazine called The Maritime Advocate, encouraged Maritimers to welcome Newfoundland and Labrador with open arms when it joined Confederation. In 1956, the magazine was renamed The Atlantic Advocate and hired Chambers, who, without fail, would project the prevailing notion that the Atlantic region was getting a raw deal from Ottawa.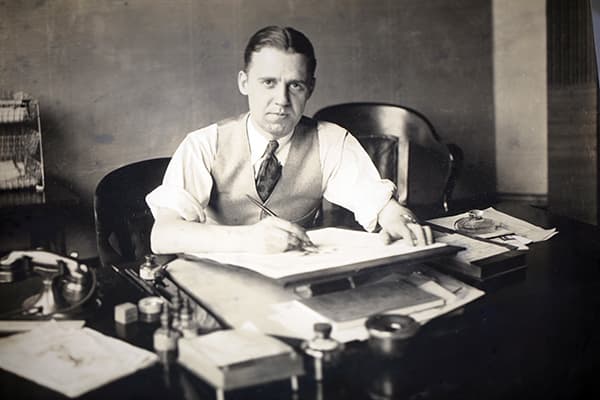 Keen insight
Heather Dennis, the granddaughter of the man who hired Chambers to work for the Halifax Herald, remembers seeing him at work.
"He was very shy, but he had a psychological insight into people and what drove them," Dennis said.
By the time Anita Chambers and Bob Chambers Jr. were married in 1968, Bob Sr. had settled into his career of producing nine cartoons every week; six for the morning editions and three for the afternoon editions.
Bruce MacKinnon, the Herald's cartoonist today, says Chambers worked in a different time. Back then, the original Chambers cartoons were not treated with much respect.
"They used to throw them out at the Herald when they were done with them, which was a crime," MacKinnon said. "Every so often, he'd take one up to the LBR (Ladies Beverage Room on Spring Garden Road) and trade it for lunch. They'd be thrilled to have a Chambers original."
A modest painter
Anita Chambers would often go on excursions with her late husband and her father-in-law. They would head out from the family cottage in Balfron, NS, near Tatamagouche and look for something scenic to capture.
"There was the falls near Balfron that he would like to go and paint. Once we did an overnighter," Anita Chambers said. "I would read or wander around."
Bob Chambers built a deck on the roof of his car so he could drive to a beautiful natural setting on the weekend, set up an easel, and paint to his heart's content. Often, he'd visit friends on Prince Edward Island.
"There is a photo of him on the way to the ferry on the rooftop of the car," Anita Chambers said.
Although he gave much of this work to family or friends as gifts, he also bartered with other artists, so there is an unknown number of Chambers watercolours adorning dens and living rooms across the Maritimes. For many years, Bob Chambers would donate a painting to the annual Kermesse Fun Fair, a fundraiser for the auxiliary at the IWK Children's Hospital in Halifax.
Rob Chambers wants to know more about his grandfather's vast and far-flung collection of watercolours. He is trying to find a gallery willing to exhibit Bob Chamber's paintings, a temporary homecoming, if you will.
The elder Bob took some painting lessons, but was a modest man—perhaps to a fault—and kept most of his paintings stashed away in an art cabinet.
"My aunt and mom found a stash that he had in a closet. We sat in their living room and put them all on the floor. It was kind of neat to see them unearthed."
After Bob Chambers died in 1996, the family divvied up his private artwork. Anita Chambers has one in particular that she cherishes.
"It's a gorgeous one of a fisherman filleting a fish," she said.
Bob Chambers used to go on painting excursions with Peggy's Cove painter Bill deGarthe, she said, and Rob has a book signed by deGarthe with a picture of the fisherman's memorial sculpture that his grandfather helped design for the picturesque fishing village.
In looking at the trove of paintings, it appears that Bob Chambers never took himself too seriously as a painter, despite his talent.
"I've got paintings where he paints on both sides, where he'll paint a scenic thing and then want to practise a guy's face and paint the face over the ocean," Rob Chambers said. "He didn't ever think: 'This one's going to be worth money.'"
When Bruce MacKinnon, longtime cartoonist for the Chronicle Herald, thinks of Bob Chambers' paintings, he thinks of the watercolours Herald publisher Graham Dennis asked him to do for the company Christmas cards. The originals adorned the Herald offices on Argyle Street.
"They were really nicely done; really pretty pieces," MacKinnon said.
A cartooning legend
Cartoonist Michael de Adder, who hails from Riverview, NB, and draws cartoons for several Canadian dailies, remembers buying a book of Chambers cartoons on a family trip to Nova Scotia.
"I used to read it all the time because, in New Brunswick, we didn't have a Bob Chambers," de Adder said. "What I thought political cartooning was, was the work of Bob Chambers."
Bob Chambers retired in 1976. After MacKinnon began drawing political cartoons for the Herald in 1985, the two would often talk and MacKinnon always made a point to visit him at Christmas.
"I brought a bottle of rum and a copy of the Canadian Cartoonists Annual," MacKinnon said. "We'd sit, and I'd get him talking about the old days at the Herald."
"Slice and dice equally"
Though his early career in the 1930s was marked by the partisan nature of newspapers, Bob Chambers evolved into a cartoonist who "tended to slice and dice equally," grandson Rob remembered.
Even though he'd penned more than a few cartoons of Prime Minister John Diefenbaker, the former Prime Minister didn't appear to hold a grudge. Anita Chambers recalls the day in 1965 when Diefenbaker picked Chambers up in a chauffeured car and they rode to from Halifax to Antigonish to get honourary degrees at St. Francis Xavier University.
Another time, there was a roast for Newfoundland premier Joey Smallwood and Bob Chambers was asked to do a caricature. He magnified it and put it on a four-foot-by-eight-foot piece of plywood.
"Rob has that," Anita Chambers said. "It was at our cottage for years, then we put it in our rec room."
A noticeable trend throughout Bob Chambers' body of work, though, is how the message was from a middle-class point of view, often capturing the perspective of the average Nova Scotian.
There is one of his cartoons that Rob particularly remembers: "It's actually my Mom and Dad chasing down a mortgage rate with a butterfly net."
A turbulent period
As a cartoonist, Chambers' career spanned a turbulent period in history from the Great Depression, to the Second World War, the Cold War, and the FLQ (Front de libération du Québec) crisis in 1970.
In the 1950s and early 1960s, John Eaton used to visit the home of his grandfather, investment banker Cyrus Eaton. Eaton, who had a summer place in Deep Cove on Mahone Bay, also founded the nuclear disarmament conference in Pugwash at Thinkers Lodge.
"The stairwell leading from the first floor to the second floor was lined with Bob Chambers' cartoons about Cyrus Eaton, Pugwash, the conferences at Thinkers Lodge, the Cold War and the effort to get the Soviet Union and the US talking about curtailing nuclear weapons," said John Eaton.
In 2008, Thinkers Lodge was declared a National Historic Site and in 2009 an extensive program to restore the Lodge and the adjacent Lobster Factory began.
Many of the cartoons about Thinkers Lodge are on display at the Lobster Factory and the gift shop sells mugs and T-shirts emblazoned with a Chambers drawing.
"For local people, it's very endearing to see that cartoon," said Teresa Kewachuk, a volunteer at Thinkers Lodge, who has also used Chambers cartoons as part of her world history course at Pugwash District High School. Those same cartoons adorned the walls of The Lobster Factory in the 1950s.
"The delegates would have seen the Bob Chambers cartoons while they were eating," said Kewachuk, who said the cartoons provide a little "jabbing and teasing to keep perspective."
Rob Chambers has fond memories of his grandfather, or Pappy as he called him.
"He would babysit me and he would fire off drawings," he said. "He would draw pictures of Brian Mulroney, and his chin would get bigger and bigger every time he drew it—it was hilarious."
Last year, when Rob Chambers' daughter came home excited after a class trip to the Art Gallery of Nova Scotia, it sparked his desire have someone show his grandfather's paintings to the public.
"She came back just raving about it and I said, 'That's it, I've got to do this.' It feels like the right time to remind people of a different era."