'Home' always top of mind
Retired Ontario Superior Court judge Marie Corbett divides her time between her native Newfoundland and Florida. A year ago, she published a memoir, January: A Woman Judge's Season of Disillusion. She recounts in intimate detail how she helped her best friend through cancer while working as a judge, particularly on sexual assault trials. Marie is a sought-after speaker on the topic of justice for women, but working on women's issues is nothing new to her. She chaired the justice committee for the first Ontario Status of Women council and was the founder and first president (1994-1997) of the Canadian chapter of the International Association of Women Judges. Saltscapes spoke with Marie about large families, social pathologies and whimsical shoes.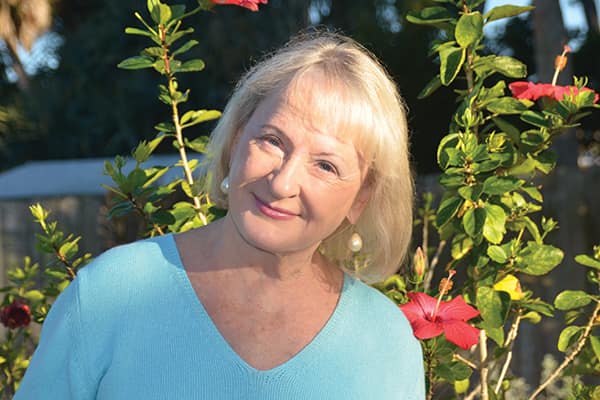 Q Where did you grow up?
A I was born in Avondale, near St. John's. I have a house there—and 44 first cousins. I feel like I'm related to everyone in three villages.
Q What did your parents do?
A My father died in World War II the year I was born. He was one of the first 400 Newfoundlanders that joined the war by serving in the British navy.
Q What did your mother do after that?
A She took us to Montreal with the aim of getting us a good education. We lived with my aunt and uncle for some time. I was eight.
Q What do you remember about those early days in Newfoundland?
A I remember family. I remember the texture of the land, the closeness of relatives and the commitment of the community to helping one another.
Q Is that closeness why you went back after you retired?
A We've always gone back. After I married, I took my kids there. It's a huge part of my life. I never feel it's very far from me.
Q What did your mother tell you about moving to Montreal?
A She told me I could be anything I wanted to be—if I didn't look after myself, nobody would, that there is nothing you have married that you can't have single. The rest was up to me.
Q You felt equal to men?
A I felt superior to men because I could do everything they could do but they couldn't have a baby. I felt powerful. I didn't know there was discrimination until I wasn't hired for a job. The interviewer told me I was the best qualified but the firm didn't want a woman.
Q Did that motivate you further?
A Of course. My consciousness was raised by that. It caused me to re-examine the role of women in society.
Q When you were appointed to the bench, only three per cent of judges were women.
A That's right. We were the largest number of women in the history of the Toronto Law School—10 of 150. We were freaks at the time. In the judiciary, women are now almost half.
Q Your book January is as much about helping a friend through a terminal illness as about the challenges of working as a female judge.
A It was a transformative period. I would go from the hospital to the courtroom. I wrote about her death in the context of the court cases I had at the time. I see doctors and lawyers as the flip sides of a coin. I compared the pathology of cancer to the pathology of crime—one physical, one social—and although I was supposed to be a powerful person, I felt powerless. I couldn't make her well, and I couldn't change crime.
Q Is that the reason you retired from the Superior Court at a relatively young age?
A I re-examined my life and realized the role of a judge was narrower than I wanted. I wanted more out of life.
Q Why is a section of your website dedicated to whimsical shoes?
A Precisely to be whimsical. Everything about me is so ponderous. I've learned to be a little playful. I keep forgetting how old I am.