His true calling was on stage and studio
Rockport, New Brunswick, lies on a peninsula jutting out into the Bay of Fundy south of Sackville. A century ago it was known for producing large grindstones, mostly for export to New England, but today there are few residents. One of them is Bertholet Charron, who retired here after a wildly varied career in which he worked as a radio producer, insurance salesman, and theatre actor and director.
I first planned to get together with Charron in spring, but the road to his home was so muddy it was impassable. When I finally make it on a beautiful June day, he is grinding coffee beans in an old-fashioned manual grinder. At 85, (his mother lived beyond 100) he lives alone in his 160-year-old house, engaged in a never-ending stream of projects. He shows me the large clay oven he built, the cuckoo clock he found in a thrift shop and repaired, the grandfather clock he hopes to rebuild, and the ornamental wooden birds he carves.
I was born in a small village in northern New Brunswick, and I was the 16th of 18 children. My parents had moved there from Quebec. Life was very difficult at first. My mother had to go fetch water from the little stream at the bottom of the hill, with a yoke on her back and two buckets to wash the floors. We had chickens, pigs, cows, and horses.
My father was a very talented builder. He built our house and about 20 churches in Quebec and northern New Brunswick. I didn't become a builder like him, but I love wood and working on projects, making things with my hands.
My older sister took me under her wing and I got my love of performing from her. She helped me put on performances of little plays and songs. I'd get up on the table, and I always had an audience. She really spoiled me. I loved music too. There was always music at our house. Friends would come over on the weekend, we'd play music together, and cook a chicken, have a stew.
We were very Catholic, and the priest said that with a big family like ours, we needed a nun and a priest. And I'm the one they looked to for the priesthood. When I was six, I was dressed up in a cassock and collar and had to memorize a sermon on vanity. Can you imagine? A six-year-old talking to 200 people on a subject like that?
My mother said it would be good to have a priest in the family, and I studied for the priesthood, but my heart really wasn't in it. I liked girls, loved life too much, and I'm skeptical by nature. I started off at a college called Sacré-Coeur in Bathurst, run by the Eudists. I didn't like them, and they didn't like me. You'd get the strap or a slap across the face for talking to your neighbour. I left after a year and went to Université Saint-Joseph, near Moncton, which was a classical college.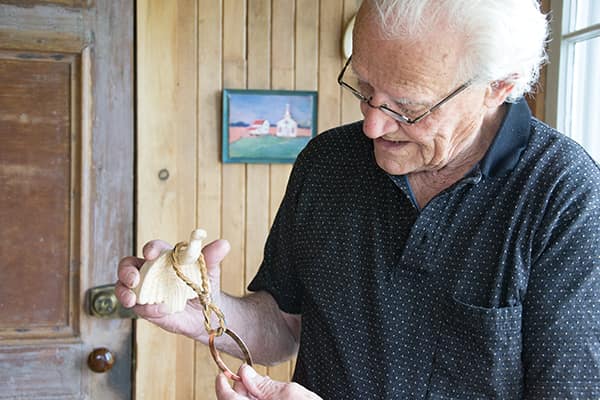 Saint-Joseph also had a choir with an excellent reputation, and there's a good story about how I got into it.
One day, two of my friends and I decided to get some apples from one of the orchards near the college. We took our pillowcases, picked maybe a couple of dozen nice fall apples, got back, waited for the bell, put the pillowcases in our lockers, went to class. We'd barely been there 10 minutes when a little note appeared on our desks: "The Prefect of Discipline wants to see you." The Prefect of Discipline was a strapping six-foot four-inch guy called Father Léandre Brault. They took us to see him, and our three bags of apples were sitting on his desk. He asked if they were ours, and I said, "We can't say no. Our names are on the pillowcases."
The RCMP were there, and they drove us to the small house where the orchard owner lived. He was in a cast all the way from his belt to the top of his head; I figured he must have fallen out of an apple tree. He said, "Listen guys, I make my living from my apples. I'm not going to press charges against you, but I hope you've learned a lesson."
Back at the college, Brault said he wasn't finished with us. The other two guys got scared, phoned their parents and decided to leave the school. I wasn't going to quit over a couple of dozen apples. Father Brault told me to go see him the next morning in Room 210. It was a small room with a piano. He played, I sang along, and he could hear that I had a good voice. He said, "Your punishment is that you're going to be in the choir." Well, that was great!
In 1952, the whole choir did a tour of Europe—there weren't a lot of people who went to Europe at that time, so it was pretty special—and we won first place at an international music festival in Wales. A choir from little Saint-Joseph College wins first prize among competitors from 40 countries! We were heroes. The NFB came and made a short film [Voix d'Acadie/Acadian Voices] about us.
After college I went back home to work with my brothers. They cut their own wood, bulldozed roads, and built schools and churches. But it wasn't for me, so I left for Montreal. I was a little guy from the country, from the Maritimes. When I was in Montreal I'd talk to my neighbours on the bus and they'd look at me funny. That's not what you did.
Father Brault had also moved to Montreal, and formed the choir at St. Joseph's Oratory. He put me in touch with a priest who had started a very active theatre company, and I started acting in religious plays. We always had a good audience, and the cardinal would come see them sometimes. I always played impossible characters, violent people rebelling against God, that kind of thing.
Eventually, I got a job in group insurance, and in 1963 I moved to Moncton to work for the Assumption Life Insurance Company, which was run by Acadians. After a few years, a woman at Radio-Canada who knew me suggested I go work for them. She thought it would be a better fit than insurance. It wasn't a promotion; in fact, she was offering me $2,000 or $3,000 less than I was making. It was a hell of a big jump but all my life I've jumped from one thing to another. I'd never done radio, and two days later I was in a studio with a host, a researcher, and a technician, supposed to produce a 90-minute daily show. I knew nothing. The first day I had no runsheet [an outline of the show with timings]. I'd hand the technician a record quickly between interviews and say, "Track 4." He didn't like me at all.
The show was called Sans Maquil-lage [Without Makeup], and I worked there for 18 years. We talked about issues in society. It was the opposite of fake news. I did a series with Robert Pichette, who was an excellent interviewer, on the history of nuns in New Brunswick. We travelled all over the province interviewing nuns, including the Trappists, who are cloistered. I did a 13-part series with a historian on the history of the Acadians.
And I also produced radio dramas for the national network. I launched a radio drama script competition as a way to encourage Acadians to write for theatre and radio, and it worked well. I would buy a couple of scripts a year, and a one-hour script paid $5,000.
What's happened in radio now is that too much is focused on information, on what's happening in the world right now. News, current events, and sports take up a lot of the time. There's no more radio drama on Radio-Canada and it's really too bad. The "screen" for radio is much bigger than the TV screen. It's 360 degrees, and it's your imagination that creates the image.
While I was living in Moncton, I founded a small theatre company with friends. We called it Les feux chalins. It's an Acadian expression. You know those nights when it's really hot, and there are clouds low in the sky, and there's lightning but no thunder? That's called "les feux chalins." It was a storefront theatre company on rue Saint-Georges. The audience sat at tables on the same level as the stage, and we offered them brioches and coffee while they watched the show. The company lasted eight years. I directed plays and also acted. I think theatre is the most human of the arts. You go on stage, play your role, and connect with the people in the audience.
I always liked Rockport, even before moving here. I would bring my kids for picnics along this road; I was always drawn to the Bay of Fundy and to all the old, abandoned houses here. I'd pick up things like old door handles, like that white one on the door there. I'd just find stuff like that on the ground. In 1995, my daughter called to tell me this house was for sale. I came to see it, then went to the real estate agent. I'd never bought a house, so I was ready to sign at the asking price right away. I was divorced with four children and paying child support, but I said I'll buy it anyway.
We've got the Bay of Fundy, and you can see the Joggins cliffs. It's beautiful.