Artist Laurie Swim interprets the Halifax Explosion in a masterfully created work of fibre art
In the summer of 2000, Nova Scotia artist Laurie Swim returned to her hometown of Lockeport, a fishing town located along the province's south shore.
Swim, a quilting artist who had been living in Ontario for 25 years, spent that summer creating a quilt to memorialize what is arguably the saddest event in Lockeport's history: In March 1961, 17 local fishermen—aboard three longliners—were lost in a vicious Atlantic storm. The disaster left more than 70 children fatherless. (Swim was 12 at the time.)
Swim's memorial quilt, entitled Lost at Sea, depicted the three vessels and was bordered by headshots of the 17 lost fishermen. Nearly 40 years had passed since the three vessels vanished, yet 300 people turned out for the quilt's unveiling in September 2000, completely filling a local building and forcing some people to look in through the windows.
An Idea is Born
Shortly after the unveiling, Swim boarded a train in Halifax for a two-day trip back to Toronto. Seeking a book to help pass the hours, she selected Shattered City, Janet Kitz's 1989 bestseller about the Halifax Explosion.
In the years since that train ride, Swim has moved back to Nova Scotia and has spent roughly a decade researching, planning, and constructing a quilt to memorialize the Halifax Explosion, which occurred 100 years ago this year—on December 6, 1917.
"I knew so little about the Halifax Explosion. I thought, 'I bet it's the same for a lot of people,'" she said in a recent interview at her Lunenburg studio. "When you hear 'explosion' you just don't know the enormity of what happened… it wiped out a whole community. It affected not just the people in Halifax but all of Nova Scotia. It was the largest man-made explosion before Hiroshima. Wow. Right here in Nova Scotia. It is a part of our history that we should embrace."
She added: "As Canadians we don't tell those stories."
Swim's Halifax Explosion-inspired quilt is the centrepiece of her Hope and Survival exhibit, which opened in June at the Maritime Museum of the Atlantic in Halifax. Hope and Survival is positioned beside Collision in the Narrows: The 1917 Halifax Harbour Explosion, a new museum exhibit produced for the Explosion's centennial.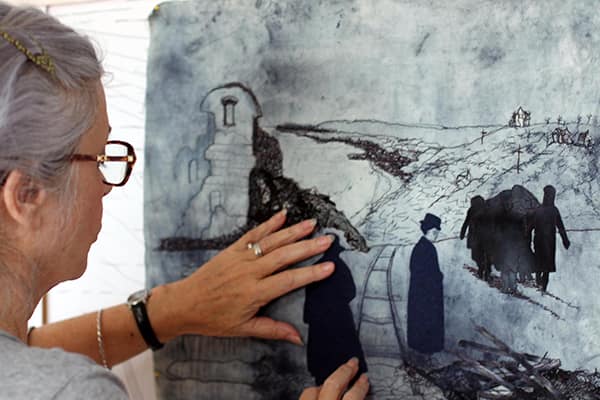 Remembering the Past
In the centre of the Hope and Survival quilt is a girl being tossed through the air, one of her boots blasted off her foot. The scene was inspired by the experience of Barbara Orr, who was hurled nearly half a kilometre during the Explosion. She landed on Fort Needham hill and miraculously survived, though her immediate family did not. The quilt also depicts scenes of destruction, as well as the deadly harbour collision between the Imo—a Norwegian vessel—and the Mont-Blanc, a French ship packed with tons of TNT and other explosive materials. The resulting blast levelled a swath of Halifax, injured 9,000 people, and killed nearly 2,000.
The names of the 1,946 people killed in the blast are included in the Hope and Survival Scroll of Remembrance. The names are written in groups of 12 on 172 hanging cloth panels. Each name has been translated into Braille, using small beads that were stitched by a core group of 200 volunteers. Swim says the Braille is meant to honour the hundreds of people who suffered eye injuries during the blast. The Explosion shattered virtually every window in the city, sending glass splinters flying. More than 250 eyes had to be removed, and 37 people were left completely blind.
"Seeing all those names translated into Braille with little glass beads that resemble charred pieces of glass, it really resonates with a lot of people," says Kim Reinhardt, the museum's general manager. "I see a lot of people standing and pausing and looking," she adds. "It stops you in a way that a number on a wall wouldn't."
Textile Artist
The second floor of Swim's Lunenburg studio overlooks the town's boat-filled harbour and provides a view of the green-hilled golf course on the opposite shore. Inside, there are multiple sewing machines, many colourful containers of paint, and heaps of fabric. In April, sections of the Hope and Survival quilt were pegged to the back wall, still being stitched together.
Swim's textile art is included in a number of private and public collections, including the Art Gallery of Nova Scotia and the Museum of Arts and Design in New York. She has also authored three books on quilt art over her 40-year career. In 2013, Swim received the prestigious Portia White Prize from Arts Nova Scotia.
Hope and Survival is the seventh quilt Swim has created to memorialize a tragic event. In 2000, shortly before starting Lost at Sea—the Lockeport fishing quilt—she completed Breaking Ground, Hogg's Hollow Disaster, 1960. The quilt honours five Italian immigrant men who died while digging a tunnel for a water main in Toronto. The accident triggered a royal commission and highlighted the unsafe conditions faced by many immigrant workers. The quilt now hangs in a glass case in the city's York Mills subway station.
So why does Swim continue to create quilts memorializing sad events? She says, "I don't know. I think it's because it surprises me that these things aren't general knowledge or that people don't know more about it. That's what drives me," she says. "(And) how emotional people get around the finished product. I've seen people just break down in front of these."
In Rags to Riches, one of her quilting books, Swim noted: "I have always been interested in the personal stories of ordinary people caught up in extraordinary events."
According to Swim, the projects also provide a vehicle for social activism and promoting awareness. Hope and Survival, she says, is meant to raise questions about war and how civilians become collateral damage. "This is really for future generations. This is for the children of Nova Scotia to (understand) our history and not to repeat it."
The actual production of Hope and Survival spanned nearly 10 years, with uncertain funding. Swim's brother-in-law, Sonny Goldstein—a Toronto financial consultant—essentially bailed out the project by paying $200,000 for the quilt. "He could see we were struggling with this," Swim recalls. "We didn't think it would be that hard."
Hope and Survival will be displayed at the Maritime Museum until the end of December. (Swim has also written a children's book that is illustrated, in part, with scenes from the quilt.) There is uncertainty, however, about who will house the quilt permanently, although Swim says she is unconcerned.
"We would like to see it tour for 10 years or so… I'd like to see it go across Canada. I'd like to see it go down to Boston because they were the first responders," she says. "But the intention is that it's going to be a gift to the province of Nova Scotia—the people of Nova Scotia," she says. "It will find a home."