How the eastern provinces celebrated their first Christmas as part of Canada
Our streets present a lively appearance today, and holiday goods were going off briskly. The book stores and fancy goods establishments make grand displays, every conceivable article suitable for the holiday season being exhibited in the most tempting matter…the prospects for a good Christmas tomorrow are bright."
So read an editorial in the Halifax Reporter of December 14, 1867, on the eve of Canada's first Christmas, the country having entered into Confederation just six month earlier.
Not everyone in New Brunswick and Nova Scotia had great feelings about the arrangement that joined them with Quebec and Ontario in a new Dominion. There was much complaint in the press about new duties on Maritime goods; nevertheless, based on the records from publications of the time, they put aside any rancour, and concentrated on celebrating the season robustly. As the Acadian Recorder put it, "Christmas is like a lighthouse… its beaming light throws a ray on the road we have travelled... while it seems to shed a gleam on the path of the future and lifts up our spirits, and bids us be of good cheer."
Pre-Confederation observances
Of course, this was not the first celebration of Christmas for any of the participants. The season had been growing in the east since the early 1800s, the impetus being the British militia who missed the festivities back home. They introduced the idea of decorating with greens, exchanging gifts, holding banquets followed by all-night dancing and card parties, and then reveling the next day in outdoor activities in the snowy countryside. A few folks even erected Christmas trees; some possibly based on observation of the first in Halifax at Coburg Cottage in 1846, but was more likely based on the widely-circulated 1848 image of Queen Victoria, her husband Albert and their family, gathered around a tree in Windsor Castle, which appeared in the London Illustrated News. However, it would be 1900 before most homes had a tree.
Children knew of Santa's role, largely from the famed poem, "A Visit from St. Nicholas," also called "T'was the Night before Christmas," which had appeared in one form or another in major and minor Maritime papers since the 1830s. By 1867, many merchants, such as Currie and Lloyd in the Saint John New Freeman used words such as "Santa Claus is Coming" in their advertisements, but it was Charles Sampson of Fredericton who brought the personage alive. In 1867, he advertised in the Fredericton Reporter that he was acting as Santa's agent for "Fancy confectionary" and in 1872, he went further and, dressed as Santa, delivered his confectionary by sleigh on Christmas Eve. It was 1887 before Santa appeared in mercantile concerns, that being at the Manchester Robertson Allison store on King Street in Saint John, an event that drew hundreds to the appearance.
Newspapers and magazines of the era built the image of Santa through poems and stories, but rarely used illustrations. One of the earliest widely-circulated Canadian magazines that championed Christmas was the Montreal-based Snow Drop, or Juvenile Magazine. Poems like "The Poor Boy's Prayer to St Nicholas," helped form an image of Santa, which would complement the illustrated 1848 edition of "A Visit from St Nicholas." It was the 1880s before Thomas Nast and other artists started to flesh out the image of the red-suited, rotund Santa we all instantly recognize today.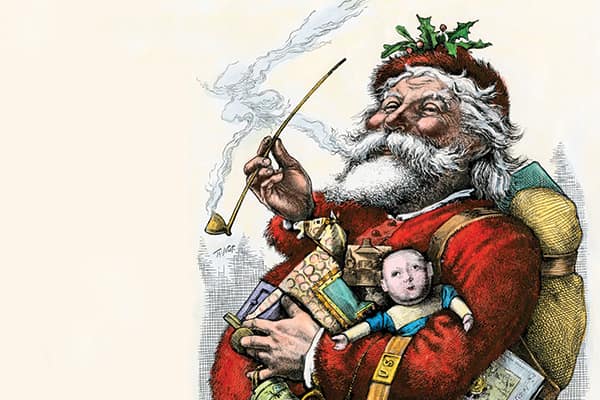 Christmas in magazines
In 1867, one New Brunswick-based magazine was available, that being Stewart's Quarterly, published in Saint John. The January 1868 issue had several Christmas stories as well as comment on what was happening to the season under the title "Holiday Thoughts." Editor George Stewart lamented that "the respect and veneration…paid to the annual return of Christmas" was declining and that songs like "Mistletoe Bough" and "Christmas Waits" and the popular custom of bringing in the Yule log seemed to be dying away, even in England where they originated.
In the same magazine, under "Literary Notes," he recommended the Children's Friend, available at J&A McMillan's, and that they also sold McMillan's Almanac for 1868. Our Young Folks was also noted as of special interest as it had a story by author Charles Dickens, who was that year travelling in North America. The Atlantic Monthly and Harper's Monthly are also listed, the latter noted as having "an enormous circulation."
Charles Dickens was familiar with Halifax, as he had visited there in 1842, and he knew something of "St John's," as he incorrectly indentified what is now Saint John, as he had included a reference to the city in Little Dorritt—the only reference to a North American city in any of his novels. Both cities wanted him to come and read his famed A Christmas Carol, but the closest he came to the new nation was Buffalo, New York. However, the citizens of Saint John were led to believe he was to read in their city, as a column in the Christmas Eve Morning Telegraph bore a headline, "Charles Dickens in St. John." Upon close examination, it was found that John Boyd would read Dickens at the Mechanic's Institute. The following day, the paper reported that an "overflowing house" had assembled, and in a play on words, noted the audience had come with "Great Expectations" and were "not disappointed."
Holiday entertainments
There were plenty of entertainments that first Christmas, especially by the churches. One example is from the St. Andrews Standard, which announced a "Sabbath School Concert," with "singing, recitations and dialogues," and added, "A Christmas Tree will be furnished with presents for children of the school," a standard of the season thoughout the latter 19th century.
Outside activities were very much weather dependent. The Nova Scotian of December 23, 1867 noted, "the streets at present are almost a glare of ice," allowing for Christmas Day skating at the "outdoor rink built on the Parade Grounds," according to the Morning Chronicle. The Miramichi Gleaner of December 28 lamented that the "weather this past week has been the mildest we have had since old winter commenced his reign." Sleighing, snowshoeing, tobogganing, ice skating and curling weren't possible. Such were—and still are—the vagaries of a Maritime Christmas.
Gift Giving
There were lots of goods for gift giving available for Christmas of 1867. The Fredericton Reporter had an advertisement from James L. Beverly stating "Santa Claus and country dealers will find it to their advantage to give us a call before purchasing elsewhere," and promised discounts of 25 per cent. The St. Croix Courier carried A.D. Clewley's advertisement, notable as he offered "Photograph Albums" in an era when few had cameras, but many posed on special occasions such as the Christmas season for images in the studio. These photographs were of such high quality that many still exist, though often no there are no names to identify the frozen-faced images.
The Nova Scotian carried a promotion from James Scott's Army and Navy Depot, which advised he could provide such staples of the season as "English Chestnuts, New Figs, Pears, Cherries, Apples." For those looking to decorate their homes with greenery—which was the custom at the time before the Christmas tree took over—he had holly and ivy, "received from Africa."
Among the celebrants were many who still lamented Confederation and took little joy in the fact that it was their first Christmas as Canadians. As the editorial in the Yarmouth Tribune put it, "...They (the people) feel they have been insulted and wronged by having forced upon them changes in their political relations of which they utterly disapprove." The Halifax Herald commented, tongue in cheek, "The new Tariff—Still another confederation blessing." The article said the tariff "has been forced upon Nova Scotia through the most infamous combination of treachery and tyranny," concluding, "Heaven forbid that the Dominion Government should shower any more benedictions upon us."
Even though it may not have been celebrated by all with great vigour or lasting joy, Canada's first Christmas of 1867 came and went much as it has done so for 150 years since—and likely will for eons to come.