"I adore this place with all my heart. It's gentle, it suits my nature"
As a resident of Boston and Cape Cod in the early 1970s, Judith Merrill was deeply into the alternative scene: natural foods, meditation, acupressure, astrology. But she and her then-partner, Stephen, left all that behind and moved to PEI—a place where, she recalls him telling friends, "you could back up for half a mile and not see another car." They built a house on 40 acres in Gaspereaux, overlooking St. Mary's Bay, and raised three daughters, two of whom still live in PEI (the third is in Halifax).
With help from their neighbours, the Merrills quickly adapted to Island life. And in the intervening decades, a funny thing happened—many of the alternative ideas they embraced went mainstream. Judith and Stephen divorced in 1998; he continues to farm on their land, while Merrill lives in Charlottetown, where she is a massage therapist, yoga instructor and spiritual mentor.
I grew up in Pennsylvania, and became a registered nurse in 1971. I ended up at the Boston University Hospital, and they provided me with this really nice apartment right across from the State House—and that's actually how I met Stephen. He'd been a philosophy professor, but he had given up teaching and he was the superintendent of the building I moved into.
Stephen owned land on PEI, and so we'd come up here and summer. We would tent and it was paradise. We just loved it. We did that for a couple of years, and then at a certain point we decided to do a round-the-world trip. We were into macrobiotic food and astrology and yoga, and somehow we thought we'd stay in Bermuda three or four months, do all this in-depth study and then figure out where we wanted to go from there. But all we did for two weeks was play Scrabble and ride this little scooter, and we looked at one another and said "my God, this isn't going to work." So we went back to the States, and after Christmas we decided to come here, to the Island.
We rented at the Queen's Arms Motel. A basement apartment. There was so much snow—you can imagine. We had only seen the Island in the summer, but the winter didn't deter us. Because there was a nursing shortage, it was really easy for me to get a letter that would allow me to immigrate. We had to go back to the States and go through the immigration procedure. It took me a couple of months, and then we came back up in May of '74.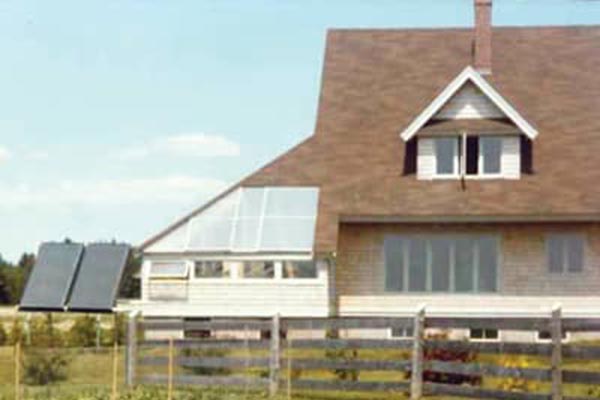 Dream Weaver
Soon after we got here I saw this advertisement in The Guardian about a handicraft school. They wanted 30 students and were going to pay for so many of them for a full year of weaving, woodwork, pottery, jewelry, leather, design—and I just loved working with my hands. I said, "Oh my God, I would die to do this." I went to the interview, but I thought there was no way I would get in. So I accepted a job at the psych hospital here. Lo and behold, at the end of July I get this letter telling me I'm accepted to go to the school. So my working career as a nurse here was very short-lived. By September I was going to school full-time, taking weaving and woodworking. It was like being in a dream. You know how the government is constantly trying to figure out what will draw people to the Island? Well, back in the 70s they felt that crafts were really essential; that people would come to the Island and would love to see stuff that was handmade here. And they did.
That year I was selling at the Christmas craft fair at the Confederation Centre, and Stephen decided to make some little paddle-boats and sell them in the booth with me. Before the day was over, he'd sold every paddle-boat—and there I was with stuff I'd spent months and months on, barely selling any of it.
The next year, I went back to school and took weaving full-time—I kept thinking I would actually be able to do something with weaving as a business. We did the fair again, this time Stephen doubled the number of paddle-boats and again he sold out on the first day.
Building a Home
We lived in Charlottetown for a couple of years because I was going to school, but we really wanted to get on our land. I'm not sure that we knew what we wanted to do there—it was not well thought-out. I think it's just that we fell in love with this place.
We were married in September 1976 on our land. We built the basement of our house the next summer and moved in that fall. We lived in the finished basement for nine years while we built the rest of the house from the top down.
We had ordered four hives of bees and our neighbours had given us a chicken coop, and that was the beginning of our back-to-the-lander stint. It's a different mindset, and you have to remember that back then there were a lot of us with that mindset. This was not like two crazy people.
Our neighbours, the Jamiesons, were a true Island family who had five children, and they really embraced us, which was very meaningful. The Jamiesons did everything they could to help us. They were lovely, lovely people. Any time we had a question or didn't know what we were doing, they would think about what they could do to help.
Making a Living
Stephen was applying for different kinds of jobs, and we thought, "oh God, this is never going to work." We found out Mrs. Jamieson had come up to our gateway and she had put a rosary on the fence. They didn't want us to leave and she was praying we would find something. It was very, very sweet. Anyway, Stephen came up with the idea that, because these little paddle-boats were so successful, we should start our own business. We got one of those small business grants, and we started doing woodwork, and we actually did it for 15 years. And that became how we lived off our land.
It was amazing for two people who were definitely not trained, that we could make a successful business out of this—and we did. I think one year we spent 17 days at craft shows, and that comprised three quarters of our income. We had a little shop at the back where we made the products and we'd get a trickle of people who were visiting our side of the Island. So we would work all year to prepare for the shows, and most of our sales were in that little period before Christmas. I ended up having a beautiful garden—a circle garden. We had three beds that we would rotate. One would have buckwheat and in the other two we would grow our gardens. And we made a really beautiful orchard with all kinds of trees.
We were vegetarian, we only used honey from our bees, I made all of the bread, I made yogurt, I made tofu. I think my children never would have had anything but homemade bread until they were teenagers.
You know, we had all these dreams and you have to realize we can dream anything, and it's enough to inspire you to make steps toward it. I think the reason you stay anywhere is that the energy of the place matches your energy. And the Island has always attracted really interesting people in all walks of life that just somehow find their way here. So that whole idea of being bored and really missing what we had in the States ended up not being a really big thing for us at all.
When I was at the craft school, there were 30 of us, and one day we were sitting around and we asked how many were Islanders, not from away. And I think four hands went up. That meant I met a whole slew of people who were back-to-the-landers. A lot of them were building their cabins and their houses, and some of them did it without running water or electricity. We started to have children and they had children and you just find that you like a lot of the same music, and you're interested in the same things, so there's nothing missing really wherever you go.
My experience on Prince Edward Island has been absolutely wonderful. I've had so much fun.
I've had deep challenges and times where my life really fell apart, but the people I needed were always there. When I turned 51, I started travelling a lot. And, every time I fly back my heart just wants to bust with so much gratitude—because I look down and I see this most beautiful, gorgeous little island.
I adore this place with all my heart. It's gentle, it suits my nature, I have loved having my children grow up here. I just think it's as beautiful today as it was when I first arrived.