Remember the times when you were a young'un when your kith and kin chatted and you were allowed to sit in if you were quiet? The grown-ups needed time to gossip about people and events in their worlds. You weren't part of the conversation; you listened, often understanding little. Sometimes flashing eyes and reference to "little ears" meant a change in topic. The substance of the conversations didn't really matter to you though. What mattered most was that the attention wasn't on you for a change and that you were part of an adult world. It was a growing-up event.
Through the fog of memory I clearly recall one of those times. I was about 10 years old. It was near the end of The Big One, the Second World War. I didn't know the person central to the conversation, but the big news was that she, Margaret Pictou, was coming home after serving in the Royal Canadian Air Force. Her impending arrival was not tinged with excitement but rather with an element of surprise and a hint of disdain. It seems this was a bright and beautiful woman who had the opportunity to "make something of herself"...to marry, to travel, to live elsewhere, or, in their terms, to be different. Instead, she was coming back to the Eel River Bar First Nation, or as we knew it "The Bar."  Margaret was, and is, Mi'kmaq.
The reason I remember this adult time so clearly is that I heard, for the first time, expressions of intolerance and discrimination. Theirs, ours, theirs, ours. Is this how prejudice is developed? Embrace, reject, pride, spite, war, peace, love, hate, warp, woof. The seeds of racism were planted, but thanks to the gods of reason, they didn't take root. Instead I shared scraped knees and fort-building and beach forays and wooden skiff trips with friends from The Bar. And over the years I've shared in the richness of Margaret.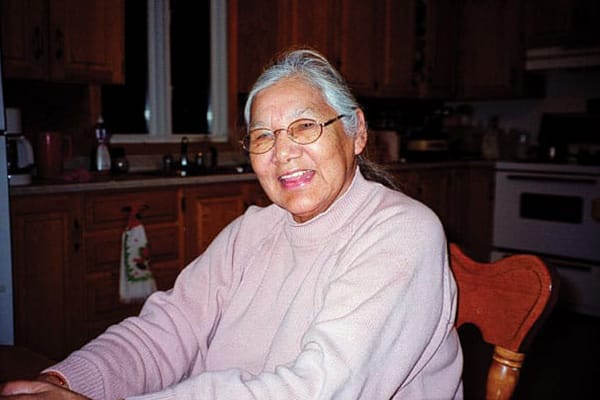 It's more than 50 years since her return. During a recent chat, I asked Margaret what brought her back. Her simple reply, "this is my home," said volumes. Home has meant her people, her culture, her land. It wasn't a place she chose, it's a place she was born to, and so were her ancestors. It's been at her core forever, a bred-in-the-bone place. Since coming back, her life has been devoted to preserving and enriching her people and culture and land. She reflects on her own early years at school, when she didn't understand English and was punished for speaking her native tongue. It must have been a topsy-turvy time for a young girl who couldn't use English at home. Her desire became to blend the best of both cultures.
Over time, use of the Mi'kmaq language faded. Margaret revived it in her community, and she helped renew interest in traditional crafts. Her intent was to develop in her people a confidence and pride of heritage through which a sense of self-reliance would emerge. She was successful. Local artisans of all ages now make moccasins and snowshoes and baskets, and even birch bark canoes. As a teacher, Margaret has taught Mi'kmaq customs and language in the public school system of nearby Dalhousie, and has promoted Mi'kmaq culture throughout New Brunswick. 
Margaret also started a family business called Apitjipeg (rebirth) which works like a co-operative. Family members run a lobster shop, make and sell jewelry and mitts and moccasins, operate a restaurant, organize social and cultural events, collect materials and make traditional crafts such as snowshoes. Her family will take on almost any new venture. How do they find the time, you ask?  It's a many-hands-make-light-work business. And there are many hands in the family. Margaret and her husband raised 14 children. Those children have added a couple of dozen grandchildren to the pack. There are fishermen, teachers, a welfare worker, a bus driver, a lawyer, a spiritual leader, a farmer, and a band manager. It's a thriving family and a thriving business.
Margaret has marked many milestones during her years at home. She was the first elected female Native Chief in New Brunswick. She served as Chief of the Eel River First Nation for two terms. When she was named to the Order of Canada a few years ago, her citation noted that "as a result of her enlightened leadership, the people of Eel River have reclaimed lands lost through development, and rediscovered their traditions and language." Her honours also include being made an Elder of the Union of New Brunswick Indians. Her advice is widely sought and attended.
These are the accolades bestowed on Margaret Labillois. They're well deserved. But Margaret's passions are her family first, her natural surroundings second. She beams with pride as she talks about the Aboriginal Heritage Garden developed by her people under the guidance of the Smithsonian Institute. The common ground between Mother Margaret and Mother Nature is undeniably clear. If there is respect for the natural world on this planet it is surely in the souls of people like her. The vista from her home alone is enough to stir your soul and haunt your dreams. Each day is greeted with the sunlight, the colour of fine wine, inching its way over the frigid Chaleur Bay horizon.
She brought tears to my heart as she reminisced about my treasured auntie who lived with a similar view just a bit along the shore. Her "she was my friend," said with a smile, made me feel especially grateful for the influence both women have had on forging my values.
As I chatted with Margaret in her log home by the sea, part of her attention was focused on getting ready for the 40 family members who would be coming to dinner the next day. This happens weekly. Her granddaughter, chatty Jenna, was there to help her prepare the pies. Jenna filled in gaps that her adored but humble grandmother wouldn't mention. As Margaret talked with me and guided Jenna, her hands didn't appear hurried. Patience seems everywhere in her-in her quiet and even tone, in the way she moves. She talks of what we all dream about-a land of beauty and harmony, free of violence and prejudice, hatred, ignorance and suicide. Margaret lives that dream. 
It's time to leave. As I drive away from her cozy home on The Bar, my mind drifts into "what ifs." What if our European ancestors had embraced what they learned from the Mi'kmaq? What if that which was taken from the earth had been returned to the earth from the time the Europeans stepped foot on the shores? What if spirits of all living things were honoured, even in death? What if…? How would we and our surroundings be different? Margaret had wistfully said "we should all be together," meaning we should not be talking about us and them, ours and theirs. We should instead be working together to protect what we share. Will that ever happen? I believe it was Longfellow who said, "all things come round to him who will but wait." Margaret and her people are still waiting.
Not long ago I loaned a friend Daniel Paul's book We Were Not The Savages. I thought he should read it because he frequently bemoans the abuses he observes in the wilderness areas in which he travels. He appeared to be influenced by the interpretations of friends and of the media regarding recent court decisions surrounding natural habitat and species and Mi'kmaq. When he returned the book he spoke eloquently of his changed attitudes. My hope is that he can now convince others that we are collectively responsible for the degradation around us. And only collectively can we regenerate our world. 
Margaret Pictou Labillois is still bright and beautiful. She made something of herself, and also of her community. I thank you, Creator, for bringing her home-to her people, to the land in the northernmost tip of New Brunswick that is also my home. And I thank you, Margaret, for fostering in me from my early years 'til now a deep appreciation for the culture of the Mi'kmaq. There is solace in knowing that others walk in your tracks.