For half a century, The Lorenzen Pottery had enjoyed international renown, most particularly for the beauty and botanical accuracy of its ceramic mushrooms. Located in Lantz, a village in central Nova Scotia about 50 km north of Halifax, the pottery was founded in 1949 by Ernst and Alma Lorenzen.
Their daughter Dinamarca-Spanish for Denmark-joined her parents on the job in 1982. But the illness and subsequent death of Alma Lorenzen in 1998 (her husband and collaborator, Ernst, died in 1990) began a two-year period of dormancy at the studio-workshop.
Today, Lorenzen Pottery, with Dinamarca Lorenzen at the helm, is undergoing a rebirth. New shelves, workstations and a kiln are being moved in. That will be joyous news to collectors and to a community which supports the careful work done here.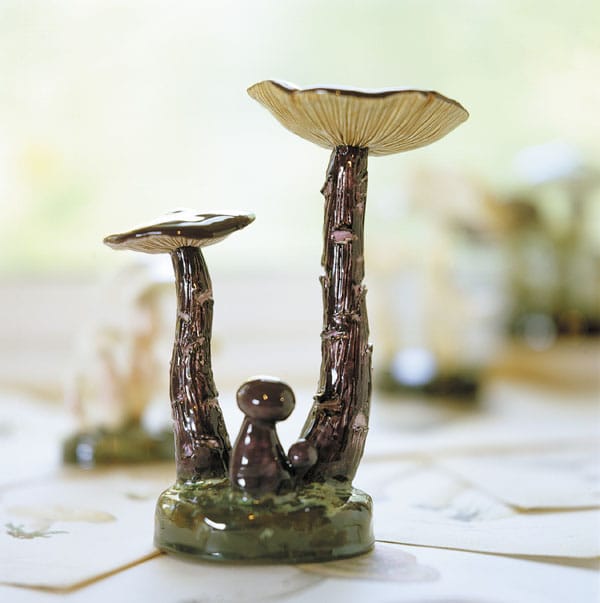 In early fall, prime mushroom season in Nova Scotia, Dinamarca often comes home to find a box of assorted fungi on her doorstep, left by an anonymous donor. Then the phone calls begin. "Dinamarca," they say, "you must come see this." She usually goes, always excited by the possibility that the caller may have struck mushroom gold. Dinamarca lights up as she describes one such find from a recent fall foray. She cups a hand as if holding the unfamiliar fungus in her palm. "These mushrooms were weird…exciting…marvelous," she recalls. "They were like licorice sticks." She reconsiders. "No…monkey fingers!" She's done the research; the fungi's ghoulish common name is Dead Man's Fingers. Dinamarca triumphantly brings forth an as-yet-unglazed model she has created from her detailed sketches.
Lorenzen hand-sculpts about 235 of Nova Scotia's approximately 7,000 varieties of mushrooms. Each sculpture is a replica of a Nova Scotia mushroom species, usually modelled to show several stages of growth. Every mushroom's scientific name is inscribed on the bottom.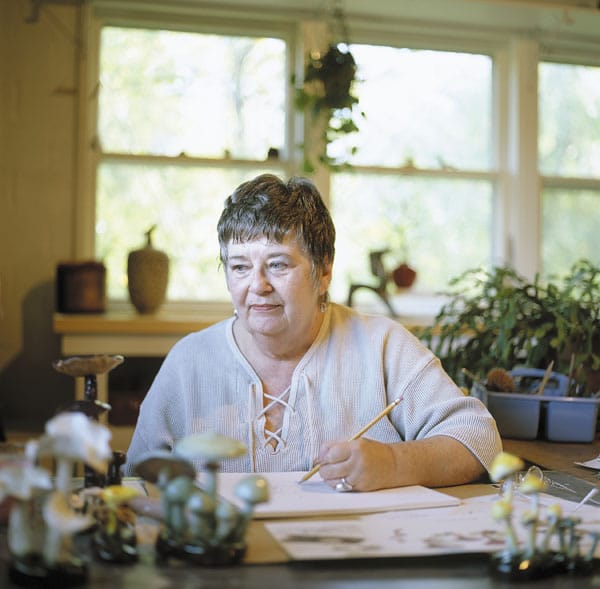 Dinamarca, who has two sons now in their mid-30s and is grandmother to "three and a half" (a new grandchild is due in February), has a number of personal favourites in the collection. "The Amanita family is the most beautiful. Most have the veils and the volva (the sac at the foot of the stem) which are very decorative. My next favourite, and almost as beautiful, is the Russula family. They are common and really delightful, and are divided into hundreds of species in every colour of the rainbow."
As far as Dinamarca knows-and she says she has searched diligently-Lorenzen mushrooms are unique in North America. A woman in England makes biologically accurate mushrooms but colours hers using acrylic paint.
Danish-born forester/naturalist Ernst Lorenzen and his Acadian wife Alma Goguen started the hobby pottery in 1947 while living in Dieppe, NB. It soon evolved into a business. Ernst loved the potter's wheel, while Alma modelled by hand. During that time, the artists sculpted clay animal figurines and functional pottery. Daughters Dinamarca and Franca grew up surrounded by creative endeavour.
As adults, Franca would become a registered nurse but early on Dinamarca demonstrated artistic interest and talent. She followed in the steps of her parents.
In Dieppe, Ernst and Alma's clay source was miles away in an area inaccessible by car. Lloyd Shaw, who owned the brick factory in Lantz, read an article about their difficulty. The millionaire socialist, and father of national NDP Leader Alexa McDonough, invited them to Lantz, where clay was literally in their own backyard. As a courtesy, Shaw's delivered the bagged clay right to their door.
The clay arrived as a reddish brown powder which the potters mixed with water for molding. It fired to a terra cotta "red." Lantz clay was cleaner than the New Brunswick source, and Ernst Lorenzen relished working with the new material; he said Lantz clay threw and modelled beautifully. The couple developed their own formulas for glazes from minerals. Meagher's Grant was a fine source of malacite and azurite, and Ernst even flew to Sable Island to collect a garnet sand to reproduce the brownish hue of some mushrooms.
It was on one mineral search that Alma became intrigued by the exquisite beauty of mushrooms. Her husband challenged her to model one. A botany professor, amazed at the authenticity of one of Alma's ceramic mushrooms, purchased it and asked for more. Thus began a delightful wedding of science and art.
Lorenzen mushrooms keep illustrious company. Dinamarca believes the Smithsonian Institute, in Washington, D.C., holds a collection. The Maltwood Gallery at the University of Victoria, the Museum of Man in Ottawa, Brandon University, Dalhousie University and the Nova Scotia Museum of Natural History each hold collections. The mushrooms are so accurate, in fact, that some university displays are used only for teaching purposes.
Alma learned through bitter experience, however, the importance of sketching living specimens. Many mushrooms, plucked from the ground, soon wither, shrivelling into a colourless, misshapen mass. Dinamarca followed her mother's example, sketching and painting mushrooms on site, and making detailed notes about the physical appearance of each. That painstaking work is one reason it takes 15 days to complete a sculpture.
The process of sorting-discarding the detritus and salvaging the treasures of 50 years of parental endeavour-is an emotional one. It was, after all, Ernst and Alma's vision and creative spark which saw the birth of The Lorenzen Pottery. Their daughter is also passing on a tradition begun by her parents-teaching her son, Sanchez King, a daughter-in-law and a few other hand-picked proteges. "The Lorenzen legacy will live beyond my lifetime. I will pass on the knowledge-the measurements, the colours, all the data-and, once trained, once they know what to do, I will have made my mark."
Dinamarca is eager that her artisans-in-training find their own creative niche, that they feel free to play and have fun. "If we aren't having fun," she smiles, "what's the point?" The showroom, located at 1107, No. 2 Highway in Lantz, will be open Tuesdays through Saturdays from 10 a.m. to 5 p.m. from December 1 to 23. All other times throughout the fall and winter, by appointment.
From Halifax proceed on Highway 102 to Exit 8 at Elmsdale. Off ramp, turn right. Proceed to intersection of Highway 214 and old Highway 2. Turn left at lights. Approximately 3-4 km, after driving through wooded area, you will see a row of dwellings on the right hand side of the highway and the road to Shaw Brickyard. Lorenzen Pottery is the third brick building on the right-just past brickyard road. Prices for Lorenzen mushrooms range from about $45 to $750.