Cosying up to a friend, the gift of a promise and other musings of a cold-weather season.
Fall's warmth and colour are tucked away for another year. The flowers have faded, and the stakes are up along the driveway to guide the plow when the snow flies.
The fishing season is over-the salmon hooked and released are now safely upstream where they're going through their spawning rituals. They'll work their way downstream and out to the salt water again in the spring. Just like most of the Easterners who have moved elsewhere, they'll be back. Any species born here keeps coming back again and again… and they're always welcome.
Several cords of wood are piled in my shed-the maple and birch for the cold days, the "popple" for the days when a hot fire isn't needed. There's the odd piece of hornbeam, or ironwood, that's treasured until the way-below-zero days and nights strike. It is one of the hottest burning woods, along with oak.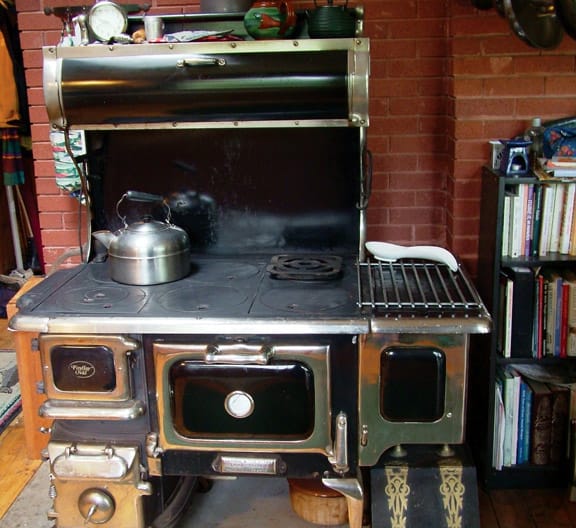 Now that the colder weather is here my best friend will join me for the next six months or more. Who might that be, you ask? It's my wood stove, a Findlay Oval, or Old Friendly as it is known. Friendly left a factory in Elmira, Ontario, and situated itself in my country home in Nova Scotia many years ago. It keeps the dogs and me company when we're alone-it pops and crackles at us-and it keeps the teakettle singing. What more could you want on a cold winter day?
If Old Friendly could talk, it could keep you regaled with tales of good times and sad ones. It has pumped out whatever was needed for the occasion-joy or comfort. And always a tidy tuck-in of good grub! The person who coined the phrase "comfort food" must have known Old Friendly.
Much of November and December is spent gearing up for the Big Event-Christmas Day. It's the time of year that I usually wish I were anywhere but within hearing range of the constant barrage of buy! buy! buy! The worshipping of the Mall God wears thin. To me, the preamble to Christmas reflects more stress than at any other time-roads filled with traffic, jammed parking lots, stores filled with cranky people holding lists (or perhaps worse: not holding lists.)
The weeks preceding Christmas Day are happy times for some, sad for others. I'm in the latter group. For me it seems to be the loneliest time of year. But then the Big Day comes and the house is filled with family. Old Friendly works overtime and makes us all happy.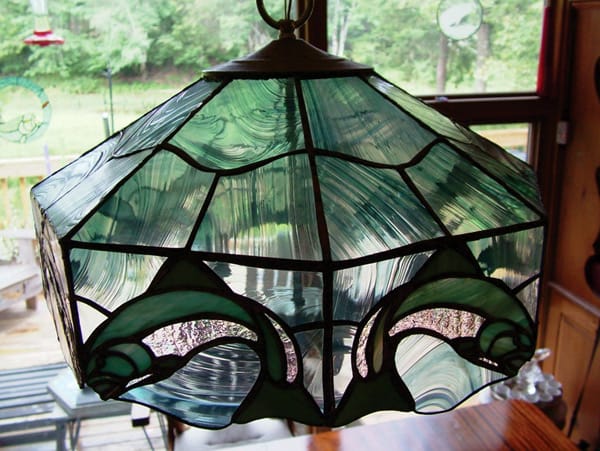 In my family we aren't big on shopping, especially at Christmas. Instead we do special things that hold lots of meaning. The present from my son Eric and his family last year overwhelmed me. It was a chandelier reflecting my passion for the Atlantic salmon, which Eric designed and made. Every day I appreciate the thoughtfulness and love that went into it.
I don't have any crafty talents, but I love to cook. I make tourtiére for my friends and neighbours-that's a traditional Christmas Eve feast in northern New Brunswick. I always look forward to receiving the Cape Breton pork pies made by my friend Joanne. Jams and jellies and pickles are favourites-cookies, too.
What sorts of things do you exchange at Christmas? Any that you make yourself? Can you draw? Carve? Sew? My sister has taken up weaving-one of her first pieces hangs on my wall and reminds me of her each time my eyes settle on it. What about a photo of a time together that's set off by a hand-painted frame? In terms of youngsters, why not suggest a song, a story, a play or even a fancy bow?
Last year, I gave my grandson Nori, then 13, guitar lessons; he gave me a promise in writing to not do drugs or alcohol until he is 25. My present to his sister, Kate, 11, was piano lessons; hers to me was also a promise to not do drugs or alcohol, but she extended it to age 100-or never!
Promises are popular as presents. Any of these appeal to you?
a road trip with no predetermined destination
a daily walk to get in shape
stop biting your fingernails
dinners at restaurants not tried before
take ballroom dancing classes
go camping in Fundy Park (or some other delightful spot)
a canoe run on the Restigouche River (or another one)
Maybe those on your gift list would welcome something else:
a pencil portrait of their pet
a bathtub reno
a ski weekend on Marble Mountain
murder mystery weekend at Oak Island Inn
a massage package at a spa
karaoke at the local pub
To simplify, you can also select something that you can give to everyone on your list, even if it is a little more impersonal. Maybe key chains. Or bracelets. Or toe rings. Last year I discovered Wanderlust, a delightful shop in Sackville, NB. I think I purchased the entire stock of Smart Wool socks-now all my friends and relatives have happy feet thanks to Wanderlust!
My Christmases are much happier now that I've decided to stay away from the stressed crowds. Old Friendly and I stay home and do our thing hoping that any and all will drop in for that tidy tuck-in. My doors are always open!