Playing sleuth sometimes requires making a few steps laterally before you can move on.
Wouldn't it be convenient if old records were complete and each piece of information fitted neatly into the next? Alas in genealogy, as in life, matters don't always work that way. Progress in genealogical research is not always linear. In fact, sometimes the situation could be described as no progress at all. Doldrums, stalemate, dead end… call it what you prefer.
Some problems, however, lend themselves to a sideways approach. You get derailed by being unable to learn the names of a great-grandparent's parents. You have the legendary three brothers from Ireland, one of whom settled here, one who went to sea and wasn't heard from again and the third who moved to the US in the 1860s. Great-granddaddy died hereabouts in 1889 and there's no government death record, no headstone, and the newspaper announcement amounted to two lines stating a name, a date and an age. The man's marriage was recorded in a church whose pastor did not ask the names of the couples' parents. Looks like a roadblock, doesn't it?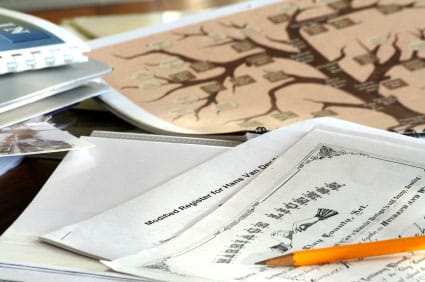 What if you learned that great-grandfather's brother died in Connecticut in 1908? Since 1897 that state has maintained a registry of deaths and each record asked names of parents and birthplace. If your great-grandfather and his brother were full (as opposed to half- or step-) brothers, you'd apply for the death certificate in Connecticut, naming the man's parents. Voilà, problem solved!
Here's a short list of when death registrations started, for your reference: New Hampshire 1640, Massachusetts 1841, New York State 1880, New Brunswick 1888, Newfoundland/Labrador 1892, Connecticut 1897, Prince Edward Island 1906, Nova Scotia 1908, Maine 1923, Rhode Island 1949. In many jurisdictions there were earlier records kept by town clerks.
Sometimes the solution is in our records here, but you have to work between or among several different types of records. A gentleman in the US had a quandary. His great-grandparents married on a specific date and in a known church in 1893. His source of information gave the bride's maiden name as Galloway, but someone had crossed out the "G" and written in an "H," making the name Halloway or Holloway even. Which was the correct name? My usual M.O. in such a case is to look at the primary source. There it was, in the register: Holloway.
Step two is to corroborate the inform-ation, if possible. I got the microfilm of the provincial marriage registration for 1893, brought up the entry and-by golly-it reads Galloway. Now, I am where the man was, except that I was looking at not one but two primary source documents, which did not agree. A "tie breaker" was the next step: I'd find a newspaper item concerning the wedding. But neither the morning nor the evening dailies mentioned the marriage at all-not then, not the next day nor over the following 10 days.
I made fruitless efforts to find a Holloway or Galloway family with a father whose name matched that in the marriage record. Nothing doing in earlier census or in marriage records of the relevant area.
The family was Roman Catholic, which turned out to help because priests usually entered women's maiden names when they and their husband had children christened. Fortunately, the couple married in 1893 and stayed in the area long enough to have three of their children baptized in the same church where they wed. In all three cases the name is clearly written with the "H," so the Holloways had it! As an important detail, the names of the officiating clergy are entered in each case, so it was possible to learn that three priests had written entries giving the woman's maiden name. Had all the entries been made by the same man there would have remained a chance, a slim chance, that he was getting the name right-or was it wrong?-four times.
I offer this as a concrete example of how you have to work back and forth between pairs of records in cases where conflicting information appears. Most people working long at genealogical research will tell of running into this sort of problem. In this example I'm suggesting one way out of the sand trap.
Dr. Terry M. Punch is the resident genealogist on CBC Radio and editor of Genealogist's Handbook for Atlantic Canada Research.