Farmers' markets have been steadily growing in popularity in the Atlantic Provinces. The reason? A better appreciation of where our food comes from, and an exchange with producers you won't see at a supermarket.
It's pre-dawn on a Saturday morning in Halifax. Most people in this lively city are slumbering, resting from their week's exertions or the revelries of a Friday night. However, at the Keith's Brewery Building, downtown on Lower Water Street, there's a hubbub of activity. Vans, trucks and cars are parked all around the building, like worker bees surrounding the queen, and men and women, some dragging sleepy-eyed youngsters, are at work unloading fruit, vegetables, meats, fish, tofu, tea, crafts, plants and prepared foods.
In just an hour or so, the Brewery building will be quite literally wall to wall with customers, wending their way from booth to booth, or stopping to greet neighbours. They'll purchase freshly baked breads and pastries, stop for a cup of fair-trade coffee, pick up a free-range chicken. They'll linger in one of the courtyards to listen to musical performers. They'll sample cranberry leather and Nova Scotia wines; indulge in samosas or crepes or baklava. They'll consider buying a hand-knit hat, locally made pottery or jewellery, and store their purchases in baskets and woven bags they've brought from home. It's Saturday morning at the Halifax Farmers' Market, and it's the place to be. It's the day the country comes to the city.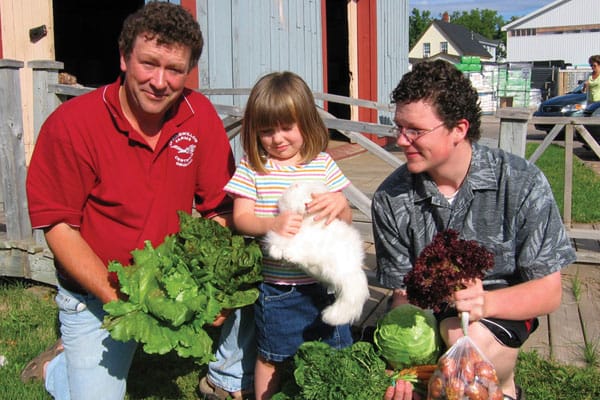 Farmers' markets are the original form of marketing. They've been the heart and soul of many a community over the years, and while there was a downturn in the numbers of markets across the country several decades ago, that trend is happily in reversal. Millions of dollars in sales happen in farmers' markets across the region each year-money that often determines whether a small business survives, or not.
The Halifax Farmers' Market is the oldest in North America. Founded in 1750, just after the establishment of the city itself, it has gone through several incarnations and locations in its life. It has survived two World Wars, the Halifax Explosion, downturns in the economy and the increased popularity of malls.
"We have current producers here whose families have been here since the beginning of the market, with records dating back to the 1770s," says Fred Kilcup, general manager-himself a former potter/vendor at the market. "And what's really neat is that those families have been selling to the same customer families, in many cases, for all those generations as well!"
But you don't have to be in Halifax on a Saturday to enjoy a farmers' market in Atlantic Canada-there are dozens of them throughout the region, some operating on different days of the week. Some are co-operatives and some are non-profit organizations; some feature only primary producers and some have specialty retailers. Yet all are united in common goals: to bring the freshest local products to consumers, to provide a venue for producers to sell their goods, and to educate the public about quality, local food. Despite the crowds and the bustle, there's a sense of community. Links are being forged between rural and urban communities.
In Fredericton, the W.W. Boyce Farmers' Market has existed for nearly 200 years. It now has its own building, built in 1951 after Walter Boyce left a legacy in his will to have a permanent structure to keep the market going year-round. It's not unusual for anywhere from 4,000 to 10,000 customers to go through the market on a Saturday morning, says the market's co-ordinator, Evelyn Fillmore. She laughs about the bustle.
"If you're being gently pushed along by the crowds, see something you're interested in and don't stop at once, well, you'll have to go around the circuit again and get back to that booth!"
The Fredericton market works well, Evelyn says, because it has a certain intimacy. "Many of our vendors have been here a long time, and many of our customers, too. If you stand to one side and listen, you can hear a lot of banter between customers and vendors. But more than that, customers get to talk to the person who baked that bread. They can discuss health concerns, allergies, special requests-all things that can't be done easily at a big chain grocery store."
Vendors at a market tend to take ownership of the market-they regard it as their storefront. The Halifax market is set up as a co-operative, with some 70 shareholders, both seasonal and full time, and while there are a few set rules about who can belong to the co-op or sell at the market, these are fairly straightforward.
"We want our vendors to be local producers [from Nova Scotia], with personal representation, meaning that a principal in the business or family be on site 75 per cent of the time," says Fred Kilcup. "We don't want national or international chains of produce in the market, but if a local producer-including the owner of Sobeys-wants to come to the market personally and represent his products, he can. We don't say anyone can't come, we say they can come under these conditions. That's our focus-inclusion, local production and personal representation. Everything else follows from that."
The business of the market is to supply the vendors with the proper environment and space so they can sell and make money," he says. "Then it's up to the vendor to look after the customers."
Sandy Troop and Danny Bruce operate an organic farm in Centrelea, NS, and have maintained a booth at the Annapolis Royal Farmers' Market since 1993 (three weeks after they got married). Sandy used to collect the rent from the vendors before she and Danny were married, and while initially her husband was dubious about the value of spending every Saturday morning operating a booth, he soon became a convert.
Selling their organic beef, honey, wool, crafts and jams at the market generates a significant part of Bruce Family Farm's income, and it also builds a relationship with customers-or potential customers-to keep them coming back.
"It's a storefront for five hours a week," Sandy says. "We have that time scheduled every week when we can talk to customers and those just looking, and build a relationship with them."
Danny concurs. When the mad cow disease scare developed more than two years ago, many people became concerned about eating beef and started looking to local producers, both conventional and organic, for reassurance about the safety of their food.
"We don't sell any food we wouldn't eat ourselves," Danny says. "This tells our customers that we stand behind our products and that they can trust local producers."
While the farm's sales of organic beef have not become huge, Danny now sells at a number of natural food stores, as well as at the markets in Annapolis and Wolfville, NS, and says the clientele is steadily growing. He takes pride in marketing his products and in being able to answer questions that consumers may have about food safety, and he's at the market every Saturday. "New vendors don't always understand that you have to be there week after week, in order to build up that rapport with your clientele," he says.
As producers across Atlantic Canada look for ways to expand market share and make a decent living from their labours, many look beyond local farmers' markets. Small operations don't always fit the bill of what big-chain grocery stores are looking for-many mainstream supermarkets are centralized, and their purchases are standardized for stores all across the Atlantic region. This doesn't work for a small producer who wants to sell his heritage apples or her organic tofu to a few local grocery stores, as the operation permits. But by forming a co-operative, the Farmers' Markets Association of Nova Scotia (FMANS) has created a network for regional distribution. Producers with easily transported products who normally sell in Halifax, for example, are now also branching out into the Wolfville and Truro markets.
Claire Doyle of Duke of York Cranberry Farm, in Arichat, Cape Breton, produces a line of cranberry products, including dried berries, fruit leather and unsweetened, pure cranberry juice, and markets across the province are eager to have her products available. Every Friday, Claire packs up her van and heads towards Halifax, making stops along the way to customers who sell her products for her. Being at the Halifax market on Saturday gives her the chance to introduce people to her products, and let them know about availability elsewhere.
Fred Kilcup says the co-operative wants to let these sorts of opportunities develop without putting a lot of bureaucracy in place. "You're a producer and want to sell your product in another market? Go and talk to the other market. Their system won't be identical, and not all markets adhere to the same principles. The idea is that individual farmers and markets will cooperate with others and develop a network in response to consumer demands. The system becomes self-perpetuating, changes with demand, and doesn't require a lot of overseeing."
In the past, markets have tended to be somewhat insular. A small group of producers would get together, form a small market where he sells this, she sells that, and in the process barriers were created for other vendors.
In the early 90s, seeing this sort of thing happening, the Halifax Farmers' Market decided to knock down those barriers. Fred Kilcup's attitude was, "Come to the market, do the best you can with the products you make, and compete with everyone else." Vendors can walk among the stalls and see what other vendors are bringing to the market; everyone develops an awareness of who has the first new potatoes of the season, who brings the first bedding plants. A healthy competition has resulted in the seasons being extended and product quality going up. So everyone's happy.
Ultimately, the market allows city and town folk to buy the best fresh, local products, and it keeps local producers in business. "It allows us to make a living selling our products," says Claire Doyle.
Fresh Restaurant Pickin's
Some of the first customers to arrive at farmers' markets in the morning are people wearing crisp, white jackets. They go to a few select vendors, choosing the freshest produce, herbs, meats and fish, rounding out their purchases with breads, pastries and fresh, glorious flowers. These purchases will undergo transformations into dazzling meals, as local chefs embrace local produce to create unique, flavourful dishes in their restaurants.
Unni Simensen has been operating Scanway Catering in Halifax for more than 20 years, and remembers when it was a challenge to buy locally grown, fresh herbs for use in her recipes. That's not a problem now-Unni and her son Geir are two of the regular chef customers racing through the Halifax Farmers' Market on a Saturday morning.
"You can't beat the flavour and the quality of the products at the market," she says. "A carrot tastes like a carrot should, and those tomatoes…sometimes when you buy tomatoes in a grocery store, the only reason you know they're tomatoes is because the sign said so, not because they taste anything like a tomato!"
An ardent fan of farmers' markets, Unni says she visits them whenever she travels to Europe. "Sometimes, even though I'm backpacking and I have no room and no place to cook, I simply have to purchase the local produce because it's just so beautiful," she says.
So it's only natural that she would support Nova Scotia's local producers in her catering, as well as in the two restaurants her family operates: the Cheapside Café and Sweet Basil Bistro. "We love to support local producers in everything we do, and there is such a great variety of produce available-it's a huge world of choice."
The three thriving businesses, with a fourth "garden-themed" restaurant soon to open, are a testament to this.
To market, to market
NB
There are more than 20 farmers' markets in New Brunswick; some have permanent indoor locations and operate year-round, such as the Boyce market in Fredericton, while others are seasonal. For more information go to www.tourismnewbrunswick.ca/en-ca/ and search for farmers markets.
NS
The Farmers' Market Association of Nova Scotia has created a map showing the locations of its farmers' markets, an ever-growing list. Check it out at www.nsfarmersmarkets.ca.
PEI
Many PEI producers have their own roadside stands, but Charlottetown has a year-round farmers' market, and there are several seasonal ones-in Summerside, Kensington, Montague and Wellington, for example. For more information go to www.foundlocally.com/ Charlottetown/ Shopping/Sh-Markets.htm.
A farmer's challenge
Raymond Loo and his family operate a certified organic farm in Springfield, PEI. Saturdays are hectic-it's the day the family sells its organic produce at a market seasonally in Kensington and year-round in Charlottetown.
"We estimate that our sales have grown between 25 to 30 per cent annually in recent years, which is a challenge but also a great situation to be in," Raymond says. "We run out of everything we grow because we create the conditions that make people want to buy our stuff!"
On PEI, farmers have the challenge of a small population faced with a variety of choices. "We have fewer people on PEI than live in many of the larger regions of the rest of Atlantic Canada," Raymond says. "While we get some income from summer cottagers, we just don't have a large population base to draw from for customers."
Despite this caveat, a significant chunk of his income comes from market sales, and also leads to further sales at the farm gate. The Loos don't sell their organic beef or most of their poultry at farmers' markets, but people still hear about their products as a result of them being at the markets, and call the farm to order a quarter or side or perhaps some chickens.
Though it makes for hectic days, Raymond says he loves doing the markets because it gives him a chance to talk to his customers and help them learn and appreciate where their food comes from.
Occasionally a customer will say that Raymond's prices are higher than conventional farmers' prices or than those in the supermarket. But it's not always the case, as those prices are determined by the crop. "Many of the vegetables we grow, you'll find our prices are the same or better than in the grocery stores-a few are higher, but that's usually because the crop is harder to grow organically, like potatoes," says Raymond.
And surprisingly, people don't always stop to think that when a product is reduced in price, it's the farmer who absorbs the cut. Raymond recounts a story about a woman who complained that carrots were 30 per cent cheaper at the grocery store.
"I asked her, why should I take a 30 per cent drop in my income? She was really surprised to think about it that way! People are used to being price motivated because they see the flyers, and don't think that the farmers are the ones who lose money when there's a sale on produce, not the supermarket!"
When your family has been farming for six generations, as with Raymond's, it's in your blood to carry on the tradition. Still, you have to reinvent the tradition as you go. Raymond says he's always eager to connect with his customers and get feedback about his offerings.
"As producers, we have to produce what consumers want, not what we want to grow," he says. "If this means producing new, interesting potatoes rather than the boring, white, round ones that everyone else has, we ought to embrace change."
For more information on the Loo farm, go to www.springwillowfarms.com.