When Cheryl Gaudet arrives at the Blockhouse, NS, home she has been invited to for a Saturday night gathering, one of the hosts is vacuuming the living room and the other is out on the deck, lighting the barbecue while holding an umbrella over his head to ward off the drizzle. As the other guests arrive, bringing their potluck offerings, the kitchen begins to fill with the aromas of fresh bread, lasagna, chicken pot pie and apple crisp.
It looks like any ordinary dinner party, but this one has a twist. At a set time Cheryl leaves the kitchen to take her place downstairs in a large, open room where a collection of wooden folding chairs-borrowed from a local school-have been arranged in neat rows. At one end of the room, a single chair rests on a colourful rug next to a small table holding a vase of pussy willows and a glass of water. The party guests file into the seats after dropping money in the basket by the door.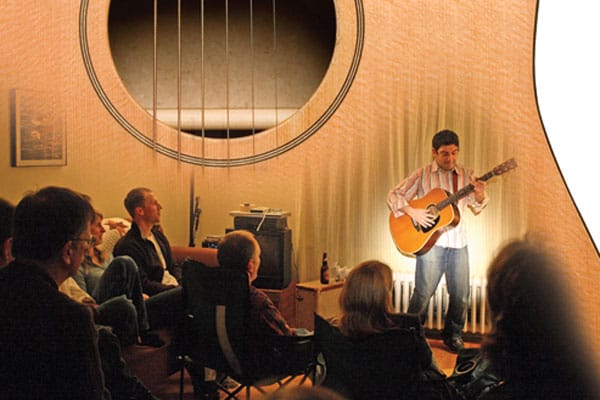 Cheryl is not a medium preparing to hold a seance, and she's not selling reusable plastic containers. She's a musician who has been invited to entertain a group of people at what's called a house concert, a phenomenon becoming popular in this part of the world, reflecting the East Coast tradition of hospitality and appreciation of homegrown music. More personal than clubs, pubs or theatre venues, the house concert is a front parlour version of the familiar kitchen party-there's the same intimacy, but where kitchen parties tend to be impromptu jam sessions, house concerts have a formal structure. Folks get to hear some of their favourite musicians up close, and musicians get paid to do what they love to do-perform for an appreciative audience.
"[Singer-songwriter] Rose Vaughan introduced me to the idea back in the early '90s," says Cheryl. "The notion of performing in a home appealed to me. After all, it's where most of us start out, especially growing up in Nova Scotia, where kitchen parties are the norm."
While the house concert is a cousin to the ubiquitous kitchen party, Paula Fredericks says she sees significant differences between the two. Paula and her husband have hosted several concerts in their home, in the St. Margarets Bay area of Nova Scotia. Their first guests were Rose Cousins and Jill Barber, both of whom have recorded in CBC's Halifax studios, won awards and are touring internationally.
"To me," Paula says, "a kitchen party is people sitting around having a few drinks and people are there with guitars, not necessarily professional players, but maybe neighbours or relatives who can pick and sing. Maybe someone plays the accordion or the fiddle. People are in and out, and may arrive early or late." It is casual and can be boisterous, she adds, with the music typically being secondary to the party environment. A house concert, on the other hand, is a more clearly defined performance for a listening audience. There are usually no interruptions. People pay for seats, and arrive at a set time.
The notion of a focused audience appeals to Dan McKinnon, who has spent his fair share of time playing in venues where only a small number of people pay attention to the music. Dan used to play guitar and sing in his butterscotch baritone as a busker at the Halifax Farmers' Market. Occasionally people would pause long enough to hear half a tune, drop a coin in his case and be on their way again. "It's hard for a folk singer to tell many good stories that way," he says.
Dan plays at folk festivals, symphony halls, pubs and private functions; he has performed at numerous house concerts in Ontario and the UK, and one in the Maritimes. "It's not like in a bar where the drinking comes first, looking for a pick-up may be second and the music is somewhere down the list," he says with a laugh. "In bars I have to beat my guitar to death and scream at the top of my lungs." He compares house concerts to the folk clubs in England, not unlike the coffee houses here.
Cheryl Gaudet says the coffee house type of environment has an inherent etiquette and respect for artists. I was nurtured in the coffee house era...," she says. Musicians were sharing their art and people came to listen. That's what house concerts are providing for both the performer and the audience."
For hosts, the sharing may go beyond the scope of the event itself. Depending on the arrangement a host might offer bed and breakfast accommodation as well as the paying gig. Many travelling musicians appreciate eating and staying in someone's home, rather than resorting to the usual diner and motel room.
"Wonderful relationships can be forged through the opening of one's home to musicians," says Paula Fredericks.
Gary Torlone, who lives in Charlottetown, agrees. "The one outstanding aspect for hosting and being involved in house concerts is the friendship that comes from them," he says.
Gary got involved with house concerts more than a decade ago while living in North Bay, Ont. There, he and his partner hosted Ian Tamblyn, Terry Tufts, Katherine Wheatley, Bob Snider and Bob Wiseman. Since relocating to the Island, the couple has continued to open their doors to musicians, and audiences to hear them.
"We offer fresh home baking, coffee, teas and juices for intermission," Gary says. "This brings more unity to the evening, while the crowd and the artists have the opportunity to chat and get to know one another a little.
"Fortunately we have been lucky enough to live in buildings that accommodate 20 or more people. Mind you, at times it has been somewhat cosy, though this adds to the intimacy of the event. We have always tried to make the room comfortable, normally having to rearrange the furniture, bring in a few extra chairs and cushions, trying to create a good set-up for the audience."
Gary continues to play host to artists from other parts of Canada. His list includes Steve Slade, "who hails all the way from Whitehorse, Yukon; just a great guy and fabulous entertainer. Also Art Turner, the guitar virtuoso from Winnipeg."
He's aware of the touring musicians' challenge of filling their calendars in a sparsely populated country. "A major concern for many performers travelling in Canada is having enough work to make a trip pay. Considering the large gaps between centres at times, house concerts seem to offer a natural solution."
Hosts rarely make money from their part in house concerts. Most people do it for the love of music and the opportunity to hear their favourite performers up-close and personal. For the artist, the pay can be relatively lucrative-some say they earn an average of $400 in an evening, with CD sales adding extra revenue on top. Guests generally pay $10 to $20 to attend, and are sometimes asked to bring a food contribution to share.
Paula Fredericks is so keen on the idea of house concerts that she has teamed up with musician Julian West to create a website, acousticroof.ca, to foster the concept. Artists interested in performing and people looking to host can list their information for free on the site, and potential audience members can track where concerts are being held. The service has been up and running since July 2006.
But to be realistic, organizing a show-especially attracting an audience-takes some footwork. "It isn't a piece of cake unless one has a large circle of friends and everyone is a fan of similar music," Paula says. "We ask all neighbours and friends, and I have an e-mail list of folks I know who are not friends but good acquaintances. I also often put ads on local online bulletin boards and on regular bulletin boards."
The personal touch is part of the joy of the event. Paula remembers making a pre-show phone call to one person who had completely forgotten the concert was happening. "Luckily she was only three or four minutes away by car," she says.
Back at the Blockhouse concert, a girl sits on the floor in the front row, completely wrapped up in the music. Between songs, Cheryl Gaudet passes her a hand drum and encourages the young fan to join in. Soon, the whole front row is tapping and rattling, making an impromptu percussion section. The timing isn't perfect, but Cheryl takes it all in stride, maintaining the rhythm with her right hand. At the end of the last chorus everyone shares a chuckle.
"Anything goes," Cheryl says. "I bring shakers and encourage participation. Music is something to be shared…it's all about having fun and connecting with each other."
She closes the concert with a peace song she wrote. It has a simple, repeating pattern, and she encourages the audience to join in. The sound of soft singing fills our hearts with a sense of hopeful belonging. After the song, Cheryl mingles with the listeners, sharing stories and signing CDs. Some guests help fold up the chairs while others wander back upstairs for a last piece of pie or cup of tea. Eventually everyone heads out into the misty night, revived and inspired.
A-one -and- a-Two…
Missed your calling as a conductor-or an impresario? House concerts can be a lot of fun, but before you reconfigure the lighting in your living room, here are eight questions to consider.
Who would you like to hear up close?
Do you have enough space for a performer and an audience of, say, 20 to 40 people?
How many people-including friends, neighbours, acquaintances, colleagues, relatives-do you know to invite? Consider that you can ask friends in turn to invite friends as well.
How much will you charge… and how much can you pay the musician based on a rough estimate of how many will come? Does the performer require a guaranteed fee?
Do you want the performer to use sound equipment, or keep it acoustic?
Are you offering the performer overnight accommodations as well?
Do you want your guests to bring food? How do you feel about alcohol being part of the event?
Are you prepared to play host-greeting the guests, introducing the performer; the set-up and clean-up involved?

For a more comprehensive how-to guide, check out acousticroof.ca's online document "How to Host a House Concert"