They had a rule. Get off the highway; turn left and then turn left again, and see where you end up. Early one PEI summer after a wet spring, they turned onto a long-stretching clay lane, extending into apparent infinity.
"You'll get stuck on this road," his grandfather said, wary of the mud.
"I'll get stuck if I try to turn around," he said.
A few minutes passed.
"As pretty as a postcard," his grandfather said, momentarily forgetting about getting stuck.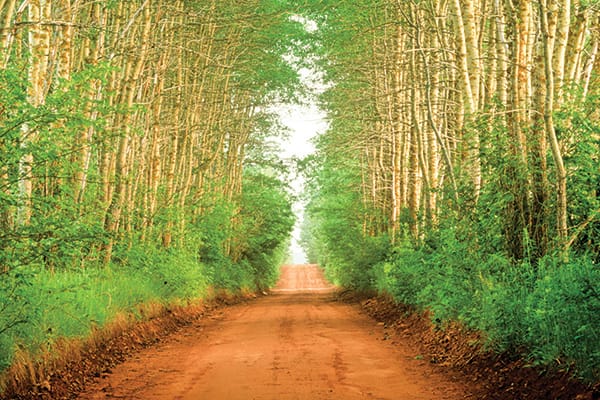 Most of the road trip blurs together, but an intersection of beauty and emotion makes an impression, standing still like a snapshot in time.
Of course, PEI's red clay roads are postcard pretty, if not in the conventional sense. Hardwoods such as maple and red oak intersperse with softwoods like spruce and hemlock, providing contrast and depth. The tree canopies, or allées, are reminiscent of a French château that's forgotten its formality; they offer dappled passage on a promenade and enrich the view, which may include new and abandoned farmsteads, or the remnants of bygone businesses such as sawmills.
The roads are wildlife corridors for foxes and snowshoe hares; roadside bushes provide nesting sites for songbirds.
The terrain itself is varied: there are hills, twists and turns; fields of grain and potatoes alternate with woodland, and the promise of an ocean view. Wildflowers like lupines and daisies, black-eyed Susans and Queen Anne's lace offer swaths of blooms in open expanses, while ferns, trillium and pink lady's slippers, PEI's provincial flower, thrive in the understorey of the trees.
Vignettes of tidy farmsteads could be straight from a child's brimful storybook—such as Anne of Green Gables.
Landowners add to the views with their colourful, quirky mailboxes, perhaps the equivalent of "Kilroy was here." Eclectic, functional works of folk art stand sentinel at well-tended rural driveways, contrasting with the anonymous metal superboxes en masse in suburbia. Live on a scenic, red clay road? Why not hand-paint a pair of hummingbirds across the mailbox. It's a lark!
Or how about making one in the design of a church, a lobster trap, a tractor? They're all icons of Island life, and provide a sense of individualism and pride: the signature or creative expression of the homeowner's industry.
While manicured lawns and paved roads came with industry and urbanization, unpaved or dirt roads—made from the subgrade material of the land they pass through—are still common in rural areas of many countries, and in metropolitan areas of developing countries.
In PEI, the most rural province in Canada, it isn't just that roads haven't been paved. Many are protected from being paved.
In 1987, the provincial government passed regulations to limit activities at odds with "preserving some of these scenic and cultural refuges;" as of 2005, 11 roads—encompassing approximately 33 kilometres—have been designated Scenic Heritage Roads. There are five additional old, unpaved roads offering people a stroll (or drive) down memory lane.
Adjacent landowners have helped to preserve the ecosystems: in 1987 many entered into agreements with the Island Nature Trust to protect a strip of woodland or hedgerow beside the government right-of-way. However, the agreements have expired, and were not renewed or replaced.
"Some landowners still voluntarily preserve the buffers," says Jackie Waddell, executive director of the Island Nature Trust. "Other landowners are now clearcutting through to the right-of-way."
And yet, people come from all over to travel down the lanes with lovely canopies, navigating the natural heaves and ruts of the compacted iron-rich soil, steering around the omnipresent, hulking farm machines that trundle over red clay passageways—still—all their working lives.
The roads are rich in stories as well as in iron. The two-kilometre-long Perry Road, near St. Patrick's, in central Queens, has a significant crook midway along: the first section of the road was purchased from a landowner politically aligned with the government of the day; the government was defeated while the road was being constructed, and work was halted. The last section was acquired from a different landowner, aligned with the new government—and on the opposite side of the road's original trajectory.
Klondyke Road, in Iona, had a different type of work in progress: during the 1920s and 30s rumrunners would steal along the road under cover of darkness, hiding their contraband in a secure place, marked by a rag tied to a tree.
Today, if you see a rag tied to a tree on Klondyke Road, you may find something to help you embellish the Island's rich history, augmenting the canon of charm and character of PEI's country roads.
For more information about PEI's Heritage Roads please go to tourismpei.com/pei-scenic-heritage-roads. For information specifically about cycling and hiking on these roads, please go to islandtrails.ca, and click on Heritage Roads in the left-hand column.