Ug Wug, Malabeam and the Monster in Lake Utopia. You might think you know New Brunswick, until you dig deeper
In 1937, a newspaper writer decided to take a trip around New Brunswick. He had no specific itinerary in mind, as he planned to ask folks he met along the way what was worth seeing and doing. As he travelled, he heard about treasures hidden here, ghosts there, and numerous unique artisans to visit. He soaked up amazing hunting and fishing stories, and took note of restaurants he should not pass, heritage collections worth seeing, and beautiful spots along beaches, lakes and rivers that were practically his alone to enjoy.
Days blended into weeks, then months. Ian Sclanders ended up being on the road five months, having found so much to experience. When he returned to the Telegraph Journal, he commented that he "wore out four sets of tires" driving, and "three typewriter ribbons" writing 138 stories about the people he met and the places he visited.
Though few of us would have five months to spend on a holiday, Sclanders' method is still a good way to discover the province. Perhaps some sort of loose itinerary would do the trick in 2005. It would include not-to-be-missed natural attractions like the Reversing Falls, Magnetic Hill, standing on the floor of Fundy at the Hopewell Rocks, or climbing to the top of the Maritimes' highest peak at Mount Carleton.
But, if like Sclanders, you wish to diversify your experience, you must be open to other opportunities you'll learn about. So that at Reversing Falls, you won't miss riding the rapids in the Jet Boat; at Magnetic Hill, chuckling over the antics of the primates in the zoo; or at the Rocks, driving a few kilometres so you can scale the cliffs, then reward yourself with a thick slice of cake at Cape Enrage.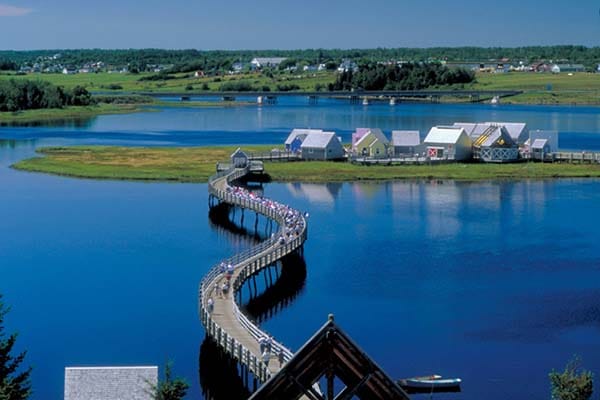 Sclanders' stories of New Brunswick's delights were not just published in the Telegraph Journal; he later shared them nationally in publications like Macleans. The latter eventually scooped him up, convincing him to give up his ramblings in his home province and move to the big city of Toronto.
Though he was now physically far from home, New Brunswick was never far from Sclanders' heart. He continued to extol the virtues of his province, its beauty and its people. How could he not? He'd experienced its quaint towns, like the dairy capital of Sussex, which still looks like a 1950 Rockwell painting, or of St. George, where you can hardly turn a corner without running into a granite monument of one sort or another. He had talked with weathered-faced Bay of Fundy fishermen and knew their stories. He knew the legends of the Ug Wug at the Reversing Falls; of the monster in Lake Utopia in St. George; and of the maiden Malabeam, who saved the Maliseet people by leading the Mohawks to their death by canoeing them over the 23-metre drop at Grand Falls.
Sclanders' stories brought New Brunswick to life for those who read his writing. Many were convinced to come and see for themselves if what he wrote was true. They weren't disappointed. You won't be either! Don't pass up another opportunity to rediscover New Brunswick. A road trip awaits!
Off the Beaten Track
Every time I come across some new attraction in the province of New Brunswick, I just can't help exclaiming: "How did I ever miss that?"
After a lifetime of travelling and writing about the province, friends still point me to places that I would never have known existed, and that usually do not show up in the pamphlets and promotional literature stocked at the better-known provincial attractions.
You know the places I mean. You definitely don't want to miss them: the Martello Tower in Saint John, the Legislature Building in Fredericton, the 18th century Treitz House in Moncton, the world's longest covered bridge in Hartland, and the classical music gardens at St-Jacques, to note a few.
But at such places, it's also worth asking what is worth doing or seeing beyond the norm. I have done that, and this is what I was told.
Irene and John McCarthy of Campobello Island are what islanders call come-from-aways who fell in love with island life. Both came for a year to teach and never left. Now retired, they enjoy regularly hiking the trails of the Roosevelt Park. "Everyone knows about the Roosevelt cottage, but few use the dozens of trails just across the highway and the ocean vistas are stunning," John says. His favourite is the "Liberty to Ragged Points trail," where the easternmost of the Sunsweep Sculptures—a series of three, five-foot sculptures along the Canadian-US border—can be seen.
He also noted the Herring Cove trail is worth walking along to see the Rock of Gibralter, a glacial rock approximately 4-metres tall that locals love to climb on, in adjacent Herring Cove Provincial Park.
Moving north, Gail MacMillan, an avid canoeist lives in Bathurst, and enjoys wide ranging adventures in the Acadian area of the province. "Have you been to Miscou Island, Dave?" she asked. I hadn't, so she told me what to look for. "There's an amazing little church and graveyard, with a gravestone shaped like a ship for a family who lost a number of members at sea, right across a barren stretch of marsh grass from a beautiful lighthouse. You have to visit that."
She also urged me to go to Tabusintac and visit a one-room school that has been turned into a museum/library with a fold-into-a-box-organ, which a missionary from the area had used in Africa.
At nearby Neguac, she noted, "there's an Acadian restaurant with a traditional outdoor oven where you'll be served by people in traditional costumes and they will even teach you how to make your own bread."
Before leaving the Acadian coast, a stop at Bouctouche was recommended by JoAnne and Bart Claus, Saint Johners who discovered a wonderful arboretum and garden walk in that community. "As of now, not many people know about the newly opened Irving Memorial Chapel and that beside it, there's an arboretum with kilometres of walkways that wind through groves of flowers and past every kind of tree that can grow in our climate," says JoAnne.
The Clauses especially like the walk when the chapel's carillon plays, which it does regularly, and also noted there are concerts and services scheduled in the chapel to enjoy.
For those who really like to get away from it all—even nip into another country—two friends provided suggestions for New Brunswick trips that graze adjacent Maine.
Long-time Scouter Mike Horrobin discovered a wonderful island for his lads' summer getaway in the McAdam area. "It's Todd's Island in the Spednic Lake Park," Mike says. "The lake feeds the St. Croix River. The island is accessible only by boat and is just gorgeous. The island is a couple metres above the lake and you feel like you're on a big boat drifting in a big lake."
As owner of Freedom Tours in Saint John, Ellen Tucker travels the world, but when she gets back home to relax she likes to head down the Fundy shore where she was brought up. She says she likes to stop in St. George to see the falls and gorge; then to Letete to catch the ferry to Deer Island. From there it's a quick jump on the ferry to Maine, with an amazing natural wonder in between—the "Old Sow" whirlpool, one of the largest whirlpools in the world.
Bill Hamilton of Sackville is renowned for his knowledge of New Brunswick place names, and he travels to many of the places he comments on weekly in his newspaper column. "So many of them would qualify for interesting out of the way places," he says. "Not far from here is the village of Dorchester, NB, where the Keillor House Museum dating from 1813, an imposing stone building, which was built in the Regency style for John and Elizabeth (Weldon) Keillor, is one attraction that should not be missed."
Judi Berry Steeves of Riverview enthusiastically shared a few of her community's lesser-known attractions. "I think most folks would enjoy the Wednesday waterfront concerts in summer, the sunsets over Lake Petitcodiac and miles of waterfront trails on both sides of the river," she says.
As a tourism officer for the city of Saint John, Ngarie Nelson gets lots of queries from those looking for a quick rural experience while in the big city and she recommends a trip to Black Beach and Musquash Head Light just to the southwest on the Lorneville peninsula. "You can drive there in a half hour, but you have to walk a steep switchback road to the beach to experience the black sand," she says. "And, an abandoned gravel road to see the lighthouse, but both are worth it."
Other friends have shared their great suggestions as well—how will I find the time for them all this summer? Minto's Peggy DiCarlo says I must take the tipsy trip across the Priceville Swinging Bridge between Doaktown and Boiestown; poet D. W. Butterfield of Perth-Andover suggested a walk along the Maliseet Trail to Hays Fall at Meductic; while John Glass of Hartland says the story of the longest covered bridge is best told on a river boat tour with operator Jamie Kelly. It goes under the bridge to the islands, up and down stream.
My final piece of advice comes from Barbara McIntyre, curator of the Quaco Museum at St. Martins. "You should visit Brown's Beach at West Quaco," she says. "It is THE most beautiful beach around, ALL sand, a crescent shape beach with the huge Sugarloaf (our local name) rock on the west side and L.E. Point (our local name) on the east."
Then she adds the directions, which, almost anyone in St. Martin's can, and will, do. I leave it to you to make the contacts there, and other places noted, so you too can say, "How did I ever miss that?"