Wonder what the folks next door are up to this summer? Make time for Vacationland.
Looking for a neighbourly getaway? Meet Maine. Whether you're in search of history, art, music, fine dining, shopping, camping, or a little scenic ogling, there are plenty of reasons to come knocking next door.
Summer is prime season to explore New England's largest state. In fact, Maine is so large it is almost as big as the other five New England states put together.
What makes it particularly pleasant however, is what's inside. Picture 6,000 lakes and ponds, 32,000 miles of rivers and streams, nearly 3,500 miles of coastline and 17 million acres of forestland! Throw in 2,000 or so islands and more than 60 lighthouses and your picture is coming into focus.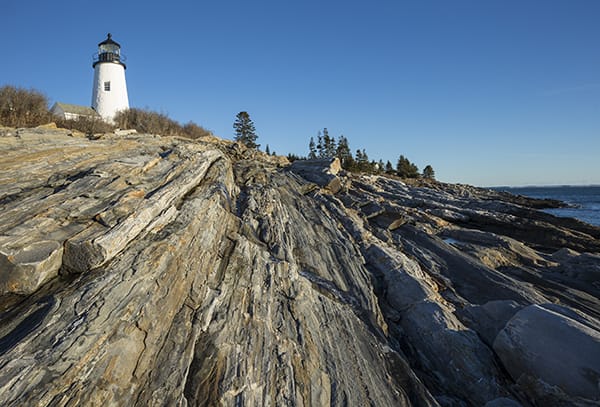 Maine is a vast and scenic wilderness where one is as likely to meet a moose as a movie star. Folks from all over the United States—including famous people like actors John Travolta and Kirstie Alley, who own homes here—migrate to Maine for its slow pace, quiet beauty and historic charm.
Homespun villages, bustling downtowns and a city or two dot the coastal landscape. You won't find a single skyscraper or subway, but you will find towering mountains, cobblestone streets and plenty of places to picnic, bike and hike along with all the amenities to rest and relax.
The state didn't earn the "Vacationland" name for nothing. Maine is known for sandy beaches and stony coves; summer sun and sea breezes; snug inns and tall ships; outlet malls and artist colonies; steamed clams and blueberry pie.
Visit York, the first town chartered in the United States. Climb through Fort Knox, a granite fort built on the bank of the Penobscot River. Stroll through some of the most celebrated art museums in the country. Set sail on a mail boat. Or set out a lawn chair and take in a summer concert under the evening sky.
Getting there couldn't be easier. The quickest way is via The Cat [www.nfl-bay.com], the super-speed ferry, which crosses from Yarmouth, NS, to Bar Harbor, ME, in less than three hours. From there, if you bring your car, you can wind west out of town on Route 3, until you meet up with Route 1. From there you can cruise clear down to the tip of Maine's southern coast all in about five hours without stopping.
Of course, you will stop. Few drives compare to Route 1, which meanders through thick woodlands, along the coast and smack through the middle of Maine's most popular destinations—including Camden, Wiscasset, Bath, Brunswick, Freeport, Kennebunk and York. Best of all, there's always a town tucked around the next bend to gas up the car, browse for antiques or take a seat for a steaming lobster.
There's no rush, whether you have just a day of dining, a weekend of shopping, or a week lounging at a luxurious inn by the sea. Maine has all the time you need.
Off the Beaten Track
One of the most often visited destinations in Maine, and the one where you're most likely to land, is Bar Harbor. Located on the eastern shore of Mount Desert Island, this bustling tourist town is on the fringe of Acadia National Park. Known for its rugged beauty and plentiful hiking trails, Acadia is the big draw in this neck of the woods. Bar Harbor is its trading post. The quaint downtown overlooking Frenchman Bay is filled with gift shops, restaurants, bed & breakfasts and hotels.
Once a rustic resort for the rich and famous, Bar Harbor now teems with day-trippers. But for all the T-shirt shops and souvenir stands, it retains an air of nostalgia with its narrow streets, Town Green, and mansion-like Victorian "cottages."
People come here to watch the boats, take a cruise, or hike the trails. But there's plenty of history to be had as well. The Abbe Museum, with its new office in the centre of town across from the Town Green, preserves the heritage of the Native American people of Maine. The museum has an extensive collection of Wabanaki baskets and more than 50,000 artifacts dating back to the 17th century.
With or without a car, you can easily access most points around the island, including the museum, airstrip, numerous campgrounds and more, by hopping on the Island Explorer. This free shuttle bus runs in regular circuits through Bar Harbor and Acadia National Park from June through October. It also meets travellers arriving by ferry.
Acadia National Park includes 47,000 acres of pristine forest, 26 mountains and many miles of hiking, walking, riding and biking trails. There are beaches for swimming, horses for riding, even roads if you would rather drive than hike. The over 20-mile Park Loop Road will take you to all the major sights on the island including the top of Cadillac Mountain, the first point in the eastern US to see the sunrise.
Get your bearings at the Hulls Cove Visitor Center, off Route 3, before heading into the park. And no visit to Acadia would be complete without tea and popovers at the Jordan Pond House, on the Park Loop Road—just call ahead to make reservations.
For less congested views of the island, visit Southwest Harbor on the western side for a dip in Echo Lake, just off Route 102 or drive to the tip of the 102A and catch a ferry to Swans Island, 6 miles off shore. Here you can walk or bike and visit the Swan's Island Educational Society, less than a mile from the ferry on Atlantic Street, with its store, school and memorabilia of island history.
While Bar Harbor is one of the biggest draws, the coastal villages of Camden and Rockland, about an hour and a half south on Route 1, offer equally quaint views of the coast. Camden Hills State Park has several lovely trails with terrific views from Mount Battie. And Rockland includes the nationally acclaimed Farnsworth Museum. Both towns are known for their prime gift shops and cafés.
An hour further south on Route 1 will bring you to Maine's Mid-Coast, which includes the towns of Boothbay Harbor, Wiscasset, Bath and Brunswick. To get to Boothbay Harbor, take a left on Route 27 as you come into Edgecomb. One thing you won't find are many public beaches, but the harbour has a good deal of ships for day cruising, including the Balmy Days fleet which goes to Monhegan Island.
The Boothbay Railway Village, on the left side of Route 27 as you head toward the harbour, is a popular destination. There's plenty of train memorabilia, a working steam engine that pulls visitors around the grounds, an antique car barn, and 28 historic structures set up like a village from long ago.
The town itself is fun to walk and shop. Cross the harbour on the footbridge, rent a kayak and explore the shore up close, or take a seat on the trolley, which tours past most points on the Boothbay peninsula. A drive to the western side of the harbour, from Route 27 onto the McKown Point Road, will bring you to the Marine Resources Aquarium where you can pet nursing sharks in a giant tank, touch all kinds of sea critters or meet some of our biggest lobsters.
Heading south again on Route 1, you'll cross the Sheepscot River into Wiscasset, which is known for its plethora of fine antique shops and historic houses. It's also a popular place to catch lunch, either by buying one of Maine's biggest lobster rolls from Red's Eats or by pulling up a chair at Sarah's on the other side of Main Street. You'll pass them both as you head into town.
Nosing along into Bath, you'll cross Maine's Kennebec River, which has an illustrious shipbuilding history known the world over. With plenty of shops and good restaurants, Bath is a working town that is home to Bath Iron Works, one of the country's largest naval shipyards. You can catch a glimpse of the goings-on from a walking path that crosses the bridge. Prime time to visit is the Bath Heritage Days, a three-day festival of music, crafts and carnivals that runs through the Fourth of July.
Brunswick is home to historic Bowdoin College, a sure bet for great summer concerts and theatre. The month-long Bowdoin International Music Festival runs from the end of June through the end of July and presents world-renowned artists.
History buffs will enjoy a tour of Civil War General Joshua Chamberlain's home on Main Street, across from the college. You can also visit the First Parish Church, just up the street, where Harriet Beecher Stowe is said to have had the vision that inspired her writing of Uncle Tom's Cabin. The church itself is a stunning Gothic Revival, where public organ concerts are often held.
Further down Route 1 is the shopping Mecca of Freeport, with streets lined with outlet stores and where more than 3 million visitors a year flock to L.L. Bean's Flagship Store, where you can shop any day of the year, any time day or night. Or for a more serene experience, head 4 miles out of town on Bow Street (across from L.L. Bean) and turn right onto Wolf Neck Road to visit Wolfe's Neck Woods State Park. Here you can walk along the shore, view the islands of Casco Bay and bird watch.
The next hot spot is Portland, 30-minutes south. Take the slow, scenic route on Route 1, or whiz into Maine's largest city by following Interstate 95 to Highway 295. Portland is as urban as Maine gets, with nightclubs and bars, restaurants and stores, as well as such draws as the Portland Museum of Art and Children's Museum of Maine both downtown.
Portland's Old Port, centred around Exchange Street, is full of historic architecture, fine shops and cobblestone streets. Catch a harbour cruise on the Casco Bay Lines, just across Commercial Street, or dine at DiMillo's, a converted car ferry that now serves good American fare and seafood on the state's only floating restaurant, just off Commercial Street.
Tour the home of Henry Wadsworth Longfellow, one of the nation's most popular 19th century poets, on Congress Street, in the city centre. Or walk through Victoria Mansion, on nearby Danforth Street, one of the best examples of Italianate architecture anywhere.
Maine's southern beaches include the Kennebunks, Ogunquit, York and Kittery, all strung together along Coastal Route 1. Here, the main attractions are the long, sandy beaches and rocky coves. Kennebunkport is known, not only as the Bush's presidential summer home, but as a pristine shopping area with quaint shops built right over the water's edge. A drive along the shore will showcase many seaside mansions.
One of the first-rate attractions in Ogunquit is the Ogunquit Playhouse, right on Route 1, which has been regarded as the foremost summer theatre in America. Next come the Yorks.
York Village, which was chartered in 1641, is a pristinely preserved town best known for the houses and museums of Old York Village, on Route 1A.
Drive on and you'll come to York Beach, a hopping hangout between two of the area's most popular beaches—Long Sands and Short Sands. With a carnival-like atmosphere, the beach area is highly developed and includes Yorks Wild Kingdom, a zoo and amusement park right off Route 1.
From here on, it's mostly shopping country. The Kittery outlet malls are known for bags of bargains. For those more interested in the great outdoors, there's the Kittery Trading Post, which has a regional reputation to rival L.L. Bean's. You'll find them all on Route 1.
Then for one last glimpse of Maine at its finest, head to Kittery Point. From Route 1, take Route 103, to wind past pre-Revolutionary homes built along the water. Just south of Pepperrell Cove, take a walk at Fort McClary, which includes an 1844 blockhouse and views of Portsmouth Harbor. What better way to remember Maine?