Nova Scotia's Ten Beaches Hospitality Society is reaching out to the region and extending a warm welcome to those who want to visit its sandy shores.
A mere 40 kilometres west of the outskirts of Halifax lies a little-known treasure. It's a piece of old Nova Scotia, complete with working fishing villages, picturesque harbours, panoramic views and glittering white granite-sand beaches. Ten beaches, to be exact, lacing the shoreline westward from the head of St. Margaret's Bay, around the Aspotogan Peninsula to the mouth of East River in Mahone Bay.
This unique area is gaining recognition under a new banner inspired by this spectacular string of beaches. A coalition of local restaurant, inn, cottage and campground owners coined the moniker Ten Beaches to describe and promote this stretch of coastline that, despite its charms, is often bypassed by people on their way to or from more high-profile South Shore destinations such as Chester and Lunenburg. By pooling resources and forming strategic partnerships, the members aim to make Ten Beaches a new Nova Scotia destination of choice.
"Ten Beaches was born of the recognition that Nova Scotia's outward-looking tourism marketing efforts can't possibly promote every little community. They really have to focus on the iconic attractions," says Bill Martin, the managing director of the Ten Beaches Hospitality Society. "We realized we had to pull together and do something ourselves to shine the light in our direction."
When the founding partners launched their organization in November of 2004, they called it the Ten Beaches Tourism Society, but, says Martin, "We quickly realized that tourism—which revolves around attracting people from outside the province—isn't what we're all about. What we really offer here is hospitality." They quickly changed the name to reflect this subtle shift and haven't stopped to look back since.
Hospitality, as Martin points out, is all-inclusive; it beckons to people both near and far. With the hospitality message clearly in mind, the Ten Beaches partners are reaching out to the rest of the province and region, with a warm invitation to come to the area to rest and recharge (or live it up!), soak up the scenic beauty and dine on the freshest, finest seafood available.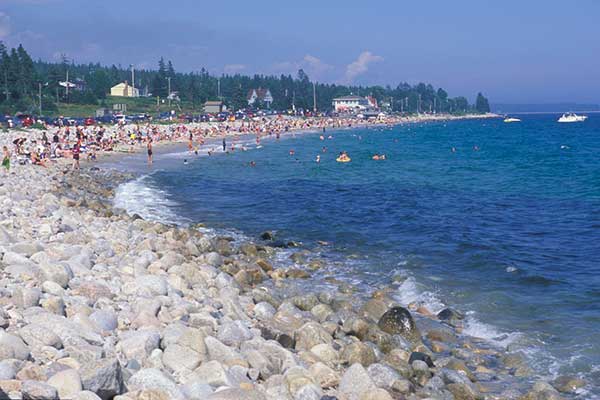 The seafood is so fresh because, in the Ten Beaches area, fishing is still very much a way of life. "With the changes in the fishery in recent decades, so many of the inshore fish plants around the province have disappeared," says Martin. "As a result, Nova Scotia has lost a great number of its fishing communities, but once you're in our area, it's like stepping back in time."
The heart of the Ten Beaches area is the Aspotogan Peninsula, jutting nearly 20 kilometres to sea. A series of narrow harbours scores the coastline of the peninsula like so many small fjords—Mill Cove, Northwest Cove, Deep Cove and New Harbour, to name a few. Although the North Atlantic crashes into the southern tip of the peninsula, the hillside-ringed harbours on either side are sheltered from wind and swell. "Deep Cove locals say that, even in a hurricane, it's as calm as a mill pond," says Martin.
The protection such harbours afford makes them ideal for fishing operations; hence almost every harbour in Ten Beaches is festooned with brilliant-hued sheds and rickety wharves. And unlike so many fishing villages in the Maritimes today, these structures are more than quintessential subjects to be photographed and framed. Fishermen still use these timeworn facilities, eking a living from the sea much as their forefathers did a century ago.
Martin believes that these last of the few remaining old-style working fishing villages will survive. "It's a sustainable inshore fishery," he says. "It's very close to nature, very real." In addition to locally trapped lobster, travellers through the area can feast on fresh haddock, salmon, crab, scallops and shrimp. And where can you find these delicacies from the sea? At one of the Ten Beaches partner restaurants, of course! There is a wide range of choices, from elegant fine dining surrounded by antiques—at the Dauphinee Inn in Hubbards, for instance—to more casual fare in such rustic settings at the Pilothouse Café at Boutiliers Point.
There's no doubt that lobster is Ten Beaches' pre-eminent culinary drawing card, and there is no shortage of places to enjoy this sweetest harvest of the sea. Shatford's by the Sea, established at Fox Point in 1949 as the area's first lobster pound, now offers the gamut from casual lobster-sandwich takeout to fine dining. Shatford's has taken the fine art of eating lobster to a new level with its signature "naked lobster," presented intact but out of its shell, so, as Martin puts it, "You could eat it in a tuxedo." If you prefer to roll up your sleeves, crack your lobster yourself and let the juices fly, then the Shore Club near Hubbards Beach is the place for you. This sprawling facility also dates back to the 1940s, famous for its homestyle lobster suppers, Saturday-night dances and theme nights.
At the end of a long day in Ten Beaches—filled with everything from swimming, beachcombing and birdwatching to kayaking, sailing, biking and hiking—you can rest your head at any one of a number of inns, cottages, motels or campgrounds. These range from the Victorian atmosphere of the Anchorage House to executive elegance and amenities at Rosewood on the Cove to the rustic cabins at Hubbards Beach Campground.
The Ten Beaches Hospitality Society is taking a strategic approach to its marketing efforts. In a stroke of brilliance, the local founders invited World Class Limousine to buy into the society, then approached Grand Pré Winery to co-operate in cross promotions. "It's working out wonderfully," says Martin. "We've been able to put together packages so that people can be picked up by van or limo at the airport, downtown hotels or the cruise port and brought to Ten Beaches. Because we're so central, people can base themselves here and explore nearby attractions all around, like Peggy's Cove, Lunenburg and the Valley." He says the winery tours they've arranged with Grand Pré Winery are a huge hit; they've even partnered with the winery to produce Ten Beaches labels for wines sold in member restaurants.
The Ten Beaches group is constantly working to enhance its product to appeal to specific markets. "We've recently created a rest-and-recuperation getaway package, primarily for Halifax-area residents and business travellers," says Martin. "We've created a package so they get picked up by limo and taken to Ten Beaches, where they can have lobster dinner delivered to them and relax with a professional massage."
When it comes to entertainment, Ten Beaches offers several unique events. One of the region's best scuba-diving locales, visitors can participate in—or simply enjoy the spectacle of—an annual underwater pumpkin-carving competition. Those who prefer dry land can visit during seasonal festivals, such as the autumn harvest festival and Winterfest. "We're working on new events as well as ways to enhance biking in the area," says Martin. "And of course, we've got some new partnerships in the works."
Ten Beaches is a fresh approach to tourism marketing that seems to be working—and the good news is that it's limited only by the boundless creativity and energy of its founders. For more information about Ten Beaches, visit www.tenbeaches.ca.