Across Atlantic Canada, community members are taking to the stage and working behind the scenes in droves—and coming closer together as a result.
This past December, close to 300 folks gathered with hungry bellies and open minds at St. Nicholas Hall in Whitney Pier, Cape Breton. Men decked out in red suits with red hats and black belts delivered plates of steaming spaghetti and meatballs. No, it wasn't a team of Santas, but rather members of the Italian community completing the first part of a shared evening of food and theatre.
Written by childhood friends Paul MacDougall and Ken Chisholm, O Night Divine is a story about three Italian women struggling through their daily lives with the interplay of three generations. "The audience really appreciates it when you come out and do live theatre," says MacDougall. "They get pulled in."
This kind of cultural event isn't unique in Cape Breton. Across the Atlantic region, numerous theatre troupes are exploring the identity of a community to its community. "It's like creating a little village within a village," says Malcolm Callaway, who lives in Chester, N.S., and is involved in writing, set direction and acting.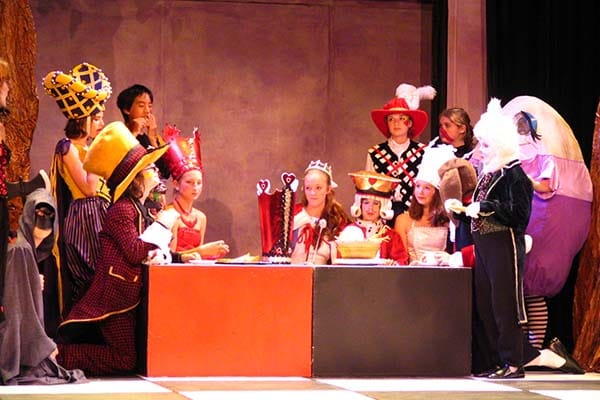 The number of artistic villages is growing. On Nova Scotia's South Shore, for example, where Chester is located, community theatre plays a vibrant role, as it does in other parts of the province and region. Theatre groups are sprouting up everywhere. Susan Stackhouse is an associate professor at Dalhousie University and the chair of the Department of Theatre. "It's visible," Stackhouse says of community theatre. "When I open the newspaper, it receives as much press as professional theatre." Theatre Nova Scotia's executive director, Christopher Shore, says 10 more professional theatre companies have opened their doors in Nova Scotia since 1980, and the number of amateur companies also increased, to the current total of about 25. "Professional theatre didn't really start to develop in this province until the birth of Neptune in 1961," says Shore. "Amateur theatre carried the flag until then."
Defying definition
So what exactly is community theatre? Although the definition of amateur and professional community theatre is a bit blurred, the obvious distinction lies in the paycheque—members of amateur troupes don't get paid as much as professional actors, and often their work is entirely volunteer. Award-winning filmmaker, playwright, actor and director Daniel MacIvor recalls the definition of amateur as "for the love of it."
"It doesn't mean not as good as professional," he says, "but it's doesn't always pay the rent." MacIvor jumped directly into the professional world, starting da da kamera theatre company in Toronto in 1986 when he was 24, but he believes that more theatre of any level can only mean good things. "Everyone in the world would benefit if they were in just one play," he says. "They'd be better listeners, for starters. It's something anyone can do, which is what makes it great, and it's good for the spirit."
Stephen Tobias, the director of New Brunswick's Theatre Saint John (800-323-7469 for tickets), agrees with MacIvor's assessment. "All good theatre is community theatre," he says. The large company of 50 actors has three paid administrative staff members and, while it occasionally shops out for certain performers, it primarily draws from local talent. Apart from the paid staff, the rest of the actors and set designers all volunteer. "A good company, amateur or professional, must develop a relationship with its audience," says Tobias. "It's part of developing a community feel."
He credits Neptune Theatre in Halifax of accomplishing such a connection, with its youth program and links to Dalhousie University. "It covers all levels and is interwoven into the fabric of the community."
Theatre Saint John also is embedded in its city, with shows at the Imperial Theatre, the New Brunswick Museum and a third group, a Studio Series. "Here in Saint John, we're lucky because there are many professionally trained people who have the desire to participate but don't want the typical travelling life of an actor," says Tobias, "so they take part in the local productions."
ACT is a community theatre located in Charlottetown, P.E.I.; Gerry Gray is one of its founding members. When it began in 1995, it operated only in the off-season, because many of its members aspired to have professional acting careers and actually made their money taking paying acting jobs during the summer months. "ACT allows people to hone their craft throughout the year," says Gray, adding that theatre is popular on the Island, including with students who have the opportunity to perform in their high school musicals at the Confederation Centre.
Gray says the amateur groups are good for professional theatre, even if the people involved never intend to move on.
"It encourages people to attend other performances," he says. "When they learn how to put together a show, they're going to appreciate what's going on in front of them."
Reaping the benefits
Louise Renault is a member of Canada's oldest continual community theatre, The Theatre Arts Guild (902-477-2663). "Those who are involved have huge passion and lots of talent," she says. When Renault moved to the small community of Jollimore, N.S., near Halifax, the Pond Playhouse at the end of her street intrigued her. "I called and asked to volunteer," she says, and since then she has been on its board, helped with costumes and directed her first play.
"It's great because you can try different things," says Renault. All TAG members are volunteers, from the actors and set designers to front-of-house staff. In its 75th year, TAG has a strong following and often fills the 107-seat Pond Playhouse, which opened in 1962. "Plus, it's flexible. If certain things pop up in your life and you can't take on a bigger role, then you can work the door or the bar and still be involved."
For the tireless hours required to assemble a production, it's a wonder the show goes on at all. However, according to those involved, the benefits are many. "Theatre is fun because it takes a lot of people to accomplish it," says Renault. "There's a whole community of people from all walks of life. We have realtors, CEOs, a microbiologist professor, lawyers, tradesmen, full-time mothers, secretaries, politicians—it requires the talents of all."
"The interest in theatre flies in the face of big-box movies and videogames," says Chris Heide, the artistic director of Nova Scotia's Chester Playhouse (800-363-7529). Heide also directs Mermaid Youth Theatre in Windsor, N.S., and is the artistic director of this year's Liverpool International Theatre Festival. "It is play," he adds with a chuckle. "We get older, but we still want to play." Renault echoes his comments, pointing out that Halifax residents Lyn and John Gratwick, who are 85 and 83, respectively, have been involved with TAG for about 20 years doing everything from sitting on the board of directors to selling tickets. "They have told me they'd be dead without the Pond Playhouse," says Renault. "It has given them a purpose."
Feeding an artistic hunger
Across the ocean in Newfoundland, the scene is bubbling. Aidan Sleen operates a small company called Rabbittown Community Theatre (709-739-8220) in St. John's. "I act, produce, write, direct, clean floors, whatever," Sleen says of his role in the minimalist productions. "We focus more on the strength of the writing and performance rather than design and lighting."
Echoes of the adage "culture breeds culture" float through the salty sea air. There are at least five professional companies on the Rock, as well as many amateur groups scattered throughout the province.
"Community-based theatre will always be a struggle because there are so many things competing with it, like TV and videogames," says Sleen. "But it works because it gets back to stories. It's about the community the audience is probably in; it's about them. There will always be an audience for that."
Ruth Lacey of P.E.I.'s ACT believes that people are starved for community, and that theatre feeds that hunger. "We're social beings," she says. "Church used to be a community builder; in the absence of that, now people are looking to theatre." Also in P.E.I. is the Victoria Playhouse (902-658-2025, 800-925-2025) in tiny Victoria by the Sea (population 120). Here folks do get paid, but it is still very much a community theatre, because the charmed building, a community hall, is located in the centre of the village. Artistic director Erskine Smith says the popularity of community theatre can be credited to a change in society. "There's a lot more leisure time in people's lives," he says. "They have the time to do other activities other than feeding and clothing themselves."
Young people's theatres
Theatre embraces people of all talents, origins and ages. Drama classes for youth are a common facet of many regional amateur and professional groups, but a company in Chester is solely youth operated. In Chester 12 years ago, Malcolm Callaway's daughter, Sarah Braid-Callaway, walked away from an audition she didn't get, and she and her boyfriend decided to start their own company. For ages eight to 15, the KIDS (Kids into Drama Society) company still puts on successful productions. "Some have gone on to do movies, while others stay with it on community level, and some have actually found employment as a result," says Callaway. "It's a definite stepping stone."
Teenager Aaron Webber's performance at the Chester Playhouse a couple of years ago vaulted him into Whole New Thing, Daniel MacIvor's 2005 film. "There are quite a few examples of that," Chris Heide says of amateur theatre propelling people further. "It's good to have people at that end of the pyramid, but the base is critical too."
MauraLea Morykot, one of the three women in Cape Breton's O Night Divine, has been involved with Island theatre for 18 years. "The beauty of this type of theatre is you can do it in this area," she says. "Such a small production would get lost in Toronto." As well as performing, she also teaches drama to 90 area youth. "It's great for their self-esteem, which they will carry with them forever."
Dalhousie University's Susan Stackhouse says people's No. 1 fear is speaking in public. "It's even higher than the fear of death," she says, "so if people, particularly kids and teenagers, can get over this early, it'll put them in good stead for the rest of their life in all respects." Adds Callaway: "It's great when kids get hooked early; they interact, and theatre becomes a cool thing to do. Any skill can be used. You've got your jock with the hammer building stuff, others designing sets, there's makeup—it's all there, and it's amazing."
Across Atlantic Canada, there are many people such as Bette Douglas who are dedicated to community theatre. At 70 she still opens and closes the doors to productions of the Tantramar Theatre Society (902-667-7002) in Amherst, N.S. The Society also has a young company that performs a musical for the elementary schools twice a year. "People love to laugh and be entertained," says Douglas. "When I listen to the audience, hear the laughter, watch 150 children enthralled with live theatre—well, that's my raison d'être."