Our intrepid writer tests some of the best chocolate in Nova Scotia. It's a tough job, but someone has to do it.
When the editors of this magazine handed me the tastiest assignment of my career—to research and write about where to find quality chocolate in Nova Scotia—it took me less than three seconds to agree. Within a week, I had a journey lined up that would turn out to be decadent, delicious and downright divine.
My first foray into the world of Nova Scotian chocolate landed me in Mahone Bay, famous for its three churches and one of the most photographed sites in Eastern Canada. However, since this article is about chocolate and not scenery, I walked down Main Street until I found a small shop with a discrete sign that read Sensational Chocolates.
Chocolatier and owner David Hennigar became smitten with confections 15 years ago after watching a master chef demonstrate how to make chocolate-covered caramels at the Culinary Institute of Canada in Charlottetown, P.E.I. He has since created his own caramel-centered confections, one of 13 varieties he makes by hand.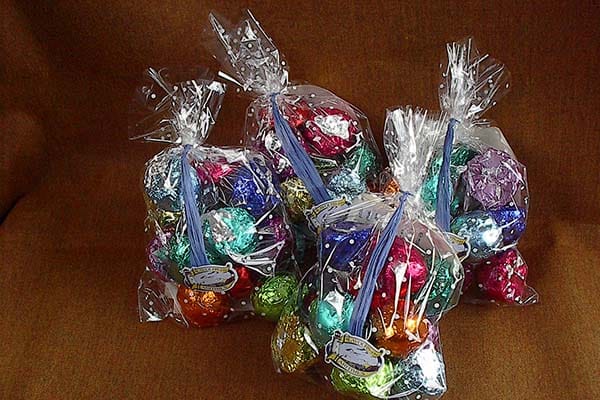 Hennigar's second claim to fame is the molded pieces he makes with milk and dark chocolate. Instead of buying a postcard of the three churches when you're in Mahone Bay, you can buy his solid-chocolate replica of them. He has many molds, including sailing ships, golf balls and hockey sets, as well as one of the old Lunenburg Academy. Diabetics will be pleased to learn that Hennigar has created a solid sugar-free Belgian confection.
At White Point Beach Resort at White Point on Nova Scotia's South Shore, executive chef Alan Crosby has created a dessert called "chocolat-chocolat" that will leave you reeling.
It starts as a flourless baked cake that's a mixture of top-quality cocoa and couverture (high-end chocolate with extra cocoa butter), egg yolk and sugar. It's gluten free, so in the baking process it rises, then falls, resulting in a wonderful, dark, dense concoction.
The cake is just the beginning. Crosby layers it with ganache (a whipped filling of chocolate and cream), enrobes it with more ganache, then tops it with a kicky Mexican chocolate sauce laced with cinnamon, almond extract and chili powder. The final touch: homemade white-chocolate ice cream. For a walk on the wild side, Crosby suggests pairing this dessert with a chilled Australian Shiraz wine.
For a change of scenery, my next destination was the causeway that links Cape Breton to mainland Nova Scotia. I watched for signs leading to the village of Arichat on tiny Isle Madame, which is where The Candy Shop—the biggest candy store east of Toronto—is located. The store contains vast quantities of sugary treats, including 39 kinds of Jelly Belly candies (a gourmet jellybean), 120 varieties of bulk candy, 30 types of licorice, plus retro candies such as Sen-Sens, MoJos and Black Jack Taffy. And you won't be able to miss the many cabinets stuffed with more than 140 kinds of chocolates.
"If we're going to ask people to make the drive here," says owner Peggy Ann Bosdet, "then we have to make it worth their while."
A master chocolatier, Bosdet and her husband, Charles, opened The Candy Shop in August of 2004. Today their Wolf Bait, a cranberry-and-cashew chocolate bark, is an international hit and high on the company's export list.
Bosdet also is renowned for her creamy fudge, in particular the variety that uses five kinds of dark chocolate. "It's superb served with wine and fruit in the evening," she says. You also must check out the Cape Bretoner, a double-layered truffle with lemon-and-chocolate ganache.
In Antigonish you must visit is Gabrieau's Bistro, where you'll meet co-owner and master chef Mark Gabrieau. Just mention the word chocolate and watch his eyes light up. "Chocolate is almost like a medium through which you can express yourself artistically," he says. "It's probably the most versatile ingredient we have in the pastry shop." Believe it or not, that includes putting it in a demi-glace—a rich brown sauce—for wild boar. Gabrieau whisks some bittersweet couverture in the sauce at the last minute to give it a dark-golden sheen.
Topping the list of desserts is chocolate zucotto, a dome-shaped delight featuring chocolate ganache, dark chocolate shavings, layers of hazelnut genoise and chocolate mousse. Then there's the chocolate amaretto cheesecake and the made-to-order chocolate Grand Marnier soufflé. If you think white chocolate is less sinful than a dark couverture, order a white chocolate-and-lime truffle or a white chocolate-and-raspberry truffle.
While I enjoyed my chocolate research in the northern part of the province, it was time to travel southward into the city of Halifax. On Robie Street I discovered Rosemary's Chocolates, a small shop full of owner Rosemary Bowman's creations. In 1994 Bowman started making chocolates for friends. After word spread about how good they were, she set up shop in 2001 (she's also a regular fixture at the weekly Saturday-morning Farmers' Market in the historic Alexander Keith Brewery building).
One section of the shop is dedicated to a variety of barks, including almond, ginger, cranberry and peppermint. Bowman also makes some interesting bars, including a habanero one with hot peppers and her famous smoores bar, and sells vast amounts of her chocolate-covered ginger. If you have an allergy to dairy products, don't fret—she makes a line of non-allergenic chocolates using a kosher margarine.
On the Eastern Shore in Cow Bay, not far from Halifax, is Jean-Pierre Gallois. He and his partner, Yseult Bertic, run Gourmandises Avenue Patisserie Fine featuring French pastries and handmade confections. I could wax poetic about the chocolate tiramisu, cappuccino or chocolate opera—three cakes that defy description—but I'd prefer to focus on their one-of-a-kind chocolates.
Two years ago, in honour of the global Acadian Congress that was held throughout Nova Scotia, Gallois created a confection called Acadie, made with toasted ground seaweed mixed into heavy cream, added to chocolate ganache and dipped in a dark couverture. The combined salty-toffee taste was out of this world. He also makes lavender-honey chocolates and a confection called "guerande," made with sea salt from France.
Different again are the bite-size seashells miniature lobsters, starfish and scallops he renders from a dark, bitter, Cuban chocolate that is 70 per cent cacao. If that doesn't send you straight to chocolate heaven, try a confection made with port from Nova Scotia's Gaspereau Vineyards. Gallois is still trying to come up with just the right name for it, so until he does, just ask for the "port chocolate."
If you can't eat everything you purchase on your travels, here's a note of caution: don't take the rest home and put them in the fridge or freezer or you'll make Gallois weep (doing so will dull the sheen on your chocolates and give them a pasty white film). Rather, he suggests that 16 to 17 degrees Celsius is plenty cool. For best flavour, these delectables should be served at room temperature.
The final chocolatier on my list was Alan Appleton of The Appleton Chocolates Company in Wentworth, a town of 300 stretched over 16 kilometres of highway. Appleton has discovered that women respond to chocolate the way men respond to single malt scotch. "It's my job to explain to guys that it's their job to bring home small quantities of very good chocolate—and often," he says. Plus, he teaches people to read the label. One tip: Good chocolate is made with cocoa butter, while poor chocolate contains palm oil.
There is only high-quality chocolate in Appleton's shop, and every centre is double dipped, so half of the weight of each confection is chocolate. He uses Nova Scotia pure maple syrup for all his "fondants," or centres, and the best local wild blueberries, cranberries and cherries he can find. They are candied and chopped or shredded, then added to the maple fondant. Sometimes he adds some Smuggler's Cove, a Caribbean dark rum blended and bottled in Cape Breton. (Just imagine biting into a chocolate that has whole blueberries soaked in rum!)
Over the years, Appleton has amassed an amazing amount of information about chocolate and is likely to inform you that it contains more than 300 mind-altering substances, although not everyone responds to these chemicals. In fact, after watching people's reactions to eating his confections, he has come to the conclusion that chocolate is wasted on men. His opinion, based on experience: Most guys would rather eat a bag of chips. (Here's hoping that some of the men reading this article will prove him wrong!)
My final stop is Rudder's Seafood Restaurant & Brew Pub on the waterfront in Yarmouth, on the province's southwestern tip. The restaurant is named after Captain George Washington Churchill and his mate Aaron Flint Churchill, who were known for their daring deeds on what was known as the "voyage of many rudders" 140 years ago.
Rudder's claim to fame is its beer and seafood, so it may seem like a strange place to find something tantalizing on the dessert menu. However, last fall the restaurant's manager, Laura Muise, set out on her own mission: She wanted a special dessert: a signature piece. She invited the staff to come up with a humdinger.
Gail Doucette, a cook at Rudder's, knew that this special dessert had to be chocolate. It also had to be smooth and sexy. Enter one chocolate paté with sour cream sauce, a touch of raspberry glaze, whipped cream and a sprig of mint. It was an instant hit. The kitchen launched it this past New Year's Eve and can barely keep up with the demand for it.
Many people don't like to mix their dessert with their beer, but the good news is that certain types of beer can complement chocolate. Muise recommends Yarmouth Town Brown, one of Rudder's best-sellers, a full-bodied, English-style, brown ale. Another popular choice is the Raspberry Blond. A light refreshing ale with a hint of raspberry, it's the perfect partner for the chocolate paté.
And so ends my chocolate journey across Nova Scotia, one in which I learned—and tasted—a lot. May you enjoy yours as much!