P.E.I.'s College of Piping summer workshops attract vacationing bagpipe lovers from around the world.
Four years ago Don MacIntosh, a Halifax gastroenterologist, decided to take up bagpiping. It was something that he always had wanted to do, but, living in St. John's at the time, there was nowhere for adults to take lessons. When he moved to Halifax in 1999, he was able to fulfill his dream. Today, after three years playing with Halifax's 78th Highlanders, MacIntosh, 47, is still having a great time.
MacIntosh's bagpipe music inspired his 15-year-old daughter, Ellen, who was soon playing alongside him. In 2004 he learned that the College of Piping and Celtic Performing Arts of Canada in Summerside, P.E.I., offered intensive week-long workshops in July, as well as others in October and November and January through March. Some of the classes were held for youth and adults together. "I figured that would be something Ellen and I could do, and mum could have a break from the bagpipes for a week," says MacIntosh with a laugh.
In 2005 the College of Piping celebrated its 15th year, and teaching has been at the centre of that history. The College has a broad range of students, from young schoolchildren who take after-school classes in Summerside or at the Charlottetown campus to interns who live in residence in Summerside for a year or a term, as well as visitors from around the world who attend the workshops.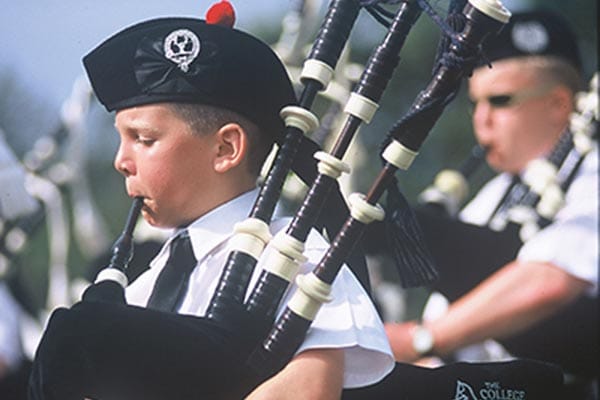 Despite deep Celtic roots—70 per cent of Islanders have a Celtic heritage—the celebration of Celtic musical culture was sporadic on the Island before the College of Piping opened its doors in 1990. There are some old photos kicking around of an Air Force band at CFB Summerside, an organization calling itself Highland College ran summer camps in the 1950s and Summerside Presbyterian Church had a band in the 1960s. "In the early years of the College, it was hard to get young boys to wear the kilt and play the bagpipes," says College of Piping director Scott MacAulay.
However, the school's founding coincided with a general resurgence of Celtic culture, both regionally, with musical acts such as Cape Breton's Barra MacNeils and The Rankin Family, and internationally, with the Irish troupe Riverdance and the movies Rob Roy and Braveheart. The College—one of only two year-round Celtic arts schools in the world (the other is in Glasgow, Scotland)—began to catch people's imaginations. It attracted major donors such as Wanda Wyatt and Doug Hall, expanded and, as its reputation grew globally, was able to appoint world-champion dancers, drummers and pipers to its faculty.
The school has grown significantly from its start in a two-bedroom bungalow. MacAulay was faced with the challenge of making the most of a facility that included several dance studios, soundproof practice rooms and a world-class faculty, so in 1993 he developed the idea for the week-long intensive workshops as a way to attract new students to the College and to do more teaching in the morning and early afternoons, when the College's younger students were in school.
What works for the College has created wonderful experiences for visitors who can set aside a week's vacation to learn how to play the bagpipes and meet interesting people. "One of the main reasons I went back for a second year is that I made some good friends," says MacIntosh, noting in particular people from Alberta and Louisiana that he keeps in touch with via e-mail. And because those folks brought their children, MacIntosh's daughter also made some new pals. (To encourage this kind of camaraderie, the College created an MSN forum for former students.)
For MacIntosh, forging new friendships was a bonus to what turned out to be a great father-daughter experience. In terms of their skill level, Ellen is catching up to her dad. "The summer before last she was a little behind me, but this past summer we were together in everything," says MacIntosh. "It's amazing. Kids learn so fast." The adult-youth camps are offered in the summer, but courses for adults are also taught in the fall and winter.
Kristin Fleishmann-Rose is looking forward to returning to the College of Piping at some point to spend a week practicing the bagpipes. She's currently a music student studying the oboe at McGill University who spent the 2005 fall term at the College, finally indulging her life-long passion for the bagpipes. "As a little girl I fell in love with the sound," she says.
"I loved everything about it. I loved how powerful it was. I was always so awestruck when I heard the Highland bagpipes."
With her red hair, you could easily assume that Fleishmann-Rose has Celtic heritage in her, but her father is German and her mother comes from the former Yugoslavia. However, her mother spent some of her university years in Scotland, where she developed a love of Celtic culture that she passed on to her daughter. Fleishmann-Rose has enjoyed discovering what she calls a separate musical world: the classical Highland music known as "piobaireachd" (pronounced pi-brikt). Its forms and variations developed separately from other Western music, and learning piobaireachd has expanded her musical horizons.
Students at the summer camps play under their teachers' supervision from 9 a.m. to 3 p.m., with a break in the morning and at lunch, but there's no homework. Practice is supervised during those hours, so after three o'clock students are free to explore the Island. Don and Ellen MacIntosh spent their free time visiting local museums and walking the trails around Willowgreen Farm, the bed and breakfast at which they stayed (see "A farm in the city," page 57). It was a chance for them to see a part of the Island they hadn't experienced before. For others, nine to three isn't enough practice time; the sound of bagpipes often can be heard from nearby beaches in the early evening.
While the music originated in Scotland, for many the bagpipes are the sound of Atlantic Canada, so what could be more appropriate than an elaborate piobaireachd mastered on the P.E.I. shore? "It's a fairly sophisticated form of music, and that's what makes playing one song well most satisfying," says the College's MacAulay. "There's a sense of accomplishment when you get to the end of a very long tune, and you've played it technically correctly on a great-sounding instrument. It's a feeling of accomplishment that you don't realize in other aspects of your life."
For more information about courses at the College of Piping, visit or call 877-BAG-PIPE (224-7473).