If you're interested in visiting unexplored places, Labrador's unique landscape and intriguing history don't disappoint.
Western Newfoundland has some impressive attractions, in particular Gros Morne National Park and L'anse aux Meadows. Both are UNESCO World Heritage Sites worth visiting for their geological and historical significance. For instance, Gros Morne's Tablelands stand in mute testimony to the power of colliding continents millions of years ago, and the sod huts of L'anse aux Meadows remind us that the Vikings visited North America 500 years before Columbus. For those interested in taking a step beyond, why not add a trip to coastal Labrador as a logical extension of your next trip to western Newfoundland?
Labrador has a certain mystique that has long attracted people interested in unexplored places. Currently just 30,000 people live in Labrador's sprawling 300,000 square kilometers (120,000 square miles). A new road system traversing the southern portion of Labrador is opening up a whole new area for tourists to visit.
Let's begin our adventure at St. Barbe, located near the top of the Northern Peninsula on the island's west coast. This is where you'll board the ferry Apollo for the 1.5-hour crossing of the Strait of Belle Isle to reach Blanc Sablon and southern Labrador. Immediately you realize that Labrador is another world. The landscape is very different from Newfoundland's flat coastal plain. The roller coaster road rises up and over each hill, only to descend to a broad sandy beach and a new community.
At Point Amour, see the 33-metre (109-foot) lighthouse, the tallest in Atlantic Canada. Today it functions as a lighthouse but it's also a historic interpretation centre. Also nearby at L'Anse Amour is one of the oldest burial sites in North America, where a Maritime Archaic Indian was ceremoniously buried here 7,500 years ago, a reminder that this rugged coastline has had a long history of settlement.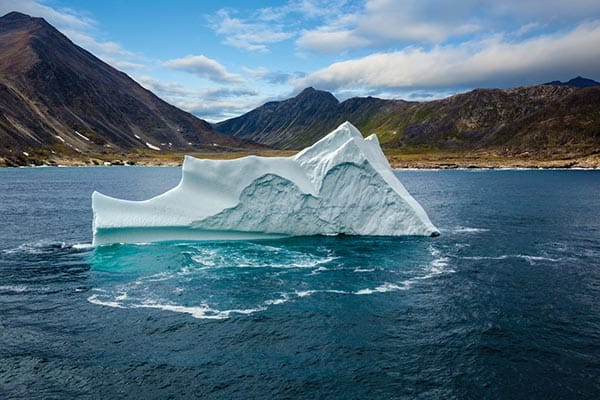 If you want to really get the flavour of life in these parts, stay with Cecil and Rita Davis, who run the Lighthouse Cove Bed and Breakfast in L'Anse Amour where you can see whales and icebergs from their front window. Be sure to ask them about the couple who were stuck in a savage winter storm a couple of years ago. Evidently, the road they got stuck in soon filled with blowing snow, burying the car; they saved themselves by taking apart a car seat and pushing its wire frame to the snow's surface. Luckily, the wire was seen by a passing snowmobiler who was looking for them, and they were dug out. Then there's the true story of the woman who was hit by a whale's tail…
Moving north, the next impressive attraction is Red Bay, which is 88 kilometres (55 miles) from Blanc Sablon; it's best known for its historic Basque Whaling Site. The Basques discovered this area early in the 16th century and by 1550 had established numerous whaling stations along the Labrador coast, with the largest located at Red Bay. The Parks Canada interpretation centre at Red Bay features numerous artifacts and a reconstructed "chalupa," the small boat from which the Basques harpooned passing bowhead and right whales.
Make sure you do the self-guiding walking tour on Saddle Island, where you can still see the distinctive Basque red tiles littering the ground as well as the blackened tri works, where the whale fat was rendered into oil. The oil from these trips, used for lighting the cities of Europe, was Newfoundland's first oil bonanza, pre-dating present-day Hibernia by 450 years.
The discovery of Red Bay by geographer Selma Barkham is an intriguing detective story in itself. Researching in long-forgotten archives in the Basque region of Spain, she uncovered documents that referred to a historic trade in whale oil. In 1977, by using sailing directions found in the documents, she led a field party of researchers to Red Bay and environs, where almost immediately her ideas were verified. The group found Basque red-roofing tile in many places as well as whalebones and ancient harpoons. They even found the vessel San Juan, which sank in Red Bay harbour in 1565, right where Selma's Basque documents said it would be.
Also look for several hiking trails that have recently been completed in this area. For instance, the Boney Shore trail near Red Bay leads across beaches where the Basques brought whales into shore. You can still see the bones poking out of the soil in several places. Other trails worth checking out are the Schooner Cove Trail near L'Anse au Loup and the Overfall Brook Trail near Forteau.
You can do day tours, but I recommend staying overnight in one of the restored buildings. We found the antique-filled Battle Harbour Inn to be a comfortable haven. After spending a restful night, we were back on the road heading for Cartwright, 237 kilometres (146 miles) away. Since the gravel road is in good shape, we arrived in the early afternoon and soon found the Harbour View Bed and Breakfast. Our hosts, Ron and Rosetta Howell, suggested we go to the Wonderstrands, a 56-kilometre-long (35-mile-long) beach that the Vikings used 1,000 years ago as a navigational aid on the way to L'anse aux Meadows.
After a 30-minute boat ride, we too were wonderstruck by this geological phenomenon. We only walked on a portion of the southern end of the Wonderstrands, but in short order, Ron pointed out wolf, caribou and bear tracks in the sand. That evening we hiked to Flagstaff Hill, which provided a vista of Sandwich Bay.
The next morning our Labrador adventure was over, and in the light rain we reluctantly pointed our car back toward Blanc Sablon and our return trip to the island. To paraphrase Lynne Fitzhugh, who wrote in her book The Labradorians, "Labrador and her people are one of North America's best kept secrets." We couldn't agree more.