For an exhilarating outdoor-vacation adventure, whitewater river rafting in Maine delivers the goods—and then some.
Standing on the banks of Maine's Kennebec River, I listened as the river guide from North Country Rivers (800-348-8871) finished his safety lecture, but I had my doubts. Our crew of would-be rafters—some experienced, some novice—hadn't even stepped in a raft yet, and already I could feel my body getting clammy beneath my fleece sweater and life jacket. What concerned me the most was the guide.
I had a son older than he was, and while he was no doubt extremely competent and fully licensed, I couldn't help but wonder if he had started shaving yet.
Since its humble beginnings 30 years ago, whitewater rafting has become big business in Maine. According to Jim Crocker, the director of public information for the Maine Department of Conservation (Bureau of Parks and Lands), rafting is now a major industry within the state's growing outdoor tourist trade, supporting more than a dozen rafting companies, nearly 400 year-round and seasonal employees and generating nearly $14 million (U.S.) annually. Add in other rafting and non-rafting expenditures such as lodging, meals, entertainment and travel, rafting contributes an estimated $24 million (U.S.) to Maine's economy each year.
Since 1975, the first year trips were offered and just a handful of adventurers took the plunge, as many as 90,000 adventure seekers have rafted Maine River annually. Although passenger numbers were down 5 per cent in 2004, the last year for which figures are available, whitewater rafting remains one of the top reasons outdoor enthusiasts visit Maine. A large and growing number of those participants come from Canada, particular the Maritime provinces.
As I was about to discover, it's not hard to understand why Maine's whitewater industry attracts such a following. Unlike in the beginning, rafting trips are now offered on three rivers. The crown jewel of the lot is the West Branch of the Penobscot. The run starts below McKay Station, where the river is released in a torrent at the base of Ripogenus Gorge, a narrow granite-walled canyon.
For the next 3 kilometres (2 miles) the river is Class V water, officially described as extremely difficult with vertical drops, strong hydraulics and swift irregular currents in heavily obstructed channels. Just below comes places with names such as the Exterminator, Staircase, The Heaters and Cribworks, as the West Branch continues on its drop down Little Ambejackwockamus Falls and over Nesowadnehunk Falls, a vertical drop, to Sourdnahunk Deadwater beneath the shadows of Mt. Katahdin, Maine's highest peak. From start to finish, except at the Sourdnahunk Deadwater, where rafters have a reprieve and can experience a pleasant float, the West Branch is a continuous series of Class III to Class V water and provides a hair-raising, adrenalin-packed 22.5-kilometre (14-mile) ride before finally taking out below Pockwockamus Falls.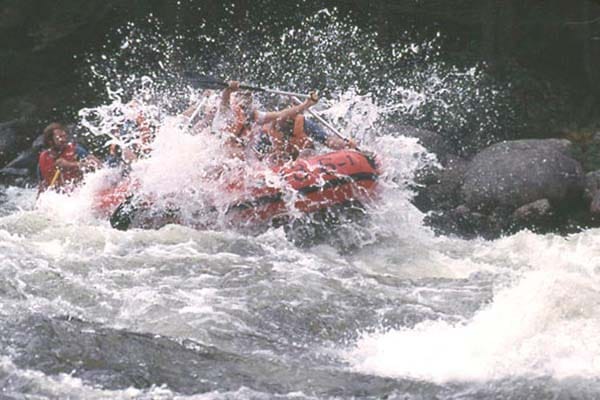 Trips on the Kennebec River start below Harris Dam not far from the tiny hamlet of The Forks. The put-in elevation is around 253 metres (844 feet), and within the first 5.6 kilometres (3.5 miles), the river drops 41 metres (138 feet). This is the wildest and most exciting stretch, offering a mixture of Class II water, considered moderate to Class IV water, which is very difficult, depending upon water levels.
No matter what the water conditions, the Kennebec offers its own wild ride. Once entering the river below the gorge, rafters are committed to the run, since the river tumbles through a narrow shale-and-granite-walled gorge with Class II to Class IV. Here is a series of powerful rapids, drops, holes and cross currents with names such as the Alleyway, the Taster, Three Sisters and Z Turn. Rafters have the option to take out 2.4 kilometres (1.5 miles) below Carry Brook or enjoy the gentler float another 14.5 kilometres (9 miles) downstream to The Forks.
The Dead River joins the Kennebec at The Forks; hence the name of the small hamlet. What makes this river such an adventure is that it offers more continuous whitewater than any other river in the eastern United States. From Grand Falls, the start of each trip, to the take-out point, rafters ride 24 kilometres (15 miles) of unimpeded whitewater. On most trips the river guarantees a turbulent exhilarating ride through Class III to Class V water from start to finish and is typically run by more adventurous and experienced rafters.
What you need to know
While running these rivers sounds like you'll be taking your life in your hands, safety is the bottom line. During the past three decades, the Maine whitewater industry has had an impressive safety record. River guides must take intensive training that includes hours on the water and how to handle emergencies and rescue; they also must be fully licensed by the Maine Department of Inland Fisheries and Wildlife. Testing and re-licensing is conducted every three years to maintain the highest qualification. All equipment must meet certain criteria, and state-of-the-art self-bailing rafts are the standard.
Before embarking, rafters are given a "streamside" orientation in paddling and safety procedures. Because of the severe conditions and physical demands, there are also age requirements on certain stretches of each river. On the Kennebec, for example, all rafters must be at least 12 years old on the Upper Gorge, where the run is the most demanding and challenging, but on the lower stretches rafters can be as young as eight. On the Penobscot, the age requirements are 15 in the Upper Gorge and 10 on the lower runs, while on the Dead River all rafters must be at least 15.
The rafting season on the Kennebec and Dead River typically runs from May through October, and on the Penobscot from June through September. The highest water happens in May, when release water adds to natural spring runoff, and in October as impoundments are lowered for the winter. However, scheduled water releases occur on specific weekends in June, July and August, ensuring high water conditions. This is considered the peak season, and prices are slightly higher during this period. Although prices vary from outfitter to outfitter, a mid-week and Sunday run down the Penobscot in June could cost $75 (U.S.) per person but around $100 (U.S.) on Saturday. During the peak season, mid-week and Sunday runs cost around $90 (U.S.) and about $120 (U.S.) on Saturday. Most companies offer half-day floats at reduced prices.
While conditions vary, the standard full-day rafting trip includes round-trip transportation by shuttle bus to and from the river, plus guides and equipment, including raft, paddles, life jacket and helmet. The price also includes a noontime riverside cookout prepared by your guide, typically including a choice of grilled steaks, teriyaki chicken or salmon steak, all cooked over a hardwood fire and accompanied by fried rice, salad and dessert.
All each rafter has to bring are personal items. During warm weather, bathing suits are the normal attire, but wet suits are strongly recommended before June 30 and after Sept. 1. Wet suits can be rented from most rafting companies. A windbreaker, rain suit and wool or fleece sweater is also a good idea, even during peak season. Cotton T-shirts, cotton sweaters, jeans and anything made of cotton are not a good idea, because the fabric remains cold when wet. A towel and an extra change of clothes also should be available for the end of the trip.
Footwear is mandatory; sneakers, sneaker-type or other soft-soled shoes are ideal. Sunscreen is a must. Lodging and other off-river meals are up to individual rafters. Most Maine rafting companies have lodges and facilities available on or near each river, and most have restaurants. Some are rather plush, with brewpubs, games rooms, hot tubs, swimming pools, fitness rooms, paddle and tennis courts and other amenities. If not, each rafting company can make reservations upon request and with advance notice with facilities in the area.
A watery roller coaster ride
After launching the raft, our eight-member crew and guide stepped aboard, chose seats and shoved off. Almost immediately we felt the pull of the current, and I tried to measure its speed. The water was high and moving fast. Fighting the current, we paddled across the pool toward the other shore, where we would wait for the rest of the rafts.
Joined by the others, the guide gave some final instructions, ending his talk with the knowledge that we would be the first ones down. "It's our job to watch the others and make sure they come through safety," were his final words, which meant there was no one to watch us—a comforting thought when you're about to drop into the unknown nearly 45 metres (150 feet) in a little over 2 kilometres (3 miles). Then I heard the words "all ahead," the universal command meaning that it was time for everyone to paddle. "Like cattle going to slaughter," I thought as we obeyed, fully committed now.
The bow swung toward midstream and was caught by the current; within minutes we plunged as if in slow motion, bow first, into Class II rapids called the Taster. The name was appropriate, because it was just a taste of what was to come. We made it through and entered the Rock Garden, Class III water with its bigger waves, and headed for Big Mama and the biggest waves on the river. We hit one head on and, sitting in the bow, I found myself completely engulfed in water. I felt the raft being lifted; when I looked down, there was no water below my paddle. Like a madman I kept paddling, felt my paddle suddenly dig in and thought it was over.
But it wasn't. Almost immediately, we hit another gut-wrenching, body-soaking wave, but I didn't care. My adrenalin was pumping now, and I was enjoying the ride. The raft thudded into another wave that hurled more white-foamed water into my face and knocked the passenger beside me into the seat behind him. Beneath me, the raft bounced and twisted like a wild bronco as we entered and navigated through the Upper and Middle Alleyway. As we cleared the lower run, we were told to pull for Cathedral Eddy, a quiet backwater, where we watched as the other rafts followed.
After a brief rest, further instructions and a warning that the river would disappear downstream, we were off again. "How can a river disappear?" I thought. I was about to find out. We navigated through Z-Turn Rapids with no difficulty but then found ourselves facing Magic Falls. At first the river did seem to disappear, literally, but as we drew closer I saw that it was series of steep Class IV rapids more turbulent than before, mixed with two deep holes, one on the left and one on the right, appropriately named Magic and Maytag.
Staying slightly left of centre, we hit bow first and immediately started bouncing. I felt the power of the river as it tossed me backward and almost overboard. To my surprise, no one was sitting there, and looking back I saw one of my crewmates pulling someone into the raft. The guide was struggling to haul someone in, too! Downstream we drifted into quieter water, where we again paddled for the far shore and eased into the outlet of a stream, where a picturesque waterfall tumbled into the river. We swam there for a while beneath the falls, but after all the rafts had gathered, we were off again.
Through Dead Stream Rapids we went, finally pulling ashore for lunch on a gravel bar below a set of rapids. Within minutes the guides had a fire going, and the smell of food scented the air. We spent about an hour eating, swimming and enjoying the warm sun. I chatted with a young couple from Halifax who had been vacationing along the Maine coast. After reading about whitewater rafting, they had decided on a whim to give it a try. "It's turned out to be the highlight of our trip," they said. I knew exactly what they meant.
For more information: Raft Maine, P.O. Box 3, Bethel, Maine, 04217; 800-723-8633; or This email address is being protected from spambots. You need JavaScript enabled to view it..