"Yoga is tricky," my five-year-old Madeleine whispered seriously over the sound of waves as she almost tumbled into the sand, lost in concentration on a near deserted beach in Les Iles de la Madeleine.
With that, we promptly burst into giggles, nearly collapsing from our latest position, derrières toward "le ciel" as our spiritual French-speaking instructor, led morning yoga on the beach at Park de Gros Cap.
I couldn't have scripted it better. My daughter was over-the-moon happy to be in her first yoga class, a slight breeze warmed the air, the sea sparkled in the background, and I basked glowingly in the spur-of-the-moment bonding, all thanks to a rented RV.

Just a half-hour earlier we woke up in our motor home and wandered down to the secluded cove to take advantage of the campground's twice-weekly yoga classes. We came back with yet another warm memory tucked into a family camping adventure through eastern Canada.

From flying kites and jumping in "The Run" (where tides bring you back to shallow water) at Basin Head Beach in Souris, PEI, to playing lakeside at Nova Scotia's Shubie RV Park and Campground, a weeklong swing in the comfort of the Sun Seeker proved a perfect way to discover eastern Canada-and each other-at our own pace.

The kind folks at CanaDream offices in Dartmouth had handed over the keys, wished us well in our 26-foot beaut, and sent us on our way.

That evening, we barreled through a wet, dark PEI night in search of Red Point Provincial Park campground, the road slick with rain. But I felt strangely comfortable: serene even.

With a glance back, I could see all I hold dear-our three daughters, then aged five, three and 23 months-nodding off to sleep in car seats fastened around the "kitchen table." I had full faith in my husband's driving. And we were together. If need be, we could pull over at any time, secure and independent in our home on wheels.

Flexibility and freedom of choice, we quickly learned, are two of RVings top draws. Maritime Canada provided the rest: the perfect backdrop to let life unfold, in wonderful and unexpected ways.

We pulled into gorgeous beaches and swam hours in the ocean, then cooked up burgers as the sun went down over dramatic cliffscapes. We explored caves along the shoreline, ate marshmallows from the bag, and attended every local blueberry social and music festival we could find in three provinces.

"I'm so jealous. You got to be spontaneous," my husband told me one afternoon when my girls and I threw caution to the wind and sprinted to dance on Old Harry, one of the most beautiful shorelines I have seen.

Throughout the Maritimes we found excellent camping facilities, walking and cycling trails, quiet beaches where one can sit for hours, undisturbed, wonderful places to eat in surprising tucked away corners, and in an RV, we were able to drive right into this spectacular beauty (yes, I'm a convert).

At PEI's well-appointed Red Point Park, minutes outside Souris, campers have access to sites at ocean's edge; can spend endless hours building sand castles on a lifeguarded beach, and take in scheduled children's activities.

At Shubie, the only campground within Halifax/Dartmouth city limits, it's a warm lake and wooded trails that one finds just a stroll away; the peaceful oasis, surprisingly, sits within minutes of bustling city life.

In New Brunswick, avid RV'er Réal Robichaud recommends Sugarloaf Provincial Park in Campbellton, which offers top-notch facilities, hiking trails, wildlife and bird observation; Hartt Island Campground outside Fredericton and Fundy National Park.

People struck up conversations as they walked by our picnic table, on playgrounds, and while cooking pancakes. Over bonfires we chatted with folks traveling from BC to Newfoundland and with locals out for a night away. One family from Oliver, BC, sold their home, quit their jobs and headed out "full-time," with their eight-year-old son. "He's home schooled, and we thought it was time he saw some of the things he was learning about."

They'd cruised the Oregon and California coast, volunteered at an orphanage in Mexico, then climbed through the U.S. into Canada when we met them in PEI. "With an RV, you're seeing something new every day," they said, giving a wave of the arm to indicate the red sand banks and emerald blue water sparkling in the distance.

Above all, it's a family pleaser. "I loved that we got away from TV, never-ending chores around the house, and that a grubby sweatshirt was okay to wear the second day," says Laura MacPhee, a Nova Scotia teacher who spent time near Antigonish and Annapolis Royal this summer.

She says her kids loved exploring new places, and for those who live in town where kids can't get out to ride bikes unsupervised, campgrounds are great places.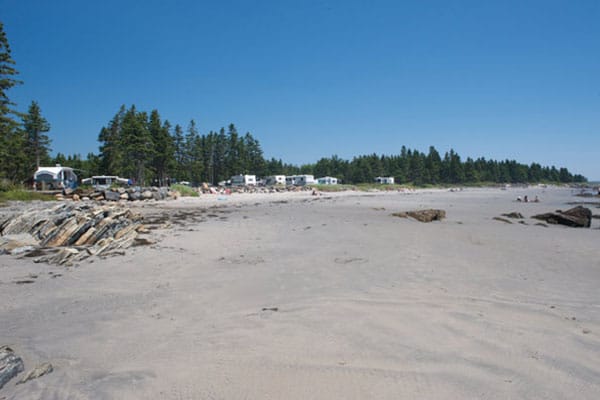 Michelle Colton, a mother, wife, and physiotherapist, gives the nod to the Maritime's great provincial parks like Risser's Beach near Lunenburg, where she says her kids loved sleeping in close quarters with mom and dad, campfires, and being outside and eating camping food.
For us, we'll remember "Courtenay's Corner," the spot my middle daughter and her dad staked out as their sleeping quarters, and Leah, the busy toddler, plunking herself in the driver's seat every chance she got, saying, "I wanna drive. I wanna drive." You and me both, kid.