World-class panoramas and wildlife galore, all free for the asking.
Famed historian G. M. Trevelyan often said: "After a day's walk, everything has twice its usual value." That's how my husband and I feel after hiking in Cape Breton where there's everything from challenging treks to gentle forests and spectacular coastlines. Get used to saying "wow" a lot. On the coast, it's not unusual to see whales, seals and seabirds. In other areas you'll see everything from moose to bogs, beavers and bears.
Our favourite place to hunker down is at Inverness Beach Village. Why? The cottages are on a high bluff with easy access to two miles of beach. You're also within easy driving distance to some amazing hikes. Bonus: owners Ivan and Anita MacLeod (brother and sister) know everything there is to know about Cape Breton.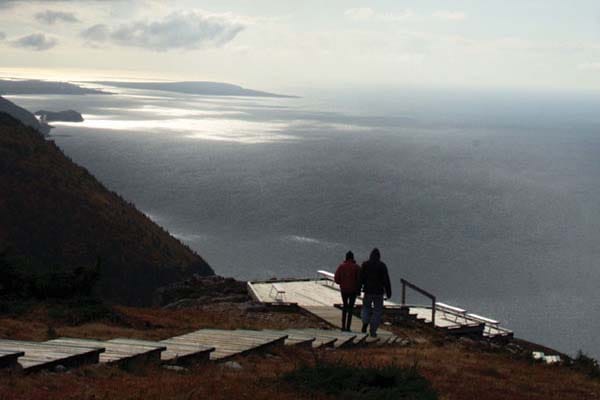 If you're a hiker, they'll point you to places not generally found in guidebooks-like Egypt Falls in the Upper Margaree area. To get to it from Inverness, take the road above Lake Ainslie to Scotsville (about 20 minutes). Just past the village, look for a dirt road on your right. (Ask someone to be sure you get on the right road.) Follow your nose into the hills while keeping an eye out for the Egypt Falls trailhead on your right.
Warning: the trail to Egypt Falls is not suitable for children and you'd better be in decent shape because the last part of the trail is several hundred yards of near-vertical drop. Yes, there's a rope. When you get to the bottom you'll be rewarded with a gorgeous setting facing a wide and dramatic waterfall.
For a safe and easy hike leading to another "wow" waterfall, head to Baddeck. Destination? Uisge Ban (ish-ka-ban) Falls. As you near Baddeck on Highway 105, take exit 9 and head to Forks Baddeck. Turn right on a dirt road and you'll come to a picnic park and trailhead. There are two well-marked trails to the falls (2 km and less.) It's easy to go one way and return the other. The 52-foot narrow waterfall is banked by a gorge that towers 500 feet on both sides.
Of course, the Cape Breton Highlands National Park has 25 superb hiking trails. They range from 15 minute jaunts to several hours of hoofing it. If you have your heart set on seeing a moose, spend a day at the Skyline Trail. It's about an hour's drive from Beach Village.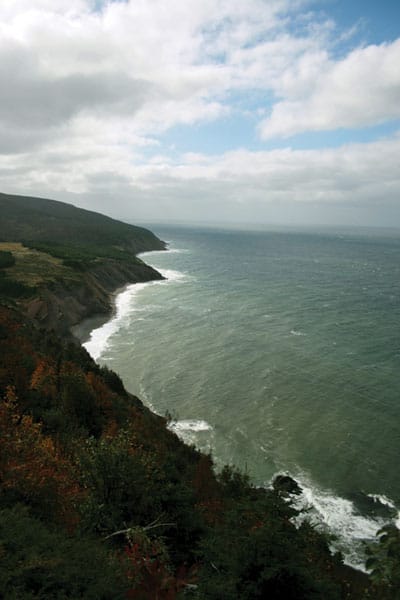 The trail is a 9.2 km loop that takes you to a dramatic look-off point. There's a shorter way to get to the look-off (about 5 km there and back) but the longer way offers improved chances of seeing a moose. We saw five-including a big bull the size of a Sherman tank-less than 30 foot from us. My heart pounded. Did you know that moose do not see very well and are colour blind? "But that doesn't mean they are stupid," husband Barrie says. "Be sure not to aggravate them by using the flash in your camera or getting too close and personal."
Another "must-see" spot is Cape Clear. It's a little tricky finding the place as you have to drive through miles and miles of logging roads. The roads are in great shape but it's easy to get lost and you could spend days in the back country. So, rather than giving directions here and being responsible for you, we refer you to the Department of Natural Resources in Inverness (open weekdays, 8:30 a.m. to 4:30 p.m.) Ask for a DNR map of the region and for someone to mark the Highland Road into the Margaree Wilderness Area that leads to Cape Clear.
You can drive within yards of Cape Clear-but DO NOT take children. It's a sheer drop of several hundred feet. The trail along the edge of the cliff offers a stunning vista, but it's also stunningly dangerous and not for the faint of heart. Common sense is appropriate here.
On our way to Cape Clear we saw a convocation of eagles gliding about. We pulled over to watch them. Some perched on big spruce trees while others soared overhead. It was magical.
Meanwhile, back in Inverness, there are more hiking trails than we have space to describe. Brochures are easy to come by at the Beach Village office. You'll want copies of West Mabou Beach Provincial Park (15 easy trails) and Hiking Trails of the Cape Mabou Highlands (15 trails with varying degrees of difficulty. Some sections are challenging.)
Oh, by the way, be sure to ask Anita about the best places to find beach glass. She's an expert on the subject and there's some closer than you think.