Apart from its scenic setting, Fredericton has hidden charms.
I'm in a very dark place. As my eyes try to adjust, I hear the swish of water. Small beads of sweat break out over my brow and upper lip.
A bad dream? Not so. I'm in a "dark room" which is part of the photography lab at the New Brunswick College of Craft and Design in Fredericton-learning about pinhole photography. It's an ancient art form and although the instructor, Drew Gilbert, has explained how it all works, I'm still puzzled. How can a tin container with a teeny hole and a piece of white paper inside, produce a photo? I'm anxious to see how my photo will turn out although it seems more like magic than photography to me.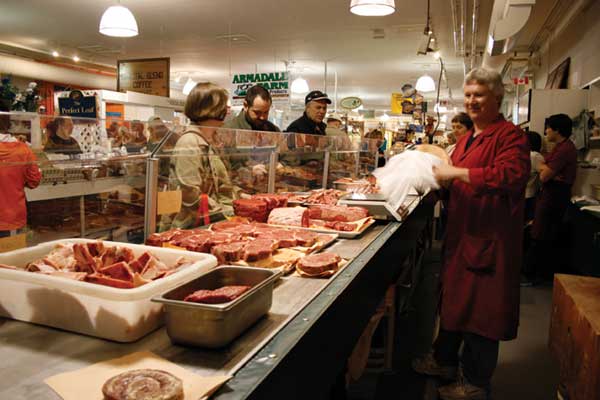 Slowly, slowly a black and white image appears. Trees, wet streets and buildings stretch in a fascinating composition before my eyes.
It's incredible! I can't believe I took this photo with that tin box just an hour ago.
Drew grins from ear to ear. He hears this kind of comment a lot at the college during July and August. He and his colleagues give courses in photography and digital media. It's all part of the "edVentures" program-Atlantic Canada's largest vacation learning program in craft and culture.
With more than 120 programs to choose from, there's something for everyone. Chinese Kite Making and Fiddling are on the menu, as are classes in Oil Painting. Silversmithing and Waldorf Doll Making. If you're interested in the healing arts, there's Tai Chi Chuan, Herbs & Medicines or CFQ QiGong Meditation. The list goes on. It's an impressive roster and includes programs for children and youth.
Aside from edVentures, there's a plethora of cultural activities that are free-like outdoor summer theatre featuring the famed Calithumpians. They render historical fare laced with humour that is totally engaging. As well, costumed guides lead walking tours daily; a weekly culture crawl takes place downtown; and "Under the Stars Classic Film Series" (yes, outdoors, under the stars!) is always a hit. Again, all free.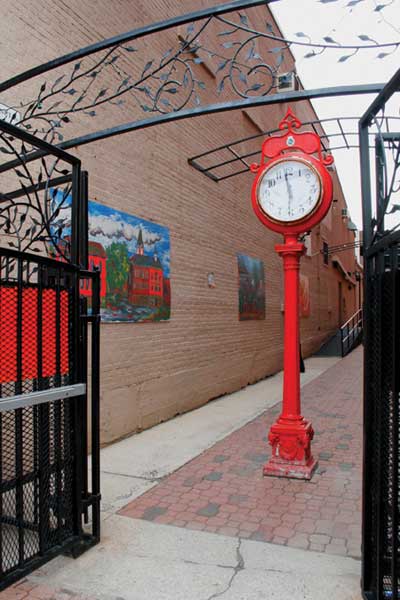 Of course, a visit to Fredericton would not be complete without dropping into the Beaverbrook Art Gallery. It's a place I never tire of, partly because there are always new and exciting installations, and partly because I find the permanent collection mesmerizing. (Tip: ask if Gerry Rymes (security staff) is around. He loves to chat and can tell you stories related to the art work that you'd never find in a gallery catalogue. And don't be surprised if Gerry asks you to lie flat on your back to view the Beaverbrook's signature art treasure-Salvador Dali's Santiago El Grande. It's a memorable 3-D experience).
If your time in Fredericton spans a Saturday, drop into the W.W. Boyce Farmers' Market where you'll meet characters like Peter Clark, a superb fly tyer who makes his creations on site. Peter's also penned several books with title like "Woods, Streams, Ghosts and Hangin's." He's a master storyteller and has been referred to as the "New Brunswick Apostle."
You'll also meet unique vendors like the fourth generation Mulders. They operate John Henry's Fish, William Mulder's Fresh Meats and the Cheese Market. The family, and their products, are legendary. For example, at the Cheese Market, you'll find more than 150 varieties of cheeses. Check out the five-year white cheddar that the family has aged themselves and an imported Dutch cheese called Vlaskaas which is delightfully sweet and creamy. Easy to see why it's the current rage amongst market goers.
Of course, there are lots of new kids on the block like Alicia Tracy and Renna Eliakis who make Hot Lollies-round balls of cheesecake on a stick, dipped in chocolate then coated with toffee chips, peanuts or chocolate sprinkles: guaranteed to go straight to your heart.
Back in the downtown core, poke your head into Savage's Bicycle Center on King Street. It was established in 1897 and is the oldest bike shop still in operation in North America. Bonus: It's housed in an old fire hall, replete with brick walls, great photos and the original fireman's pole.
One of my favourite shops is Cultures Boutique located on Mazucca Lane. This is not a street, but an alley off York Street, so keep your eyes open for the lane. Once inside, you'll discover a world of goods-literally and figuratively. And if you've brought Rover or Lassie along on vacation, there's a U Wash Dog Wash (dirty dogs done dirt cheap) on Queen Street.
One of Fredericton's many charms is that it's situated smack on the banks for the St. John River. It's the perfect place to picnic, bike or hike. You can even spread a blanket and take a nap. It's encouraged. Oh yes. Last year, Fredericton was designated as a Culture Capital of Canada. Still is.