Yarmouth plans to celebrate all year long.
The moment you roll into Yarmouth, NS, you'll feel a buzz. A year-long celebration of 250 years of community-Yarmouth 250-is going on, and the fun has just begun.
Yarmouth is known for its historical treasures, architectural delights, and the legacy spawned by Canada's earliest peoples including the Mi'kmaq, Planters, Loyalists and Acadians. Toss in some stunning scenery and it's hard to resist the lure of this region.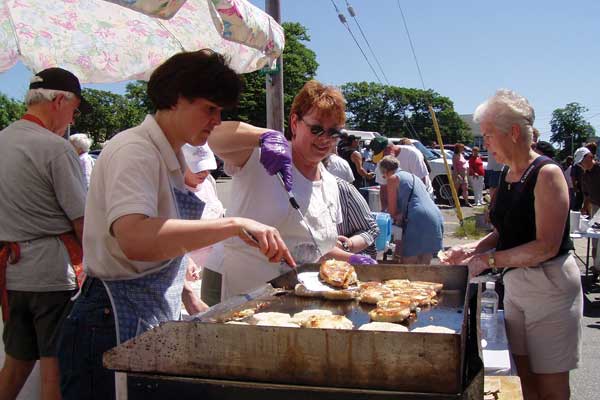 Already, the list of community programs includes almost 200 special events, and more are added every week. Parades, re-enactments, fireworks, ghost walks, amazing house tours, a shark scramble, a tuna tournament-the list goes on and on.

Phil DeMille, the force behind a score of musical events over the years, has lined up a mind-boggling 80 bands for the Coal Shed Music Festival. Music lovers will also be happy to know that the Minor Music Conference is taking place in Yarmouth with master classes, a tradeshow, songwriters' workshops, and concerts. As well, Nova Scotia Music Week is returning for the third year in a row.

And where else will you find a community theatre with a playbill that offers everything from an Elvis Presley Tribute to the Maritime Concert Opera's Madama Butterfly and the Rocky Horror Picture Show?

Heritage teas, Acadian kitchen parties, a geocaching long weekend and a giant rappie pie cook-off are all part of "coming home." But it's about more than events. It's about the people you'll meet like Ernie and Brian Williams at Stanley Lobster Company in John's Cove, where having a steamed lobster is an event unto itself. They love to give guests details about lobsters, including how to tell the difference between a male and a female. (A female generally has a broader tail and some of her swimmerets-abdominal appendages-are softer than a male's.)

Bruce Bishop is a big fan of having steamed lobsters at Stanley's. He's also the marketing coordinator for Yarmouth 250 and he's pumped. Bruce chose to come back "home" seven years ago, and now he waxes poetic about Yarmouth every chance he gets. For Bruce, it's all about diversity, cultures and lifestyle. "It also has to do with the natural things that bring people here: our lakes, rivers, and a coastline with fantastic beaches," he says.

"Just come and see us," says Bruce. "You won't find warmer, more hospitable people anywhere in the Maritimes. I guarantee it!"
I second that. You see, Yarmouth is also my home turf. Biased, you say? Come see for yourself, says I.