It's easy to find great places to eat in Atlantic Canada, especially if you know how to track down the spots that are frequented by locals.
Nova Scotia chef Peter Jackson developed his own strategy several years ago when he went looking for a good meal in the Okanagan wine valley. "I asked for recommendations at a winery," recalls Jackson. "People who appreciate wine usually appreciate food."

An Edmonton restaurateur who recently returned to his home province to start a vineyard in the Annapolis Valley, Jackson has other suggestions for travellers who are looking for excellent local cuisine. "Ask the staff at wine shops, delis and markets, or the servers at other restaurants. These people are part of the local food culture and you're trying to break into their culture for a brief time." Flexibility is the key, he says. "Good food finds have usually been found already. You may have to wait in line, and you may have to settle for a table that's not the best."
Food can be an important part of the travel experience. For some people-like the new breed of gastro-tourists who plan their itineraries around eating and drinking-it's the most important part. But even for the rest of us, sampling a region's cuisine is one of the best ways to drink in the culture.

In Baddeck, NS, the Highwheeler Café, Deli and Bakery is popular with locals. Known for its generous sandwiches on homemade bread, this café also offers homemade soups and a large selection of baked goods that make perfect snacks as you drive around the Cabot Trail.

Back on the mainland, in Pictou, NS, you'll find Sharon's Place Family Restaurant. This is a favourite local spot for fish and chips, hot hamburger sandwiches and the "Big Boah" burger: two generous beef patties topped with cheese, bacon and all the fixin's.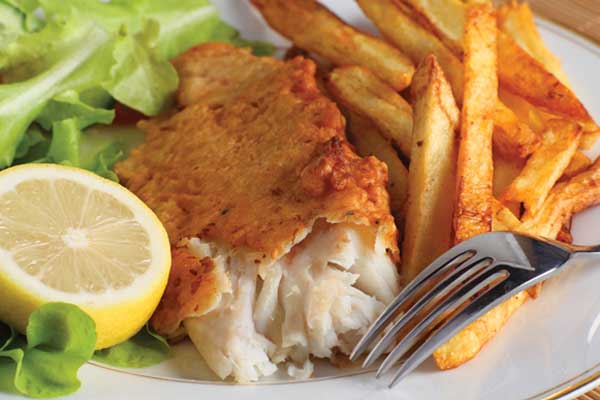 If you're on the province's South Shore, drop into the LaHave Bakery; their homemade bread is popular with folks all over the province. Their baked goods-cakes, cookies and other sweets-are scrumptious, especially when paired with their hand-squeezed lemonade.

In PEI, the Water-Prince Corner Shop in Charlottetown offers some of the freshest seafood on the island. Their delicious lobster roll with homemade potato salad makes any visit worthwhile. Other popular dishes include the scallop burger and the halibut fish and chips served with hand-cut fries. Farther afield, in Montague, you'll find Gillis' Drive-In Restaurant. Flash your lights for old-fashioned car-side service, or dine in the retro-inspired dining room. The food is reminiscent of a '60s-style diner with burgers, clams, fish and chips and club sandwiches. Elsewhere on the island, in Fortune, the Sheltered Harbour Café is located in a gas station-but don't let that fool you. The food, according to local residents, is phenomenal.

In Newfoundland, Valley Convenience and Take Out in St. John's is very popular. This spot is best known for its "Fi & Chi" (fish and chips). Another favourite is the southern fried chicken-very big with the trucking crowd.

If you find yourself in Moncton, NB, follow the locals to the City Grill for heaping portions of comfort food. Known for its steak and ribs, it also serves chicken and pasta dishes. In Fredericton, locals flock to Isaac's Way for dishes like Roasted Red Pepper Pecan Salmon and Dukka Trout. Further north, in Chatham, Ben's Lunch Room is a real local hangout, having been in business for 85 years. The current owner has been working behind the counter for 50 years. Ben's is "the" late-night hangout in town, and the restaurant's sliders and burgers are known far and wide.

In the end, it really doesn't matter whether you've come to Atlantic Canada for fiddles or fossils or food; and it doesn't matter whether you're more in the mood for a roadside diner than an upscale brewpub. It pays to have a strategy for acquiring a little local knowledge.
7 Gastro-travel tips for Atlantic Canada
Embrace the seasons: Shop for picnic lunches at roadside stands and farm markets-there's no better way to sample fresh, local produce.
Ask a local-but not just any local: the key to soliciting advice is in identifying a fellow foodie. Fortunately, they normally hang out at farmers' markets, wineries and brewpubs.
Contact an agri-tourism organization: groups like Select Nova Scotia (selectnovascotia.ca) are devoted to promoting food-related products as part of the tourist experience.
Look for the lineup: Crowds usually form for a reason.
Read all about it: Purchase a local newspaper for suggestions from the local food critics.
Check out local food guides: Publications like the annual Taste of Nova Scotia Culinary Experience Guide (tasteofnovascotia.com) are designed to promote the best culinary experiences available-members must meet strict criteria for food quality, service and hospitality.
Peruse a copy of Where to Eat in Canada, an independent guide to Canadian restaurants from coast to coast. The book includes information about what each restaurant does best, what it costs, when it's open and how to get there.