Moncton is home to the Atlantic National car extravaganza.
It's the second Friday in July and I've just parked my car in downtown Moncton. The main drag and several side streets are decked out with hundreds of cars ranging from street rods to muscle cars, to customs, special-interest vehicles and antique autos.
Within sight are teens and bikers with tattoos, a crowd of giggling girlfriends, guys in suits, parents with toddlers in tow and lots of seniors. They're typical of the thousands who visit the Atlantic Nationals here in Moncton-an annual automotive extravaganza that draws more than 1,800 cars and 100,000 spectators. Everyone's wearing a perpetual grin.
I notice a small group gathered in front of a 1931 Ford Panel, but it's not the rat rod that grabs their attention-it's a small dog with a moustache and goatee, sitting in a chair, next to the owner of the car, Norm Gautreau.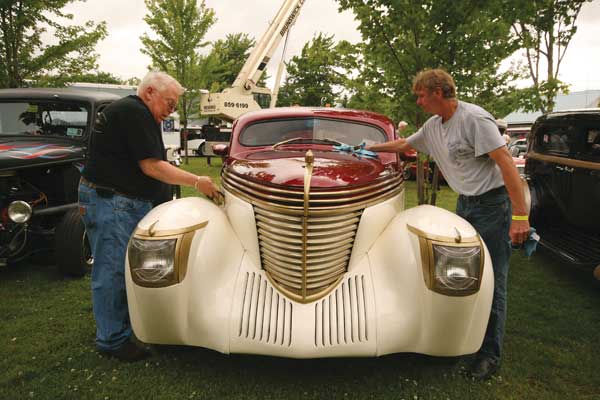 "Is that a stuffed toy?" someone asks.
"No, it's a dog," says Norm.
"Can't be real," someone says.
"He's a real dog alright," says Norm, "but he doesn't know he's a dog. His name is Chico."
Chico and Norm attend about 20 car shows a year, and before long, I get the low-down on the difference between a rat rod, rebel rod, street rod and hot rod, also known as a muscle car. The mix of all these cars, along with some spiffy antique autos, is quite a sight.
After a big street display and street dance on Friday, the entire shebang moves to Centennial Park for two days of car exhibitions, seminars, demos, music, a scale model contest and more. Aside from being the premium car show in North America, it also has the largest prize pool on the continent.
It's worth noting that this entire event is organized and managed by volunteers. After expenses, profits go back into the community. In fact, that's how Centennial Park (featuring an automotive-themed "splash park") was created in the first place.
While wandering around the grounds, you'll probably meet Peter Atkinson, owner of a green 1951 Mercury Monarch and a '79 Boler travel trailer. Peter says, "My car and I have enjoyed a lot of firsts over the years including first date, first bee sting, first of many honeymoons-with my first and only wife." Last year, Peter's daughter Crystal took the Monarch on her honeymoon. Peter says the original owner of the Monarch is rumoured to have been a son of Timothy Eaton, who had the car stored at the Eaton's Department store for use when he came to Moncton. Every car owner here has a story.
John Jones bought a 1939 Graham several years ago. It was a veritable wreck, but after 2,500 hours of TLC, the car morphed into a showstopper. With the exception of one season, John and his wife, Cindy, have been travelling from Orland, ME, to attend the Nationals since the event started in 2000.
Asked what draws them to Moncton, John comes back with a question. "Where can you go to have a great time, see lots of amazing vehicles, meet the nicest people and know that the proceeds are doing a lot of good in the Maritimes?"
Then he answers his own question: "The Nationals in Moncton!"