Atlantic Canada has coastline to spare.
Canada's East Coast boasts some of the most spectacular sea kayaking opportunities in North America. In Newfoundland, you can paddle down rugged fjords and past towering icebergs. In New Brunswick, you can paddle the world's highest tides, and in PEI you can even paddle for clams. Nova Scotia offers island-studded bays and scenic lighthouses that are often best seen from the water.
Not long ago, we visited several locations on our "must paddle" list. First up was Cape Broyle, roughly 65 kilometres south of St. John's, NL.
We had perfect paddling conditions for our trip with Stan Cook Sea Kayak Adventures. We enjoyed seeing bald eagles, waterfalls and various sea creatures, and learning about the history of this area through place names like Gallows Cove, Cliffs of Insanity and Admirals Cove. Our guides brought dip nets to gently scoop starfish and sea urchins off the sea floor.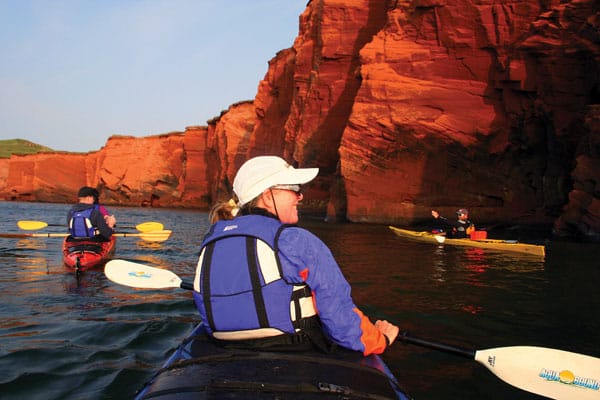 And just when it appeared we were going to have a very long paddle back to shore, a speedboat came along, whisked us aboard, and towed our kayaks back to the launch point. "We call this our 'go and tow,'" explained Stan Cook. "It allows us to cover twice as much shoreline, since there's so much to see."
Next, we went to Îles de la Madeleine (also known as the Magdalen Islands). We were unfamiliar with the area, but maps suggested fine kayaking potential. Indeed, we spent a couple of very pleasant days enjoying the picturesque houses, interesting food, and amazing mix of long sandy beaches and rugged cliffs. We did a memorable "crab and kayak" trip, where we encountered more sea caves (formed by wave action) and sea stacks (pillar-shaped rock formations) than we ever had before. To top it off, our guide from ecotourism company Vert et Mer, Sébastien Côté, served us up delicious crab legs, locally smoked mackerel and other delicacies on an idyllic grassy meadow at the half-way point of our tour. The next day, breezes produced a speedy downwind paddle with our guides from Parc de Gros-Cap. Two days for this trip proved insufficient; we missed Entry Island, which is highly recommended.
Intrigued by an opportunity for a "Clamming and Sea Kayaking" tour in PEI, we next joined Paul Sheridan, owner of By the Sea Kayaking in Victoria. Each double kayak was armed with a clamming rake; we set off for a 30-minute paddle to a broad offshore sandbar.
"This is the largest sandbar in this whole area," Paul told us. After a quick lesson, Paul set us free to dig for our supper. We often came up empty-handed or dug clams that were below the legal limit in size, but eventually we had enough for a fine clam chowder, so we paddled back to the launch point. Perhaps it was the setting, but Paul seemed to work his chef's magic and produced the best clam chowder we've ever eaten.
Next on the "to do" list was to paddle the world's highest tides in New Brunswick's Fundy National Park. Under sunny skies in the community of Alma, we joined FreshAir Adventure as they guided paddlers from as far away as Edmonton, Vancouver and Scotland.
We set off at high tide and, after paddling past an eagles' nest, we pulled into a small beach for a snack—featuring Alma's famous cinnamon buns. Using the sand as a blackboard and rocks to represent the sun and the moon, our guide effectively explained how the unique shape and size of the Bay of Fundy produces such high tides. Then, since our takeout point was a kilometre from where we launched, we got to experience firsthand just how fast the tide can rise by hiking several hundred metres to a road that, just a few hours before, had been above sea level!
Our final trip of the summer was in the scenic community of Baddeck, NS, on Cape Breton Island, where we joined Paddledog Kayak Tours (an offshoot of North River Kayak Tours) for an easy paddle around Kidston Island. This is a perfect place for kids and other beginners to get their sea legs, since the shoreline here is quite protected and the tour covers only about two kilometres.
Owner Angelo Spinazzola runs longer sea kayak tours in nearby St. Anns Bay, and it may be worth sticking around afterward—in typical Cape Breton fashion, Spinazzola is also a fine musician.