The simple lobster comes out of its shell
I grew up knowing how to pick a lobster clean with nothing but a fork. My fisherman father brought home buckets of them; my mom would boil them up, cover the kitchen table in newspaper and serve the lobsters whole with a side of melted butter. We'd have at 'er, the juice running down our arms. Sometimes, she'd make sandwiches with homemade bread, or get really fancy and whip up a chowder or some creamed lobster on toast, but when it came to cooking with lobster meat, that was about as far as it went.
Imaginative dishes
These days, while lobster suppers in rural community halls are as popular as ever, lobster is turning up in surprising and inspiring dishes all over Atlantic Canada.
I first learned of this trend toward creative lobster cookery when I heard about the Homard Mobile in Caraquet, NB. Homard is French for lobster, and the "mobile" part refers to the big red food truck, known locally for its lobster poutine. With the motto "de la trappe à l'assiette!"—"from trap to plate!"—emblazoned on the side, Lynn Albert cruises the community in search of folks hungry for fun and imaginative local food.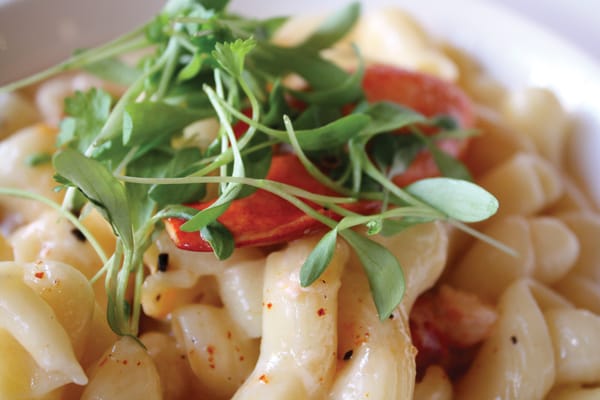 But Albert's Homard Mobile isn't the only source of new, creative lobster offerings on the East Coast, not even in Caraquet. When I started looking around, I discovered a quiet revolution. From street food to gourmet fare, cooks and chefs are lending flare to a food that's already an indulgence.
At Caraquet's trendy Déjà BU! wine bar and restaurant, the upscale version of lobster poutine starts with home fries double-deep-fried in duck fat, tucked among chunks of lobster meat, then smothered in a secret sauce and cheese from Caraquet's Fromagerie Les Blancs D'arcadie
Also on the menu is the house Lobster Mac & Cheese (see recipe, opposite). When this dish was set before me, the aroma of buttery lobster sent me straight back to my mother's kitchen table. The twisty torchietti noodles are bathed in a creamy mornay sauce flavoured with truffle, and the dish is packed with lobster meat. This is the dish that, for me, encapsulates everything that owner Robert Noel is trying to do with Déjà BU!—in his own words, "to provide a great experience for local people." The best way to do that is to take what's familiar and comfortable and build on it to make it extraordinary.
Whimsical take
That's also the approach taken at the Keltic Lodge in Ingonish Beach, NS. At a table in the resort's Highland Sitting Room, with views of the ancient mountains of Cape Smokey Provincial Park tumbling into the Gulf of St. Lawrence, I ordered Fresh Atlantic Lobster Roll Sliders. What arrived was an exciting, whimsical take on an old favourite—the lobster roll.
Normally, a lobster roll is simply lobster meat mixed with mayonnaise and laid out in a hotdog bun, but the Lodge's chefs have taken this most basic of recipes and run with it: lobster meat with Granny Smith apple and fresh tarragon in lightly curried mayonnaise, on mini brioche buns with baby arugula greens and a dollop of truffle paprika mayo for dipping.
Inspired ingredients
At The Pearl Café in North Rustico, PEI, it's all about the inspired use of local ingredients. Owner Maxine Delaney says, "It is our intention to continue the legacy of creating real food from the bounty of the Island." There, lobster is always on offer. One of several rotating stars on the menu is The Pearl's version of Lobster Arancini—little spheres of creamy lobster risotto, fried to develop a crusty orange-golden shell—served with fried sage leaves and chorizo, which is hand-made at Island Taylored Meats in Montague, PEI.
Adventurous approach
Staying local and sustainable are just as important to chef Mark McCrowe and his team at Aqua Kitchen and Bar in downtown St. John's, NL. They offer their own version of lobster poutine, but it's their Tempura Lobster and Asparagus that caught my attention. Served with sriracha mayo, pickled red onion and caviar, this approach to lobster out of the shell stands out as particularly adventurous.
New generation
And then there's the king of this new generation of East Coast lobster dishes. At Charlotte Lane Café in Shelburne, NS, you'll find chef Roland Glauser's Lobster and Scallops Brandy Gratin—lobster and scallop meats, simmered in brandy cream and baked with two cheeses. It's no wonder the little 25-seat restaurant was named Nova Scotia's best small restaurant in 2010 by the Restaurant Association of Nova Scotia, and Restaurant of the Year by Taste of Nova Scotia in 2011.
Lobster and lobstering are very different now than when I sat at my mother's table. Last season, I did a little lobstering myself, aboard my uncle's boat, plotting strings of traps on a computer as we set them. With the lobster I brought home, I prepared dishes like lobster quesadillas with three salsas and lobster risotto.
In my house, as in dozens of Atlantic Canadian restaurants, lobster has finally come out of its shell.
Recipe