The 1864 Charlottetown Conference
The "Confederation contingent" boarding the SS Queen Victoria in on August 29, 1864 in Quebec—en route to Charlottetown, PEI—consisted of eight politicians: John A. Macdonald, George-Etienne Cartier and Alexander Galt, George Brown and William McDougall, Thomas McGee, Alexander Campbell and Hector-Louis Langevin, also known as "the Canadians." Little did they know their arrival would be a non event.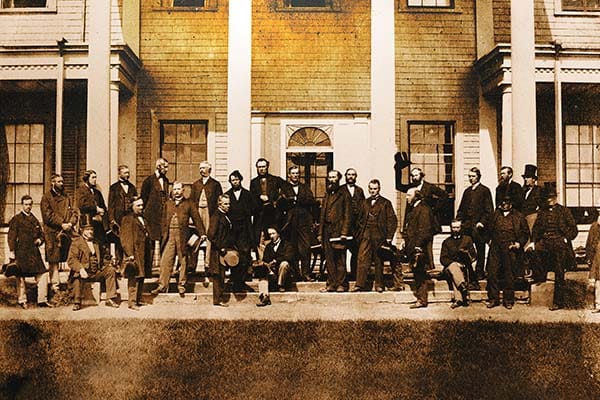 The ship steamed into Charlottetown Harbour around noon on September 1. However, unbeknownst to the party on board, the Slaymaker and Nichols Circus was performing in Charlottetown and the attention of every soul, including the press, was turned to acting dogs, trick ponies, monkeys, and a double trapeze under a huge tent. So it was that the Queen Victoria sailed into port without fanfare. In fact, PEI's provincial secretary, W. H. Pope, had all he could do to round up a fisherman willing to row him out to the ship to meet the distinguished delegation. They made way back to port on a bum-boat (a flat bottom boat) that carried a barrel of flour in the bow and two jars of molasses in the stern.
To add insult to injury, much like Mary and Joseph, the entourage found no room at the inn, as the city was full of circus-goers and no one had the wit to make accommodations for the delegates. Most of the politicians spent their nights back aboard the ship.
And so it was that the historic meetings that followed (which also included politicians from the rest of the Maritimes) became known as the Charlottetown Conference. On the last day of the conference, September 7, the notion of Confederation was endorsed.
The next evening was the scene of a massive banquet at the Colonial Building. After feasting in the council chamber, everyone gathered in the Legislative Assembly to dance the night away at the grand ball. Spirits were high; around 2am, tongues let loose and speeches began. At 5am some of the politicians were still practicing their oratory skills.
The next day, the delegates from the Charlottetown Conference set sail to Nova Scotia. During the course of a week they held sessions in Halifax, Saint John and Fredericton. By the time they disbanded the "Fathers of Confederation" had agreed to meet in Quebec the following month to map out a detailed plan for union. The rest, as they say, is history.