The one-pot, total-fun meal
Like most, I've steamed lobsters all my life, but it wasn't until I met Jonathan Joseph at Ye Old Argyler Lodge in Southwest Nova Scotia, that I discovered an amazing new way to cook these lovelies. You've heard of U-pick? Well, Jonathan's come up with a U-boil. Not only do you end up with a one-pot meal, the end result is rather spectacular.
First, a bit about lobsters in general, and Jonathan in particular.
According to the Nova Scotia Department of Fisheries and Aquaculture, the largest North American lobster ever caught was from their province. It weighed 20 kg and measured more than 110 cm from the tip of its tail to the tip of its claws.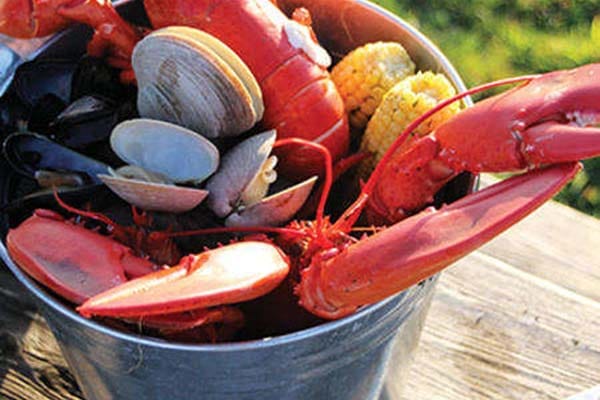 These crustaceans, a.k.a Homarus americanus, are high in protein and cholesterol, but low in fat and sodium. They are easy to digest and are a great source of vitamins. Moreover, they are fascinating creatures—albeit somewhat weird.
Did you know that lobsters have amazingly complex and efficient eyes—but still have terrible vision? They fight a lot and play a deadly game of chicken called "claw lock". They also dance during courtship and make love in the missionary position (OK, that may be more information than you need).
More important is the fact that the lobster industry is huge here. Last year the catch was 56 million pounds in this region alone and a major contributor to our economy.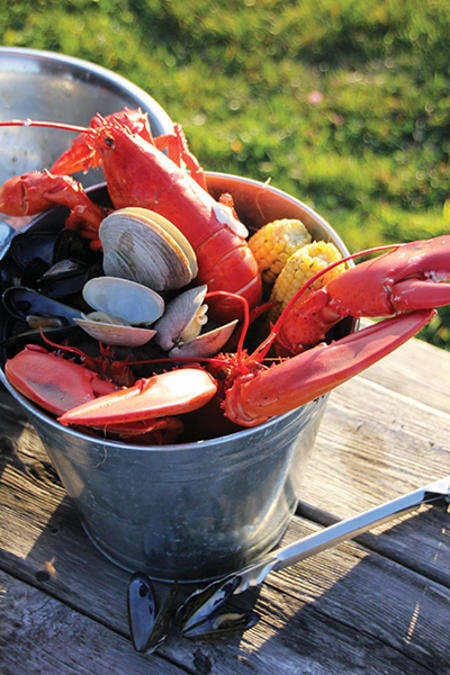 So where does Jonathan Joseph fit into the picture?
Jonathan actually hails from Florida, but he and his wife, Elana, vacationed in Nova Scotia many moons ago, fell in love with the place and returned more than once. Serendipity stepped in: his mom and dad were ready to retire, wanted to move to Nova Scotia, and also wanted to start a bed and breakfast. Would Jonathan and his wife consider going into business with them?
You bet! Jonathan had worked in kitchens since the age of 14. A Red Seal chef with a hotel and restaurant management course under his belt, he was ready. But it wasn't easy finding the right place. At some point in their four-year search, a real estate agent suggested they visit Ye Old Argyler Lodge.
"I wasn't impressed from the photos online," Jonathan says, "but, the owner kindly invited us to spend the night." That clinched it. The rest, as they say, is history.
Aside from impressing both locals and visitors with his culinary skills, Jonathan has delivered demos as "guest chef" on the Nova Star cruise ferry; and the on-board menu features four of his creations. As well, he and Elana are now serving waffles at the local farmers market in Yarmouth. If you time it right, you may luck into a Tarragon Waffle with Creamed Lobster…
…Which brings us to our special one-pot, or U-boil lobster meal. Get ready.
For each person you'll need one lobster (1¼ pound recommended), three new small potatoes, one corn on the cob and a handful of clams and/or mussels. Have some butter, fresh dill and garlic on the side.Here's how it's done.
Get a roaring big campfire going (if you place logs teepee fashion,you'll get more heat under the pot).
Head to the shore. Fill your pot half full with sea water. (If you don't live on the ocean, put a handful of sea salt in your pot.)
When the water's come to a full boil, put in the potatoes and corn. Cook for 8 minutes. Add the lobster. Cook for another 8 minutes. Add clams/mussels and cook 3 to 4 minutes, just until they open.
While the food is cooking, melt some butter in two small saucepans.
Add chopped garlic and fresh dill to one. Use this to toss with the corn and potatoes after you've removed them from the pot. The other butter will be "drawn butter" for the shellfish, and served at the table.
As soon as the clams/mussels open, drain the water. Toss the potatoes and corn with dill/garlic butter sauce. Crack the lobster claws with a cleaver. Put each person's share in individual pails and place on the picnic table.
Voila! Everyone will think you've been to culinary school.
If you really want to show off, get your guests to make homemade s'mores for dessert. You'll need marshmallows and chocolate coated graham wafers. Jonathan says, "I prefer to cook mine on the stick with a slow, spinning motion until they are golden. Elana lets hers catch on fire and get charred."
It matters not. Let your guests roast their own marshmallow then get them to make a sandwich with the heated marshmallow and two of the chocolate coated crackers. How simple is that?
Now, take a bow.