Ell Lake Oysters, heaven on the half-shell
It's a balmy summer's day and I've just arrived at Eel Lake Oyster Farm in Ste. Anne du Ruisseau, NS. I'm here for a tour and a feed of oysters with my husband and a couple of friends. As oysters top my list of favourite things to eat, I'm excited as a puppy anticipating chow time.
I knew that the farm was situated on Eel Lake as I had eyeballed a map and saw a long skinny body of water I guessed to be about five miles long and half a mile wide, but questions ping-ponged in my head. Weren't oysters harvested in salt water? How could someone actually "farm" them?
Owners Nolan and Kim D'Eon and son Colton greeted us with big grins. Nolan is known as "The Oysterman," a moniker he wears well. He built a home on the lake in 1980 and started his farm in 1996. "Having my business in my backyard so close to the lake allows me to walk to work—then I sail five minutes to my farm," he says. "I don't have to deal with road traffic or rush hour. It's a peaceful way to start the day."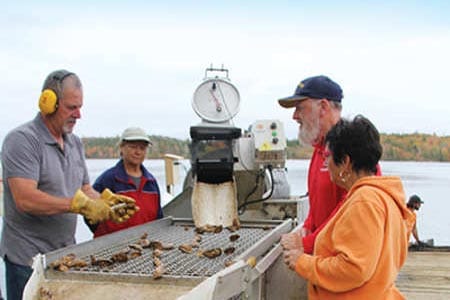 We learned that the "lake" has a small opening (around 15 feet wide) midway down its western side where salt water rushes in twice a day from a body of water called "Little Sluice," which eventually melds into Lobster Bay and the Atlantic Ocean. Hence, this lake is tidal; it rises and falls about a foot, twice a day, and is very salty.
The D'Eon farm consists of 800 cages grouped together in two areas on the lake. Each cage holds between 1,200 to 3,000 oysters depending on their size. The oysters grow in the top 12 inches of water where the temperature is the warmest, and where the most nutrients reside.
It takes about three years for oysters to reach market size—three inches or larger. At harvest time, they are brought to shore in a 27-foot Cape Island fishing boat, where the oysters go through a washer, grader, and are culled. Small ones go back to the cages.
The D'Eon family harvest about a half million "choice" oysters a year (the highest grade), which end up anywhere from the local farmers market to fine dining establishments in cities across the country.
Aside from learning a lot about how oysters are raised, we heard many stories. Like the time the D'Eons showcased their oysters at the Port of Wines in Halifax and met a man who fell in love with the taste of the Ruisseau oyster. "He contacted us later with an order for his wedding in Montreal, in spite of his caterer saying he could buy oysters cheaper elsewhere," Nolan said. "A year later the caterer was getting married—and ordered our oysters for his wedding!"
My friend Cora Moulaison Brossard loved the experience—and the stories. After the tour, we hunkered down at a picnic table for a feed. As it was Cora's first time eating oysters, I was nervous. What if she didn't like them? I watched her closely. She took a slurp, chomped down and her eyes grew wide with surprise. Before I could say "How was it?" she was reaching for another one.
"I did as I was told and chewed them," she says. "I thought they would be slimy but they weren't. And you can't get any fresher than that! "
Cora has eaten oysters since and especially likes them with a squeeze of fresh lemon, although this summer, she intends to try Kim's recipes (see left) on the barbecue.
As for yours truly, I ate my share, and also my husband's. Poor guy, as he's not a big fan of oysters, I made the sacrifice and ate his portion. Good reason to bring him back for another tour next year.
Recipe: