Discover new takes on this Maritime staple on the Seafood Trail
Chef Louis De Gouy wrote of clam chowder that it "is rude, rugged, a food of body and substance—like Irish stew, Scottish haggis, English steak and kidney pie—a worthy ration for the men and women of a pioneer race and for their offspring." De Gouy was the chef at the Waldorf-Astoria Hotel in New York City for 30 years, and he wrote that in 1949 in his comprehensive The Soup Book.
Chowder is indeed an historically hearty dish made with basic ingredients—fresh fish from the sea, potatoes from the garden, cream and butter from the cow, and a little salt and pepper. Nowhere was, and is, chowder more of a staple than in Nova Scotia. As the son of a fisherman, I grew up on chowders of many kinds—clam, haddock, lobster, and when my mother had scallops, fish and lobster at the same time, she made seafood chowder.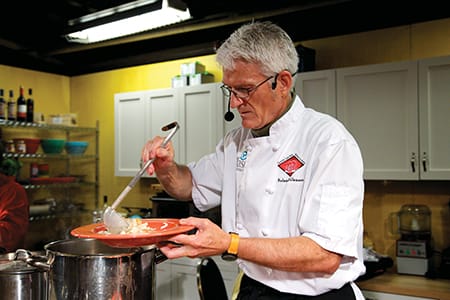 But chowder has come a long way since my childhood and since chef De Gouy was recreating the classics. For the past few years, Taste of Nova Scotia, a food and beverage marketing program, has encouraged even more creativity with their "Chowder Trail" promotion which encouraged people to sample chowder across the province and vote for their favourites.
Building on the success of that venture, Taste of Nova Scotia has expanded the program, now called the "Nova Scotia Seafood Trail"—giving hungry travellers even more dishes to try.
"We're expanding it to include experiences that highlight all the amazing seafood products we harvest in this province," says Doug Townsend, director of marketing with Taste of Nova Scotia.
Like the Chowder Trail before it, the Seafood Trail comes with a printed or virtual passport for stamp collection, ten of which qualify for a free t-shirt and three of which earn an automatic entry into a grand prize draw. "It's about experiencing fresh Nova Scotia seafood," says Townsend. "We're encouraging restaurants to feature their flagship seafood, like oyster bars or lobster suppers."
Chef de mission
The expanded program will continue to feature many of the chowders from previous years, such as last year's Chowder Cook-Off winner at Saltscapes Expo, chef Roland Glauser's chowder that is served at the Charlotte Lane Café in Shelburne. Chef Glauser likes to start with a base of cream, fish stock and two local craft beverages—Hunky Dory Pale Ale made by Boxing Rock Brewery in Shelburne and Jost Vineyard's version of Nova Scotia's signature white wine, Tidal Bay—before loading up with local seafood like scallops, maple smoked salmon, smoked haddock and North Atlantic shrimp. Rather than potato, Glauser builds more flavour by substituting parsnip and sweet potato, then adds red onion and bacon to really make it come alive.
Chowder is obviously the star of the show at the annual cook-off and a huge draw year after year. Chef Brad Wammes of Kitchen Door Catering placed second with a crowd-pleasing chowder he finished with lemon zest. Chef Mark Gabrieau, from Gabrieau's Bistro in Antigonish on Nova Scotia's north shore, and chef Thomas Carey, who represented Pictou Lodge Beach Resort, tied for third last year.
Chef Gabrieau's Seafood Chowder En Croute—a star on the Chowder Trail in 2015—is made with fresh Atlantic salmon simmered in cream and herbs. Gabrieau adds chopped tomato and a splash of Pernod, and presents it under a delicate puff pastry. Chef Carey served his winner—Northumberland Seafood Chowder—as a creamy seafood broth loaded with clams, haddock, salmon, shrimp, scallops, fresh tarragon and local double-smoked bacon.
At the competition, chef Roland Glauser paired his chowder with the same Hunky Dory Pale Ale he used in the base. Anyone can sample the same combination at his restaurant, Charlotte Lane Café, because it's now on the menu. Try it and get a stamp in your passport for the Seafood Trail contest. Or for a real challenge, you can make it yourself (see recipe on page 20). The secret, as chef Glauser told a reporter on live television, is simple: "Don't cook the bejesus out of the fish."
Recipes