From fun with falcons to building sandcastles, these experiences make great memories
I'm standing next to a bird house in Albany Prince Edward Island with my husband, Barrie MacGregor. But this is no ordinary birdhouse. It is a walk-in structure, and home to several hawks and falcons trained to kill. Their job is to keep the likes of crows, pigeons, geese, starlings and gulls from destroying crops, and from being a nuisance in public or commercial areas. It's all part of Island Falconry Service, owned and operated by Jamie Stride.
Barrie and I have signed up for Fun with Falcons—part of Experience PEI—hoping to get up close and personal with raptors.
Shortly after we step inside the bird house, Jamie introduces us to a male Harris hawk. "His name is Hush. The reasoning behind his name is because he's quite a vocal little guy. Though he is being quiet for us this morning, as soon as food comes into the equation he has a lot to say."
Next we're introduced to a breeding pair of Saker hawks, as well as a young bird in training that's a hybrid between a Gyrfalcon and a Saker. "Would you like to put on a handler's glove and let one sit on your hand?" Jamie asks. "Sure," says I.
Within seconds he has a Peregrine falcon hooded (to keep it calm and quiet), and we step outside. As I don a heavily insulated glove, Jamie says, "This is the fastest animal on earth. Speeds of over 220 mph (354 kph) have been recorded on a dive." As he places the bird on my gloved hand, he adds, "When you're holding a bird, keep your hand just above your elbow. Birds tend to climb to the highest perch. So—if they feel a little elevation, they start climbing; he could end up on your head." I do as I'm told.
The entire experience is a little unnerving but magical. Eventually Jamie takes the bird, removes its hood and releases it. The falcon soars off in search of food. The training sessions begins.
Fun With Falcons is just one of 22 programs that are part of Experience PEI, a company that specializes in providing authentic Island experiences. Bill and Mary Kendrick started this program in 2006 while operating Briarcliffe Inn. Wanting something that would set them apart from other bed and breakfast places, Mary attended a workshop sponsored by the Gros Morne Institute of Sustainable Tourism, where she was introduced to experiential tourism. "When she came back," Bill says, "we decided to create hands-on experiences for our guests."
The first experience they created was called Tong & Shuck. As their Inn overlooked Salutation Cove, guests often walked to the shore. When they returned, they'd ask: "What are those guys doing with those long sticks in those little boats?"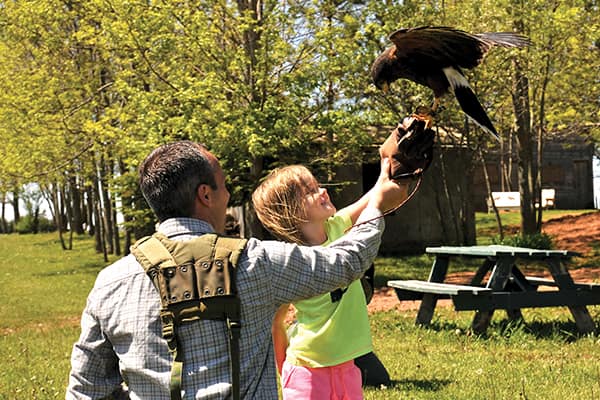 Bill says, "They had no idea that was how oysters were harvested. So we got together with the Lewis brothers who owned the oyster lease in the cove and asked if they'd be interested in taking guests out in their oyster dories and showing them how to tong (harvest) oysters and how to shuck them (open the shells so the morsel of meat could be eaten). They thought we were crazy and couldn't believe that someone would actually pay them to do that." After a little arm twisting, the Lewis brothers agreed.
That's one of the first Experience PEI offerings that Barrie and I signed up for. Shortly after setting out to the oyster beds in a dory, we tried our hand at tonging and shucking. I was hopeless at both and managed to look pitiful enough for the harvester to open a dozen in less time than it took me to slurp and say "thank you."
Back at shore we went in the production plant to enjoy more oysters and the company's newest product, "Oysters Rocky Fellas." I was so impressed I toyed with the idea of applying for a job on the production line but came to my senses when it dawned on me that having unlimited access to these delicacies wouldn't be part of the deal.
Ironically, Tong & Shuck became so popular that after their eighth year the Lewis brothers stopped offering it because it was cutting into their actual fishing time.
Out of 22 experiences currently available through Experience PEI, the only one from the original six that's still part of the mix is Sensational Sandcastles with Island artist Maurice Bernard. "It's been one of our most popular experiences right from the beginning," Bill says.
I can vouch for that, as I took part in this program with some colleagues while attending a conference in Charlottetown. We were bussed to Cavendish Beach. After receiving some tips from master sandcastle-maker Maurice, we formed a few groups and competed against each other. It was a blast.
Barrie's favourite experiences included bar clamming, an owl hunt, and a GPS excursion. The latter was self guided. We met Bill at the Inn and he gave us a GPS and written instructions. Surprisingly, although my husband had grown up in this part of PEI, he discovered points of interest he didn't know existed. Eventually we arrived in Victoria-by-the-Sea in time for lunch: another charming part of the Island.
Where do the experiences originate? Usually, the Kendricks come up with an idea for an activity they believe will interest visitors, then they look for someone with the knowledge, skill and personality to provide it.
As well, because of their reputation and success, people often approach them with an idea. In some cases the experience has already been developed and is a sound idea, but the experience provider would rather not deal with the marketing, sales, bookings, taking payment—all the business stuff—so it becomes a win-win for everyone.
The most popular experiences are the Beachcomber's Clam Boil, Mussel & Lobster Shore Boil, Fun with Falcons, and Sensational Sandcastles. Along with the ever-popular standbys, the Kendricks are constantly developing new experiences, which include new food-focused ones such as the culinary walking tours they developed in association with Culinary Adventure Company (CAC) last year. They are identified by an orange fork logo on the website.
CAC is Canada's largest food tour operator with tours in Toronto, Ottawa, Kingston, Winnipeg, Halifax and Charlottetown. Bill says, "Initially, we worked in partnership with them to create and sell the Made in Canada Food Tour, Charlottetown Food Tour and Charlottetown Farmers' Market Picnic Tour. This year we've further refined our relationship and we will become the exclusive sales agent for those tours and any new culinary walking tours CAC develops in Charlottetown."
Of course, some things have changed over the years. For example, the GPS program now takes place in Charlottetown and is called the GPS Heritage Quest. It combines the technology of a hand-held GPS with the adventure of Geo-caching as you search for solutions to a customized crossword puzzle. En route, participants learn lots of fun things about the city and its architecture.
Little did this couple know how Experience PEI would mushroom! Now, these programs are known Island-wide and available not only to independent travelers but also to cruise passengers, motor coach tours and convention groups. As well, the Kendricks are in demand across the country as consultants on product development.
For the coming season, they've partnered with an Island naturalist to create Red Cliffs and Salt Marshes, providing visitors with a nature journaling journey through the south shore. Visitors can also expect a humdinger fly fishing experience with an existing operator.
Want to board a sailboat and man the ship? Learn the Ropes is what you are looking for. If you'd rather travel back in time to a rich Chinese culture and cuisine, sign up for the Chinese Junk Tour. Love horses? Look no further than Night At The Track, Owner for an Evening or Talking With Horses.
For these and more, visit experiencepei.ca and book early!