Acadia National Park is a Maine jewel
For more than 50 years there was regular ferry service between Yarmouth, Nova Scotia and Bar Harbor, Maine. This ended in 2010 when the US landing point was changed to Portland, and since that time the number of Atlantic Canadians visiting Bar Harbor and nearby Acadia National Park has declined sharply. This is a shame for both Canadians and Mainers as Acadia National Park is one of the true natural wonders of eastern North American and Bar Harbor is your quintessential "downeast Maine" vacation town. The good news is that there is a possibility that direct ferry service between Yarmouth and Bar Harbor may be restored in the near future. Even if it's not, here's why a visit to Acadia National Park and Bar Harbor is more than worth the time it takes to get there.
Established in 1916, Acadia is the oldest national park in the US east of the Mississippi, but it has a history of visitation that goes back 12,000 years to the Wabanaki people. The area is closely associated with Wabanaki creation stories and the cultural hero Koluskap (also spelled Glooscap or Kluskap), and they continue to be actively involved in decisions that affect the park's future.
Samuel de Champlain was the first European visitor, arriving on the Maine coast in 1604. Noting the high mountains with treeless tops that rose abruptly from the sea, he named the large island that comprises most of the park Mount Desert. On the island is Mount Cadillac, at 1,530 feet (466 m) it is the highest coastal mountain in the eastern United States and the first place in the country to see the sun rise over the Atlantic. It also explains why the Wabanaki call themselves People of the Dawnland.
Today, Acadia National Park is composed of three distinct areas, each offering different opportunities for exploration. The largest part of the park comprises about 60 per cent of Mount Desert Island and is where the vast majority of visitors chose to stay. Much lesser known and visited is the Schoodic Peninsula, across Frenchman Bay from Mount Desert. This is the best place in the park to get spectacular views of Mount Cadillac. Even more remote is the artist's haven of Isle au Haut, which can only be reached by a passenger ferry that doubles as the mail boat. If you are looking for a vacation place where you can leave the car behind, then Isle au Haut might just be it.
Not surprisingly, the most popular activities in Acadia National Park revolve around Mount Cadillac and the many miles of forests and lakes that surround it. Continuing a tradition that dates back to the Wabanaki, almost every visitor to the park gets to the top of Mount Cadillac, whether it be by automobile, bike or one of the hiking trails that lead to the summit. While watching the sun rise here is on many people's bucket list, you don't have to get up super early to enjoy the views from Mount Cadillac. Watching the sun set over the Maine mountains to the west is pretty amazing as well.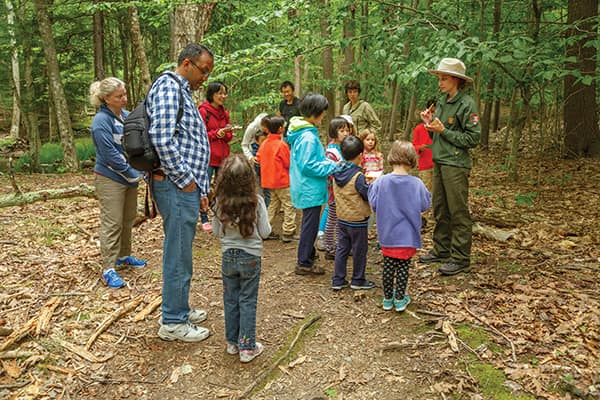 The most unique feature of Acadia National Park is undoubtedly its 45 miles (72 kms) of carriage roads, which were a gift to the park by John D. Rockefeller. Constructed over a 27-year period, they were originally designed, and are still used for, horse-drawn carriages. Today's visitors have the option of riding bikes instead of horses. There is perhaps no better area anywhere to introduce young children to the joys of nature and cycling at the same time. Bikes, including e-bikes, are available for rent at a number of locations in Bar Harbor and some of the trails can be accessed directly from the town. The park also operates a free shuttle service that takes cyclists from Bar Harbor to Eagle Lake, where many other carriage road loops begin.
In addition to those already mentioned, the list of things to do in Acadia National Park is amazingly diverse. For those who prefer their sightseeing by car there is the 27-mile (43-km) Park Loop Road that includes a side road up to Mount Cadillac summit. Other paved roads lead to the tiny communities of Northeast and Southwest Harbor that face each other across Somes Sound, reputedly the only example of a fjord or mini-fjord, in the eastern U.S.
Surrounded by the sea, Acadia offers kayaking, canoeing, fishing, beachcombing and, at the aptly-named Sand Beach, swimming and sun bathing. For those with an interest in the Wabanaki people the Abbe Museum is a must visit. Affiliated with the Smithsonian, it is one of few museums dedicated solely to aboriginal culture and history. This May, the museum will host a three-day marketplace featuring aboriginal artisans from Canada and the United States, the largest such event of its kind in the northeast.
For star gazers, Acadia will host its 10th annual Night Sky Festival in early September from the summit of Mount Cadillac, one of the best places to view the night sky on the eastern seaboard.
The town of Bar Harbor is also an integral part of the Acadia experience. It is one of those seaside vacation towns that epitomize everything that one might expect on a visit to the shore—seafood restaurants galore, docks and wharves to explore, windjammers, art galleries, brightly coloured Victorian houses and much more. It offers a wide array of accommodations from intimate B&Bs and inns to condos and luxury hotels, and it is where most visitors to Mount Desert Island and Acadia National Park choose to stay. In terms of restaurants, seafood is predominant with over five million lobsters a year consumed in the town. Other favourites are clam or seafood chowders, anything made from Maine wild blueberries and meals washed down with craft beers. In terms of shopping, there are a great variety of specialty stores specializing in the works of Maine craft workers. You won't have a problem finding appropriate keepsakes from your Acadia vacation.
Campers and RVers also have a great variety of options both within the park and outside of its boundaries.
One final recommendation—book your accommodations or campsite well in advance, as Acadia National Park is very popular from June through September.
Don't miss these delights while visiting Acadia
By Michael Leonard
Pop-overs!
These are truly wonderful culinary delights when properly served piping hot and with the obligatory butter and fresh strawberry or blueberry jams. Thankfully, there are at least three places on the island where you can get your pop-over fix:
Jordan Pond House in the national park serves them fresh with all of their meals and at lunch on a clear day you can even have fresh lemonade with pop-overs on the green. For dessert try a locally made ice cream-filled pop-over with chocolate sauce drizzled over it. This makes for a perfect end to any meal.
Asticou Inn at Northeast Harbor serves the fresh hot pop-overs at lunch and dinner as well with the butter and local jams. You'll be treated to views of Northeast Harbor at this location.
If you really need an early morning pop-over fix visit the Common Good Kitchen Café on Clark Point Road in Southwest Harbor. This serves as a food pantry in the off season but serves up fresh hot pop-overs every morning for breakfast with the proper accouterments through the Summer months. This all-you-can eat place accepts donations that go to helping families in need.
Star parties!
Be sure to check out the many free ranger programs that are scheduled daily throughout the park. One program to look for is the star party on Sand Beach where you can learn a lot about the night sky. Bring a blanket, a flashlight, some insect repellant and be prepared to be wowed by the millions of stars, the milky way and the many constellations that are visible on a clear night. Nature often puts on a show of falling stars and occasionally some aurora.
Gardens!
There are three very different gardens that are worthy of taking a camera to capture the colors and some real beauty.
The Wild Gardens of Acadia located at Sieur de Monts Springs offers a sample of the many different ecosystems in the region. Wild plants are identified and an informational board is updated weekly describing what is in bloom.
Thuya Gardens is off an almost-hidden drive on the way to Northeast Harbor but it totally worth finding. Here you will find many beds of meticulously kept flowers that are absolutely beautiful to not only see but to smell too.
Also in Northeast Harbor across from the Asticou Inn is the Japanese azalea garden. Here is a quiet place to take a 20-minute or so stroll through a beautiful, serene garden to rejuvenate you.