Always have a hankering to try being a lumberjack? Now you can!
For his 80th birthday, Phil Wedermeyer strapped special tree spikes to his shoes, wrapped a climbing belt around his waist, fastened on a harness and climbed a 10-metre wooden pole. He and some of his family found their way from the US and Europe to Nova Scotia, and once here, discovered Wild Axe Park in Barrington where Darren Hudson hosts his "Lumberjack AXEperience." Besides pole-climbing, the octogenarian tried his hand at log rolling, bow sawing, crosscut sawing and axe throwing.
Wedermeyer's daughter, Hope Salzer, says, "It seemed like a unique and funky enough idea to appeal to our entire multi-generational party group." Salzer is one of two children and four grandchildren who accompanied Wedermeyer to Wild Axe Park and threw axes, sawed logs and climbed trees. Says Phil Wedermeyer of the experience, "It sounded like a lot of fun to learn how to be a lumberjack from a champion." Salzer adds, "My Dad—the 80-year-old birthday boy—would never back down from a challenge or turn away the opportunity to try a novel local experience."
A world champion's playground
The setting is perfect for heritage activities like those that make up the Lumberjack AXEperience. On a flat, grassy field beside the Barrington River near the Barrington Woolen Mill provincial museum, Hudson built Wild Axe Park. He installed a log-rolling pond, erected a smooth climbing pole and built a wooden stage for the sawing and chopping activities and for lumberjack performances and competitions. Tall pines shade parts of the park and provide a fitting setting for the axe throwing targets, bullseyes made from cross sections of large trees.
This is Hudson's playground. He's a fifth-generation lumberjack who rode logs through white water during log drives. His pedigree and all that experience has come in handy. He's a seven-time world log rolling champion, 12 times a Canadian champion. For the past 20 years, Hudson has toured the world, performing his entertaining lumberjack shows. He's rolled logs and thrown axes with Canadian comedian Rick Mercer, appeared on Late Night with David Letterman and played the log rolling stunt double for Steve Martin in Cheaper by the Dozen 2.
In recognition of Hudson's achievements and his lumberjack playground, Boxing Rock Brewery in nearby Shelburne created a beer. Their Wild Axe Pilsner is one of their most popular beers, partly because of the association with Hudson and his AXEperience. The brewery even set up a wooden bullseye of their own to host axe throwing activities on special occasions.
Recently, Hudson put axes and beer together in a bigger way when he opened The Timber Lounge in Halifax. On one side of a caged wall, customers throw double-headed axes at a wooden bullseye. On the other, they drink craft beer while listening to live music. Hudson's a busy guy—he's hoping to open a second Timber Lounge in Moncton and will soon be appearing on CBC's Dragon's Den, pitching his home axe-throwing game, Timber Darts.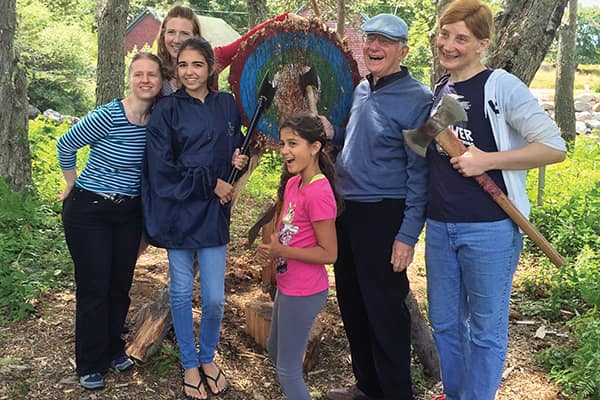 Family fun
Back at Wild Axe Park in Barrington, Hudson hosts his three-hour Lumberjack AXEperience every Wednesday to Saturday in the summer. It's by reservation only, and other days might be available by request. Those who give log rolling a try will want to bring a change of clothes. Folks of all ages try their skills at this challenging activity. Phil Wedermeyer isn't even the oldest participant Hudson has hosted. "We had a big family group in which the eldest was 96. He participated in all the dry events and was the focus of admiration of the group." On that day, four generations participated.
Hudson hopes that participating in lumberjack activities as Phil Wedermeyer did for his 80th birthday is always as much about having fun and learning a little Nova Scotia history as it is about physical challenges. "We were able to do things that I would never have thought we would be capable of handling," Wedermeyer says.
"It was so great to see the generations enjoying the AXEperience together," Hudson says. "There's a sense of honour that is passed on and appreciated by the younger ones. To witness this in person is a real treat for me."
"He loved being able to participate in every one of the activities and challenges after age 80," says Wedermeyer's daughter Hope Salzer. She adds, "The kids also loved every minute. Our guide was so entertaining and told such riveting and mesmerizing stories, every child—from nine to 14—was spell-bound and gaping." Phil Wedermeyer says, "The instructor and his assistant were fabulous, always smiling and joking. They encouraged us all the way and made sure we succeeded."
"The kids loved pairing up and sawing together," Salzer continues. "They loved cheering one another on and watching everyone from Grandpa to their younger cousins tackle their fear and marvel at their successes and accomplishments in axe-throwing, pole-climbing, and laughing with one another as we each took our turns being dunked in the log rolling pool." She adds about Darren Hudson's skills, "We were all bug eyed at how facile the guide was at log rolling. My daughter Clio remembers the guide remarking that his son is such a good log roller, he routinely gets on the log for fun before school, fully clothed and has never slipped or fallen and gotten wet."
Salzer says the whole family was thankful they signed up. "When we read about the Lumberjack AXEperience, we couldn't imagine leaving Nova Scotia without participating." She adds, "As the expression goes, 'when in Rome,' and it felt as though missing the AXEperience would be like going to Rome without visiting the Coliseum."
Wild Axe Park isn't the Coliseum, but while throwing axes and climbing poles even 80-year-olds can feel like gladiators—or at least compete like one at this challenging East Coast AXEperience.