With long Maritime winters come many short, cold days and little exposure to sunlight. Brightening up your home's interior with the right paint tones can stimulate, refresh and add a dose of warmth to the weary soul struggling through the dark months.
For Janice Lindsay, owner of PINK Colour and Design and National Colour & Design Consultant for PPG, great wall colour in winter can have the same energizing effect as a vitamin D injection.
"Because the days are shorter, coming home to hits of great wall colour will really make a difference because colour is energy. Spring is the time we tend to gravitate towards brighter hues and we tend to think of fall as a time of hibernation. In the fall, we mimic nature with our clothing, taking away whites and getting out the greys and the dry colours of nature. Ironically, I think it is in the fall when we could really use those same strength colours," says Lindsay.
Choosing colours that uplift your spirits without overwhelming your senses is key, but with all the choices out there, where does one begin?
For inspiration, Lindsay suggests a trip to a local art gallery or fabric store in search of colours and colour combinations that inspire you. Expensive fabric stores work best, Lindsay says, as they tend to offer fabrics with more sophisticated and slightly off colour combinations. She also recommends exploring art books featuring painters and great colourists like Mark Rothko, Van Gogh, and Matisse, or even older greats like Rembrandt for the brown palette, to get your brain popping with colour ideas. "I don't think we have to invent colour combinations, we can discover them," says Lindsay, who says once you've chosen that favourite fabric, painting or poster, focus in on a small area to identify the palette and then simply colour match those to paint chips.
"I'm sure you'll find yourself thinking, 'Oh wow, I wouldn't have thought of putting that bit of lime green with all those oranges and reds but it looks great in this fabric,' " Lindsay says.
Whites
For many, brightening up a room means painting it white, but if your room doesn't have a lot of light, your whites might appear grey unless you have really good interior lighting. Lindsay cautions that white should be chosen with the same care as any wall colour. It is best used in rooms that have a lot of natural light, which carries the full spectrum of colour in it. "If your room lacks light, don't use white to lighten, use yellow-based colours to brighten.
"In rooms that are dark or dim, the natural inclination to go to white can be wrong. In fact, deep and rich colours make a room warm and inviting. Warm colours like reds are great in artificial light, or going to something with a bit of yellow will give you all the brightness and lightness of white, but will also give you a little more sunshine," says Lindsay who likes PPG's Grey Palomino (521-3), Scotch Mist (510-3), Navajo White (515-2), Country Beige (525-2), Colonial White (414-1), and Fossil Stone (413-2).
If you're using white to go with colour, Lindsay advises adding a little bit of that colour family in the white you choose. Instead of using a bright, crisp white with your ceiling and trim, Lindsay says using a softer, dustier white will reduce the contrast and give an earthier effect, which plays into a soft, fall sensibility. Vivid colours tend to look less bouncy and poppy says Lindsay, but still maintain a beautiful glow but with a much gentler overall effect.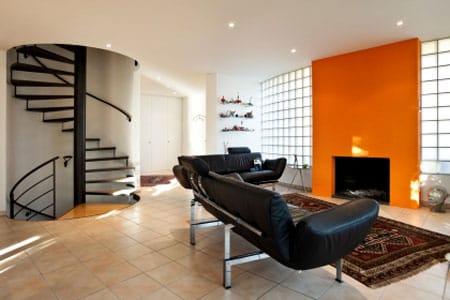 In the PPG line, Lindsay likes the deep yellow of Yukon Gold (214-4) or Gold Buff (215-4). An orange called Fall Leaf (122-6), which isn't just a fall colour says Lindsay, is a beautiful, warm and radiant colour.
"I think of it (the home) as a nest or a cozy, warm place that we come back to and colour is all about that. Rich, warm colours like reds are great when you don't have a lot of light. Yellows are stimulants and energizers and can compensate for that lack of light. They are the closest thing we have to sunshine. I also think that yellow greens do the same thing," she says.
If you're looking for that rich, cozy colour but don't want something that's strong and bright, Lindsay recommends Apple Cider (220-5), a softer, burnt, more nature based orange that would also work year round.
Interior Lighting
CFLs are energy efficient - but not Lindsay's favourite choice, because most of them give off a hazy-day light and ruin colour. Choose light bulbs with a CRI (Colour Rendering Index) of 80 or more, says Lindsay, which means their light contains 80 per cent of the colour of natural daylight. She recommends using ordinary CFL bulbs in closets or basements and selecting a bulb like halogen, that mimics sunlight and is a much more pleasant and clearer light that will work better with colour, and which also gets warmer as it gets dimmer, providing a much more pleasant and clearer light.
Gloss
Lindsay suggests using gloss to maximize light, regardless of the season. Although commonly used to enhance and brighten an otherwise dark room, Lindsay advocates the use of gloss despite its current reputation for use in only high wear and tear areas.?"If you put sheen on your walls, you're ?going to take whatever light is out there and maximize it. The light will bounce around the room."
Lindsay recommends eggshell or satin on the ceiling because it is not overly shiny but still takes the light coming through the window and brings it deeper into the room. She does, however, warn against using gloss if you have a need for perfection. Gloss will show flaws. "Certainly if your walls are in great shape or are new, gloss can be a beautiful choice," she says. "If they're not, try to embrace the flaws.?"The Europeans have walls that have experienced life for centuries so they embrace the flaws.
In small rooms with no natural light, Lindsay also recommends gloss to make the room appear larger. If you're using a Caribbean blue or aqua for example, a gloss will give the colour a watery feeling, which might add a nice touch to a bathroom, giving a feeling of diving into a pool of water, says Lindsay. Like wet shells or stones on a beach, the colour gets more intense.
Whatever you end up choosing, don't be afraid of colour, says Lindsay.
"When you make a colour change, it's a big psychological change. You have to really let your brain and psyche have a little time to make their peace with a colour."