Catamarans designed as powerboats are satisfying a niche market.
Originally a sailboat design known best for speed, the catamaran is gaining popularity as a powerboat. "When people are given the chance to run them, they are amazed," says Glen Cairns, owner of Halifax-based North Atlantic Yachts Ltd. "Properly designed, a catamaran has a very smooth ride."
What makes them so smooth? Power catamarans are boats with two hulls connected by a large deck area. Since each hull is very narrow, they would be unstable on their own. But when paired with a rigid deck in between, the two hulls become a stable platform. With fewer surfaces in the water, they are lighter than monohull boats and have less drag, making the catamaran easy to drive and fuel-efficient. Instead of pounding down on waves, they tend to slice through them.
But all for all the boat's benefits, they come with a hefty price tag, and are increasingly being tailored to a luxury boat market. Cairns should know. His boatyard has built three Buzzards Bay 33 power catamarans since 2006. Developed and marketed by Multihull Development Inc. in Plymouth, Mass., each of the BB33 vessels Cairns has built cost the buyer more than $300,000. Operating costs aren't cheap, either. Just to fill up the fuel tanks costs about $1,000.
The power catamarans Cairns built have been used for a variety of purposes, from salmon fishing to traveling the waterways from New England to Florida. One boat was bought by a Texan who cruised solo from Nova Scotia to Labrador. Having previously owned a sailing catamaran, Kelly Wright of Vernon, Texas, decided to take the plunge into power boats. "I knew that I wanted to stay with a multihull because of all their many advantages, such as stability, shallow draft," Wright writes on his website logging his adventures on his power catamaran. "The BB33 is very stable, extremely quick, relatively fuel-efficient, and quite comfortable living aboard. As soon as you step aboard, the inherent stability of the catamaran becomes apparent as the boat does not heel over with your added weight on the side."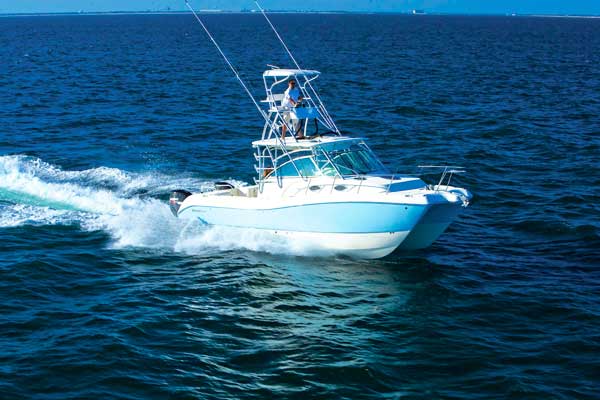 "As to speed," he adds, "she is little short of amazing.  Fully loaded, I got her up to 27 knots at 3800 rpm, and cruised regularly at 17-21 knots at just under 3000 rpm, which is very quick for a cruising boat."
Paul Tennyson, owner of Ontario-based CS Yachts Manufacturing Ltd., can attest to Wright's experience on his power catamaran. "In general, power catamarans use less gas and have significantly higher speeds," says Tennyson. "And there's no question that fuel cost is a concern these days."
Originally developed in Australia and New Zealand, power catamarans are gaining popularity in North America. Tennyson hopes to cash in on that trend. "We decided this was a niche market," he says. "It's a growing market."
Two years ago, Tennyson entered into a partnership with A.F. Theriault & Son Ltd. to build a prototype for its new power catamaran. Aside from building luxury power catamarans, the Meteghan River, NS, boat building company has built several aluminum service catamarans for Europe's growing offshore wind-turbine industry.