It's almost "flue" season, and as memories of warm summer days go up in smoke, the best remedy for autumn chills is a fireplace.
Naturally, it's what's inside the fireplace that counts, so whether you're building a new one or updating an old one, the first decision is how to fuel the firebox.
But once you've opted for wood, gas or electricity, the real fun begins with choosing a fireplace facade.
The first step is to choose a style: a classic style for a traditional house, rustic for a country house and contemporary for something more modern. Eclectic is all well and good, and it's interesting to explore current design trends, but an arts and crafts house deserves an arts and crafts fireplace facade—it's as simple as that.
Whatever your look, there is a whole range of facade materials available. Most modern fireplaces are made of cinderblock, and the cladding materials for facing these fireplaces are now usually lightweight veneers called hanging materials. At one-quarter the weight of full-thickness stone, they can be adhered to most wall surfaces, and because they don't require the support that's needed to install full stones, you won't need to reinforce your floor.
Some of these hanging materials are made from natural stone, but many are now manufactured synthetic stone. Made from a combination of cement, natural aggregates and select pigments, artificial stone is molded in the profile of natural stone; it looks and feels like the real thing. Unlike the real thing, however, it comes in a wide variety of textures and colours.
Other popular cladding materials for fireplaces include limestone, brick, tile, marble, granite and concrete. For those who like to know the origin of their materials, limestone is an interesting choice, because its unique shadings are determined by location.
Brick and tile are less distinctive, but both are readily available in a variety of hues. Brick works well with traditional, decorative facades, while tile is flexible enough for any application, depending on colour and shape. For example, large porcelain rectangles promote a modern look, while smaller, less uniform slate tiles can resonate well with a more rustic style. Glass and mosaic tiles in brown and gold hues can mimic the shades of natural stone while adding a modern flavour.
Concrete is a relative newcomer in domestic fireplace facades. In terms of cost and fire-resisting qualities, it is similar to stone and brick. The main advantages of concrete are that it can be coloured to match any decorative scheme and has almost unlimited flexibility of shape. Cast to your specifications by a manufacturer or cast in place, a concrete facade is the perfect frame for a long, linear gas fireplace, yet it can also transcend styles to create the look of rustic adobe.
There's a good reason that slab materials like marble and granite have been popular for years: strong and elegant, they translate well to formal facades. As long as the surface isn't too shiny, they also cross over easily into more modern applications. As an added benefit, well-sealed slab materials are easy to maintain because they don't absorb soot and stains in the same way that porous surfaces like brick do.
When shopping for materials, look for a dealer who specializes in fireplace applications and who carries a broad selection. Then leave the installation to a skilled mason or tile layer.
Unless you understand the subtleties of fireplace construction and non-combustible materials, it's a job best left to experts who are knowledgeable in surface preparation and installation.
No point playing with fire .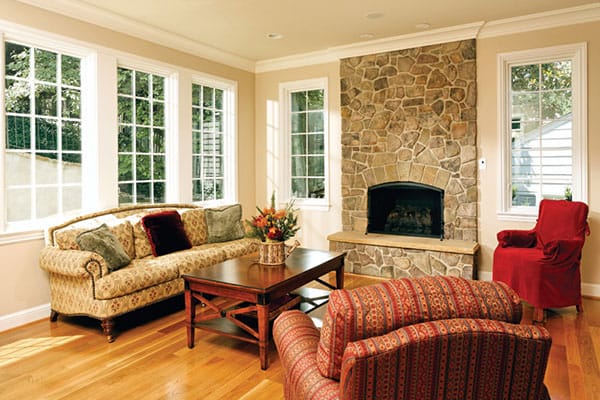 Shelf life: Five tips for decorating the mantel
The mantel (or chimneypiece) is often the scene of a crime against decor. What should be the focal point for an important room is far too often a mob scene of knick-knacks, greeting cards, family photos and the occasional cremation urn. Here are five tips to help you get your mantelpiece under control.
Crowd Control: To establish a more harmonious tone, avoid assaulting the mantel with too many treasures. Instead, limit your display, policing the mantel space on a regular basis to weed out offenders. By curating the mantel like a private gallery, you can rotate small collections instead of featuring everything at the same time.
Book 'Em: There's more to displaying photos on the mantel than choosing attractive frames. Whether or not you place importance on the items displayed, others will see the mantel as a place of pride. With this in mind, it's best to flank a photo of one grandchild with photos of all the others. The same rule applies to photos of children, friends and the children of friends.
Restricted Access: There is no surefire method for assembling a pleasing mantel display, but a thematic approach has great potential. One Nova Scotia sportsman uses his mantel as a roost for a flock of hand-carved duck decoys. In some homes the mallard, loon, teal, widgeon, and merganser wouldn't have flown, but this large country home boasts a good deal of wildlife decor, so it all works.
The Line-Up: Once you've selected the objects to display, take some time to consider an artful arrangement. Placing a series of similar items in a straight line will replicate the feel of a store shelf, so don't be surprised if your guests try to buy something.
Above and Beyond: The floor-to-ceiling fireplace in Terry and Midge Lane's Wolfville, NS, home has the same straw-coloured brick facade as the front of their house, which is a 1960s architectural gem with a view of the Minas Basin. As you can see in the photo, left, items are balanced nicely on the long, wooden mantelpiece, stretching the mantel and reducing the mass of the fireplace. The art over the mantel alternates between a small copper sculpture and a modernist painting. Both complement the minimal feel of the room and the limited number of objects displayed on the mantel.

Helpful hints for hearth design
Hanging a tall rectangular object above the mantel—either a mirror or a painting—will make the ceiling appear higher.
A paint job might be the simplest way to transform an outdated facade. When applying paint to a rough facade made of brick or stone, use a heat-resistant primer and jab the paint brush into all the crevices.
Built-in cabinetry like wood storage inserts and custom-made drawers and shelves can transform a regular fireplace facade into a storage area for everything from a flat screen TV to sound equipment, books and craft supplies.
A double-sided, see-through fireplace can provide two separate areas with heat and ambience.
Many new electric fireplaces have an option to display the fire image without heat. Even without the heat on, these units can make a room feel warmer.
The National Building Code regulates the distance that combustible materials must be from the opening of the firebox. It even regulates the depth of the mantel shelf. Before installing a fireplace, check local codes and permit requirements.