Renovating offers a chance build in energy-saving options—and government rebates can help with the cost.
When Peter MacDonald renovated a heritage home at the corner of Water and Prince streets in downtown Charlottetown, he did so with two aims: to rescue the house and to boost its energy efficiency.
Built by shipbuilder Andrew Duncan in the 1840s, the house was sturdy but needed attention—and because older houses lose so much heat through their windows, new windows were a priority.
Cutting edge design
Two demonstration homes recently built in Dartmouth and Lower Sackville showcase Nova Scotia's most innovative energy-efficient designs. The homes are designed to approach net-zero energy efficiency, meaning they create nearly as much energy as they use over a year.
"The aim was to demonstrate that you can build a really efficient house, challenge the industry and move it forward, and prove to builders that this is something the public would actually buy," explains Brian Hayes, a program adviser at Efficiency Nova Scotia.
The homes have very high levels of insulation on outside surfaces, solar water systems, photovoltaic panels to produce electric current from sunlight, thick floors that absorb and retain heat, and drainwater heat-recovery systems to retrieve heat from household waste water. The homes are also extremely airtight and have high-efficiency heat-recovery ventilation systems.
"Smart design and keeping building heat loss to very low levels are key," says Hayes.
Find out more at demonstrationhomes.com.
The city required him to maintain his windows' heritage appearance—and he wanted to do so—but his new triple-glazed, high-efficiency, foam-insulated windows needed heritage-style wooden inserts.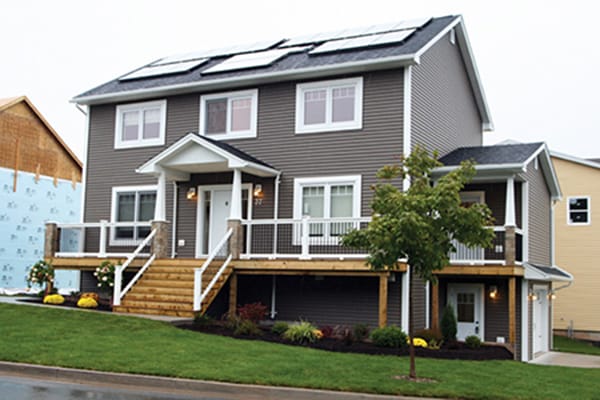 The inserts were expensive—averaging $800 each—and the house needed 30 of them. Fortunately, a $4,000 rebate from the municipality helped with the cost. MacDonald says the inserts have preserved the aesthetics of the building, which now houses his dental office and two apartments.
Texan couple David Henry and Elaine Ply retired to Halifax, attracted by the cooler climate and friendly people.
Their renovations have been extensive: they moved their house 17 feet (5 metres) to the north to get more southern exposure, dug a fresh foundation, constructed a new basement and first floor—and then placed the original house back on top.
The couple have prioritized energy efficiency in their home, which sits on one of the quiet residential streets behind bustling Quinpool Road. Their remodelled home has exceptionally thick walls and insulation, triple-paned windows (many facing south), air ducts that transfer heat from the sun, solar thermal panels for water heating and scattered light wells that bring the sunshine inside.
Henry's neighbour, Jamie Thomson, is also taking steps to minimize energy costs at his 1920s home.
The Halifax engineer is planning a deep-energy retrofit—a process of super-insulating and making mechanical upgrades that can reduce heating costs by 50 to 95 per cent. His building currently costs around $4,000 a year to heat, but his goal is to create a near net-zero energy home—one that produces as much energy as it consumes in a year.
"Heating is starting to form a big portion of the monthly expenses," says Thomson. He's also concerned about the long-term effect of greenhouse gases on the environment.
His retrofit includes renovating the home's exterior (which includes insulating the walls) and fixing the leaky basement. He will also re-position his kitchen to gain more sunlight and will add a bedroom. The final cost will be between $60,000 and $100,000 and he intends to make the work more affordable by doing it in stages. Government rebates will assist with the cost.
"I want to do this anyway," Thomson says, "But if a government will help, it'll help me do it sooner."
Thomson's enthusiasm is fuelled by the good experience he had two years ago when he used the federal program to put a solar panel on his roof. The panel has since cut fuel consumption by 10 per cent, and will take about 10 years to pay off.
"Nothing warms my heart more than walking beside the house on a sunny day and hearing the dull motor sound the system makes when it kicks in," Thomson says.
"You feel like someone's given you a little present."
Accessing the dollars
Governments are trying to help. The federal government and all of Atlantic Canada's provincial governments run programs that offer rebates.
To participate in the federal ecoENERGY Retrofit-Homes program (which runs until March 31, 2012), homeowners must register by booking a home energy assessment with a supplier listed with Natural Resources Canada—and they must do so before beginning the renovation.
Rebates can reach $5,000 and are based on the improvement made to the home's efficiency, or EnerGuide rating.
Details of provincial programs can be found on provincial government websites.