Creating the perfect meal-time gathering place for the whole family
NOT THAT LONG ago, families would sit at the dinner table each night, break bread together, and catch up on the news of the day. Between long commutes, kids' activities, fitness classes and book clubs, the daily family dinner can become a rare ritual. What the heck does this all have to do with islands? Well, an island—a kitchen island, not a coastal island—may be just the place to start a new tradition and salvage some important family time.
The popular crowd
Ever wonder why kitchen islands are so trendy? It's in part due to the design and traffic flow of modern homes. Many new homes are open concept with kitchens big enough to accommodate an island. Keith Sawlor, owner of Sawlor Built Homes, estimates that 80 to 90 per cent of the houses he builds now incorporate an island into the kitchen design.
Islands are versatile and functional, and they enhance the flow of the kitchen's all-important work triangle: the path between the fridge, sink and stove. Sometimes used as a prep area, a bar or even a homework desk, islands are bona fide multi-taskers. Many even feature a seating area and act as a room divider, separating the kitchen from an adjacent family room.
The most noteworthy benefit to having an island, and a prime factor in their popularity, is the extra space it gives you. The additional prep area allows multiple chefs to work at the same time without bruised apples, elbows or egos.
Cabinetry and shelving provide invaluable storage space for pots and other kitchen equipment. An extra sink and appliances such as a microwave and beverage refrigerator (see photo B) are other smart options.
Beauty and function
The kitchen island isn't just a powerful workhorse, it often becomes the focal point of the room. For an added sense of character, kitchen designer Nina Boulanger, suggests using task-specific materials like butcher blocks for chopping or, if you're a baker, a stone countertop where you can roll out dough. This is also the perfect spot in the kitchen for homeowners to express their personality. Although matching finishes to the rest of the kitchen is an option (see photo A and B), the decision is really up to the homeowner.
Contrasting the island's cabinets with other kitchen cabinetry can add interest and depth to the design (see photo C). Proper task lighting is also important, and can be as beautiful as it is functional (see photos A, B and C).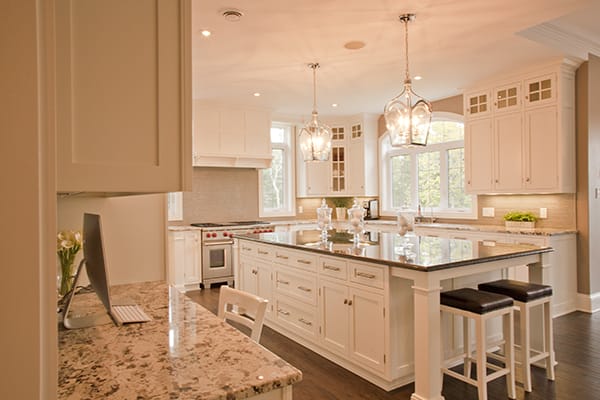 Bonus on a budget
You can also retrofit a smaller island in your existing kitchen—since not everyone is building a new house or has the budget for a kitchen island that's big enough for its own postal code.
With eclectic style so prevalent in homes right now, a refinished vintage piece could add character to your kitchen. With a little TLC, or maybe a new granite top, that old workbench or library table you spot in an antique shop might just become the heart of your home.
Casual custom
Sometimes we avoid doing things or drop them from our routines because they take effort. It's not that we don't want to put in the work, but that we don't have the energy or time. But we all know it's important to stay connected as a family. Perhaps the answer to a dinner time gathering is only as far away as your kitchen island.
Keep it easy: choose something as simple as assemble-your-own mini pizzas. Everyone can grab a knife or cheese shredder and get to work on the prep. Pop the pizzas into the oven and chow down on some veggies and dip while gathered around the island making memories.
It's easy set up, easy tear down, and involving the whole family takes pressure off the cook. It really doesn't matter if your family is as small as two or as large as 10, everyone benefits from spending quality time together. The kitchen island is the perfect setting for this quick, comforting and casual new tradition.
Kimberley Eddy owns Evolve Interior Decorating. Find her online at www.evolve.vpweb.ca