Trade secrets offer easy solutions
ASK ANYONE who has renovated or built a new home: decorating decisions are difficult. The wrong choice can cause years of regret, and be very costly to fix. A beautiful interior doesn't happen by accident. A special space is carefully planned.
Want to know how it's done?
Who doesn't love a trade secret or two? Put on the kettle, pull up a chair and get ready for some simple solutions to a few common quandaries that confound homeowners time after time.
Dilemma #1: Area Rugs
A stylish and properly sized area rug adds colour and dimension to a room. It can also highlight a space for a specific use; in an open concept space, for example, you can define your TV area by placing the furniture on a rug. In addition to softening sounds and reducing echoes, rugs add visual and physical warmth.
Skimping on the size of the rug, however, is one of the most common mistakes we decorators see. A too-small area rug gets lost in the room; opt for an ample area rug instead. Don't worry about covering up too much floor. A properly sized rug draws attention to the entire room.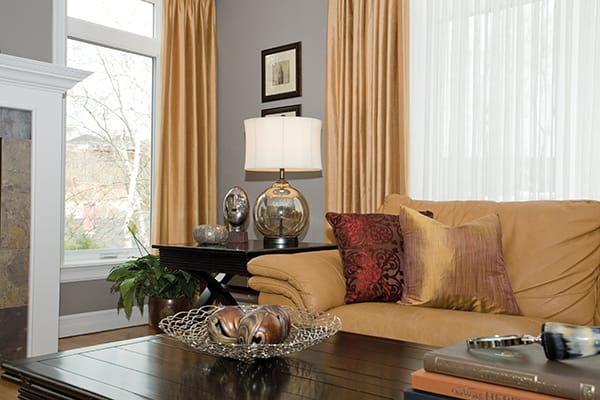 Here's how to choose the right sized rug for your room. The key pieces of furniture should sit on, or at least, bite the rug. (Biting means that the front legs rest on the rug, even though the back legs rest on the flooring.) This anchors the furnishings and unifies the space. Leave anywhere from eight to 24 inches between the edge of your wall and the rug. If you are using a rug under a dining table, allow enough space to freely pull out a chair and still have all legs on the rug. A good rule of thumb is to have your rug four feet longer and four feet wider than your table.
Dilemma #2: High Art
Hanging art is tricky; most of us tend to hang art higher than we should. When this happens the art can become disconnected from the room and detract from the space.
This can be remedied in most cases by hanging art at eye level. However, eye level varies from person to person according to their height.
What's a person to do?
There are guidelines but no hard and fast rules. Even hanging heights in galleries vary greatly. Adriana Afford of Argyle Fine Art starts with 57 inches from the floor to the centre of the art piece, however, she says: "Just as in a home setting, an art gallery varies from time to time as well. So although that may be the rule, rules are made to be broken. It really depends on what space you are working with." At the Teichert Gallery (formerly known as the Art Gallery of Nova Scotia's Art Sales and Rental Gallery) they hang a little higher, according to Zehava Power, senior art gallery assistant. "We aim to hang so the centre of a piece is about 65 inches off the floor. We find that is a pleasing height that meets the average viewer's eye level."
In your home, stick with what is an approximate natural eye level for you; anywhere from about 57 to 65 inches works well. If there is a large height difference between people in your home, you may want to choose the average eye level.
There are, however, a couple of exceptions to these parameters. In general, when hanging art over a sofa leave only between four to eight inches between the sofa and the bottom of the art. Otherwise, the art can feel detached. Likewise, in a child's room you may want to consider hanging art a little lower. This "custom" touch makes the space feel more like it was made just for them.
Dilemma #3: Chaotic Clutter
Visual clutter leads to mental clutter, and that's not good for anyone. Random items and too many things in the space don't give your décor space to breathe. The good news is that you can fix this problem with a low or even zero budget, but the "fix" does takes time and effort.
The key to keeping your home harmonious and free from clutter is to edit, which is an ongoing process.
Look at each item in a room and ask yourself these questions:
Does this belong in this room?
Put the duct tape in the garage and the dog leash in the foyer.
Is it broken, worn or ugly?
Fix it, polish it, beautify it or be ruthless and give it away.
Do I love this? Is it useful?
If it's special, keep it. If you have hung on to this item out of guilt or the thought that maybe someday you will use it, get rid of it.
Every "thing" in the room should have its own home. Use baskets, boxes and cabinets to corral belongings and create order. Closed storage means less visible clutter, especially for objects not used on a regular basis. Special items, such as family photos, books, heirlooms or artful souvenirs should be purposefully displayed. Elevate some smaller keepsakes on a stack of books or a pretty box.
Leaving space around items allows the gaze to move naturally from shelf to shelf as the viewer takes in the interesting displays.
When a beautiful room is well organized it feels complete.
Kimberley Eddy owns Evolve Interior Decorating.